Preface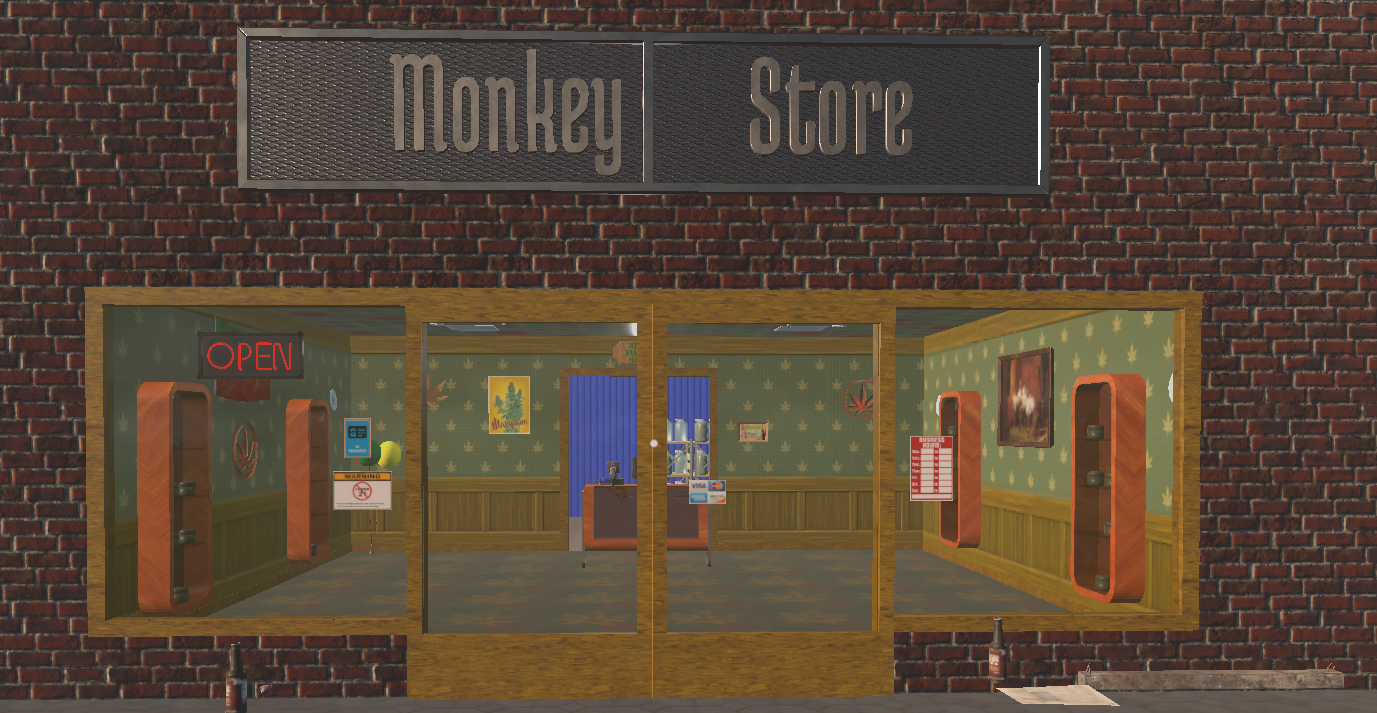 DISCLAIMER : This guide is incomplete and doesn't have every piece of information available but i will be trying my best to keep up with everything changing and getting updated/added to the game. Please feel free to leave a comment to help me out!
I also recommend checking out DF19's guide on tips and tricks for the game
The levels beside the name is not the level you unlock the item at, it is the level at which it can use other same level items.
Shop Room
[UNDER CONSTRUCTION]
Grow Room
[UNDER CONSTRUCTION]
Pots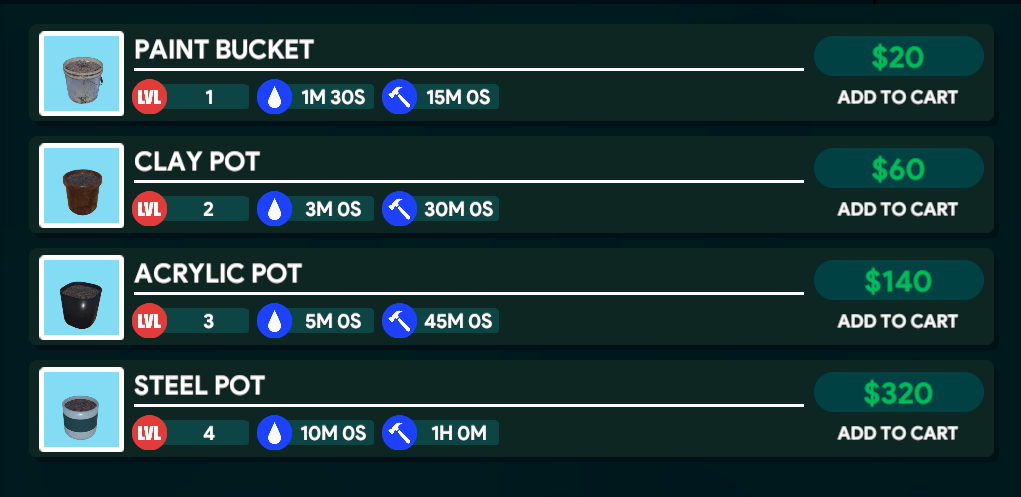 [NOTE : The water holding times are low bc the buckets arent being assisted by a setup in this data
Paint bucket lvl 1 - 20$ per pot
Holds 1 min 30 seconds of water
Lasts 15 mins
Clay pot lvl 2- 60$ per pot
Holds 3 mins of water
Lasts 30 mins
Acrylic pot lvl 3 - 140$ per pot
Holds 5 mins of water
Lasts 45 mins
Steel pot lvl 4 - 320$ per pot
Holds 10 mins of water
Lasts 1 hr
Once you hit the acrylic pot you never really need to buy another pot. The pots dont effect the amount of grams grown per seed even if the pot is broken currently so it's entirely possible to be able to never having to buy another pot and direct all that money into seeds.
Indica Seeds
OG Kush lvl 1 - 30$ per seed
grows in 1 min
sells 11$ a gram
yields 5 grams
must sell 15 grams to make a 25$ profit on shipping + seed cost for three yields
a full yield loses 25$ profit
30$ * 10 seeds + 50$ delivery = 350$
20 seeds + 50$ delivery = 650$
30 seeds + 50$ delivery = 950$
40 seeds + 50$ delivery = 1250$
50 seeds + 50$ delivery = 1550$
White Widow lvl 1 - 45$ per seed
grows in 1 min 40 secs
sells 10$ a gram
yields 9 grams
must sell 0 grams to make a 0$ profit on shipping + seed cost for one yield
a full yield makes
45$ * 10 seeds + 50$ delivery = 500$
20 seeds + 50$ delivery = 950$
30 seeds + 50$ delivery = 1400$
40 seeds + 50$ delivery = 1850$
50 seeds + 50$ delivery = 2300$
Northern Lights lvl 1 - 60$ per seed
grows in 2 mins
sells 15$ a gram
yields 10 grams
must sell 8 grams to make a 10$ profit on shipping + seed cost for one yield
a full yield makes 40$ profit
60$ * 10 seeds + 50$ delivery = 650$
20 seeds + 50$ delivery = 1250$
30 seeds + 50$ delivery = 1850$
40 seeds + 50$ delivery = 2450$
50 seeds + 50$ delivery = 3050$
Super Skunk lvl 2 - 90$ per seed
grows in 3 mins
sells 17$ a gram
yields 15 grams
must sell 10 grams to make a 10$ profit on shipping + seed cost for one yield
a full yield makes 115$ profit
30$ * 10 seeds + 50$ delivery = 350$
20 seeds + 50$ delivery = 650$
30 seeds + 50$ delivery = 950$
40 seeds + 50$ delivery = 1250$
50 seeds + 50$ delivery = 1550$
Hindu Kush lvl 2 - 120$ per seed
grows in 4 mins
sells 19$ a gram
yields 20 grams
must sell 9 grams to make a 1$ profit on shipping + seed cost for one yield
a full yield makes 210$ profit
120$ * 10 seeds + 50$ delivery = 1250$
20 seeds + 50$ delivery = 2450$
30 seeds + 50$ delivery = 3650$
40 seeds + 50$ delivery = 4850$
50 seeds + 50$ delivery = 6050$
Early Queen lvl 2 - 150$ per seed
grows in 6 mins
sells 23$ a gram
yields 30 grams
must sell 9 grams to make a 7$ profit on shipping + seed cost for one yield
a full yield makes 490$ profit
150$ * 10 seeds + 50$ delivery = 1550$
20 seeds + 50$ delivery = 3050$
30 seeds + 50$ delivery = 4550$
40 seeds + 50$ delivery = 6050$
50 seeds + 50$ delivery = 7550$
Afgani lvl 3 - 220$ per seed
grows in 9 mins
sells 30$ a gram
yields 45 grams
must sell 9 grams to make a 0$ profit on shipping + seed cost for one yield
a full yield makes 1080$ profit
220$ * 10 seeds + 50$ delivery = 2250$
20 seeds + 50$ delivery = 4450$
30 seeds + 50$ delivery = 6650$
40 seeds + 50$ delivery = 8850$
50 seeds + 50$ delivery = 11,050$
Goblin Punch lvl 3 - 0$ per seed
grows in 13 mins
sells 0$ a gram
yields 65 grams
must sell 0 grams to make a 0$ profit on shipping + seed cost for one yield
a full yield makes 0$ profit
0$ * 10 seeds + 50$ delivery = 0$
20 seeds + 50$ delivery = 0$
30 seeds + 50$ delivery = 0$
40 seeds + 50$ delivery = 0$
50 seeds + 50$ delivery = 0$
Romulan lvl 3 - 0$ per seed
grows in 40 mins
sells 0$ a gram
yields 200 grams
must sell 0 grams to make a 0$ profit on shipping + seed cost for one yield
a full yield makes 0$ profit
0$ * 10 seeds + 50$ delivery = 0$
20 seeds + 50$ delivery = 0$
30 seeds + 50$ delivery = 0$
40 seeds + 50$ delivery = 0$
50 seeds + 50$ delivery = 0$
Sativa Seeds
Life Is Good OG lvl 1 - 30$ per seed
grows in 1 min 12 seconds
sells 0$ a gram
yields 6 grams
must sell 0 grams to make a 0$ profit on shipping + seed cost for one yield
a full yield makes
30$ * 10 seeds + 50$ delivery = 350$
20 seeds + 50$ delivery = 650$
30 seeds + 50$ delivery = 950$
40 seeds + 50$ delivery = 1250$
50 seeds + 50$ delivery = 1550$
AK-47 lvl 1 - 50$ per seed
grows in 1 min 24 seconds
sells 0$ a gram
yields 7 grams
must sell 0 grams to make a 0$ profit on shipping + seed cost for one yield
a full yield makes 0$ profit
50$ * 10 seeds + 50$ delivery = 550$
20 seeds + 50$ delivery = 1050$
30 seeds + 50$ delivery = 1550$
40 seeds + 50$ delivery = 2050$
50 seeds + 50$ delivery = 2550$
Purple Haze lvl 1 - 70$ per seed
grows in 2 mins
sells 0$ a gram
yields 10 grams
must sell 0 grams to make a 0$ profit on shipping + seed cost for one yield
a full yield makes 0$ profit
70$ * 10 seeds + 50$ delivery = 750$
20 seeds + 50$ delivery = 1450$
30 seeds + 50$ delivery = 2150$
40 seeds + 50$ delivery = 2850$
50 seeds + 50$ delivery = 3550$
Uk Cheese lvl 2 - 90$ per seed
grows in 3 mins
sells 14$ a gram
yields 15 grams
must sell 10 grams to make a 0$ profit on shipping + seed cost for one yield
a full yield makes 70$ profit
90$ * 10 seeds + 50$ delivery = 950$
20 seeds + 50$ delivery = 1850$
30 seeds + 50$ delivery = 2750$
40 seeds + 50$ delivery = 3650$
50 seeds + 50$ delivery = 4550$
Amnesia lvl 2 - 150$ per seed
grows in 6 mins
sells 15$ a gram
yields 30 grams
must sell 14 grams to make a 10$ profit on shipping + seed cost for one yield
a full yield makes 250$ profit
150$ * 10 seeds + 50$ delivery = 1550$
20 seeds + 50$ delivery = 3050$
30 seeds + 50$ delivery = 4550$
40 seeds + 50$ delivery = 6050$
50 seeds + 50$ delivery = 7550$
Sour Diesel lvl 2 - 200$ per seed
grows in 8 mins
sells 17$ a gram
yields 40 grams
must sell 15 grams to make a 5$ profit on shipping + seed cost for one yield
a full yield makes 660$ profit
200$ * 10 seeds + 50$ delivery = 2050$
20 seeds + 50$ delivery = 4050$
30 seeds + 50$ delivery = 6050$
40 seeds + 50$ delivery = 8050$
50 seeds + 50$ delivery = 10,050$
Bubble Gum lvl 3 - 275$ per seed
grows in 12 mins
sells 20$ a gram
yields 60 grams
must sell 17 grams to make a 15$ profit on shipping + seed cost for one yield
a full yield makes 875$ profit
275$ * 10 seeds + 50$ delivery = 2800$
20 seeds + 50$ delivery = 5550$
30 seeds + 50$ delivery = 8300$
40 seeds + 50$ delivery = 11050$
50 seeds + 50$ delivery = 13800$
Blueberry lvl 3 - 400$ per seed
grows in 18 mins
sells 26$ a gram
yields 90 grams
must sell 18 grams to make a 18$ profit on shipping + seed cost for one yield
a full yield makes 1990$ profit
0$ * 10 seeds + 50$ delivery = 0$
20 seeds + 50$ delivery = 0$
30 seeds + 50$ delivery = 0$
40 seeds + 50$ delivery = 0$
50 seeds + 50$ delivery = 0$
California Orange lvl 3 - 550$ per seed
grows in 26 mins
sells 33$ a gram
yields 130 grams
must sell 0 grams to make a 0$ profit on shipping + seed cost for one yield
a full yield makes 0$ profit
0$ * 10 seeds + 50$ delivery = 0$
20 seeds + 50$ delivery = 0$
30 seeds + 50$ delivery = 0$
40 seeds + 50$ delivery = 0$
50 seeds + 50$ delivery = 0$
Components
Water pump 0-0 - 20$ per pump
Lighting 0-0 - 20$ per light
Ventilation 0-0 - 20$ per vent
Water pump 0-1 - 50$ per pump
Lighting 0-1 - 50$ per light
Ventilation 0-1 - 50$ per vent
Water pump 0-2 - 80$ per pump
Lighting 0-2 - 80$ per light
Ventilation 0-2 - 80$ per vent
Water pump 1-0 - 100$ per pump
Lighting 1-0 - 100$ per light
Ventilation 1-0 - 100$ per vent
Water pump 1-1 - 140$ per pump
Lighting 1-1 - 140$ per light
Ventilation 1-1 - 140$ per vent
Water pump 1-2 - 0$ per pump
Lighting 1-2 - 0$ per light
Ventilation 1-2 - 0$ per vent
Water pump 2-0 - 0$ per pump
Lighting 2-0 - 0$ per light
Ventilation 2-0 - 0$ per vent
Water pump 2-1 - 0$ per pump
Lighting 2-1 - 0$ per light
Ventilation 2-1 - 0$ per vent
Water pump 2-2 - 0$ per pump
Lighting 2-2 - 0$ per light
Ventilation 2-2 - 0$ per vent
Water pump 3-0 - 0$ per pump
Lighting 3-0 - 0$ per light
Ventilation 3-0 - 0$ per vent
Water pump 3-1 - 0$ per pump
Lighting 3-1 - 0$ per light
Ventilation 3-1 - 0$ per vent
Water pump 3-2 - 0$ per pump
Lighting 3-2 - 0$ per light
Ventilation 3-2 - 0$ per vent
Shelves
Jar storage shelf - 1250$
holds 2400 grams of weed in 24 small weed jars
Supplies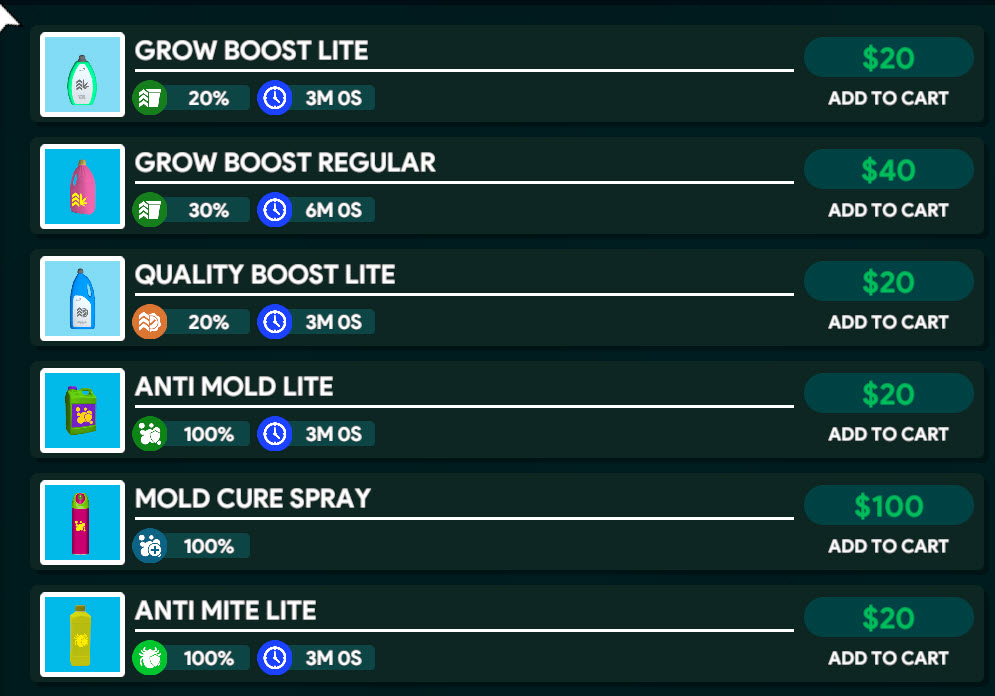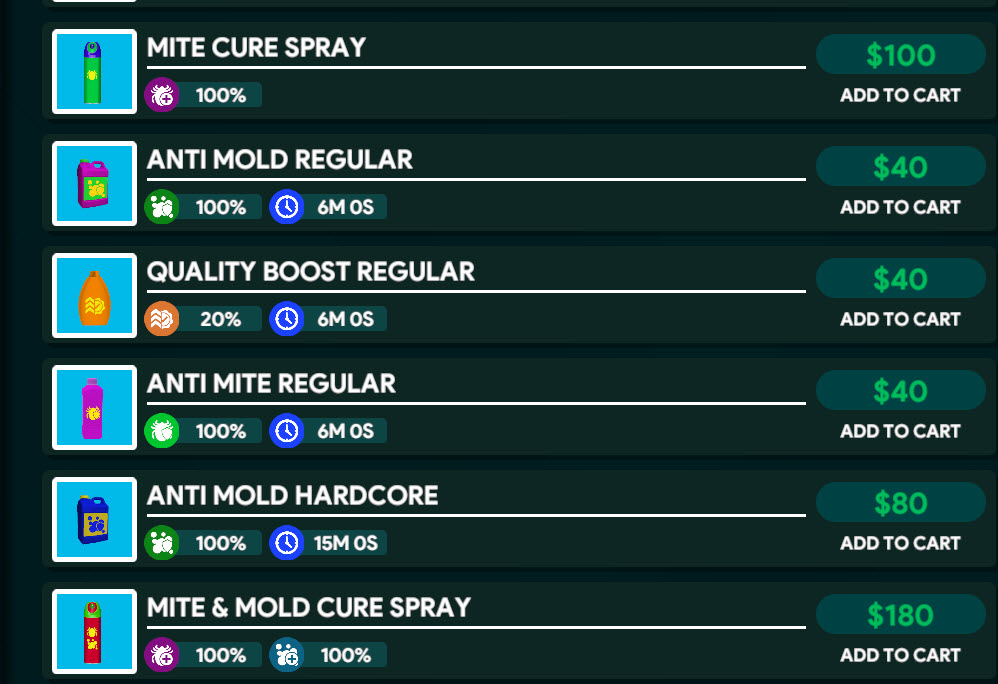 Grow boost lite - 20$ per bottle
Grow boost regular - 40$ per bottle
Quality boost lite - 20$ per bottle
Anti mold lite- 20$ per bottle
Mold cure spray - 100$ per bottle
Anti mite lite - 20$ per bottle
Mite cure spray - 100$ per bottle
Anti mold regular - 40$ per bottle
Quality boost regular - 40$ per bottle
Anti mite regular - 40$ per bottle
Anti mold hardcore - 80$ per bottle
Mite & mold cure spray - 180$
Grow boost advanced - 80$ per bottle
Quality boost advanced - 80$ per bottle
Anti mite hardcore - 0$ per bottle
Quality boost hardcore - 0$ per bottle
Grow boost hardcore - 0$ per bottle
Papers
Doobie - 3$ per paper
5 papers = 15$
10 papers = 30$
Joint - 6$ per paper
5 papers = 30$
10 papers = 60$
Blunt - 8$ per paper
5 papers = 40$
10 papers = 80$
Doobie packaging kit - 5$
sells 49$ per kit
must sell 0 packages to make a 0$ profit on shipping + doobie paper cost
gives 1 xp
Joint packaging kit - 11$
sells 140$ per kit
must sell 1 packages to make a 111$ profit on shipping + joint paper cost
gives 1 xp
Blunt packaging kit - 20$
sells 0$ per kit
must sell 0 packages to make a 0$ profit on shipping + blunt wrap cost
Merch
Wooden Grinder - 50$ per grinder purchase + 50$ shipping
sells 63$ per grinder = 13$ profit
must sell 4 grinders to make 2$ profit on shipping + items
gives 1 xp
Plastic Grinder - 150$ per grinder purchance + 50$ shipping
sells 188$ per grinder = 38$ profit
must sell 2 grinders to make 26$ profit on shipping + items
gives 1 xp
Metal grinder - 300$ per grinder purchance + 50$ shipping
sells 375$ per grinder = 25$ profit
must sell 1 grinders to make 25$ profit on shipping + item
gives 3 xp
Electric grinder - 1000$ per grinder purchance + 50$ shipping
sells 1250$ per grinder = 200$ profit
must sell 1 grinders to make 200$ profit on shipping + item
gives 5 xp
Dumpster bong - 40$ per bong purchance + 50$ shipping
sells 50$ per bong = -10$ profit
must sell 1 bong to make -10$ profit on shipping + item
gives 1 xp
Acrylic bong - 240$ per bong purchance + 50$ shipping
sells 300$ per bong = 10$ profit
must sell 1 bong to make 10$ profit on shipping + item
gives 3 xp
Bamboo bong - 500$ per bong purchance + 50$ shipping
sells 625$ per bong = 75$ profit
must sell 1 bong to make 75$ profit on shipping + item
gives 5 xp
Levels
Level 1: 56 xp
Unlocks :
Level 2: 89 xp
Unlocks :
Level 3: 149 xp
Unlocks :
Level 4: 214 xp
Unlocks :
Level 5: 0 xp
Unlocks :
Level 6: 0 xp
Unlocks :
Level 7: 429 xp
Unlocks :
Level 8: 509 xp
Unlocks :
Level 9: 0 xp
Unlocks :
Level 10: 0 xp
Unlocks :
Level 11: 779 xp
Unlocks :
Level 12: 878 xp
Unlocks :
Level 13: 986 xp
Unlocks :
Level 14: 1099 xp
Unlocks : Grow boost advanced, Mite & mold cure spray, Anti mold hardcore, Water pump 1-1, Ventilation 1-1, Lighting 1-1, Blunt papers, Medium safe, Metal rolling table, Green carpet,
Level 15: 0 xp
Unlocks : Sour diesel seed, Quality boost advanced, Groovy grow setup 6 cap, Retro display, Rastafarian flag, Dumpster bong, Blunt packaging kit
Level 16: 1346 xp
Unlocks : Steel panels, Pimp walls, Metal counter, NFT plate gen 3 x 2,
Level 17: 1480 xp
Unlocks : Stainless steel floors, Hindu kush seed, Anti mite hardcore,
Level 18: 1623 xp
Unlocks : Weep print carpet, Metal packaging table, Small wall decoration, Acrylic bong,
Level 19: 1774 xp
Unlocks : Medium shop sign, Cheesy wallpaper, Water pump 1-2, Lighting 1-2, Ventilation 1-2,
Level 20: 1934 xp
Unlocks : Bubble gum seed, Metal workstation, Metal shelf, Home sweet hemp sign,
Level 21: 2103 xp
Unlocks : Rookie pro setup 4 cap, Large safe, Laptop pc, Water pump 2-0, Lighting 2-0,
Ventilation 2-0,
Level 22: 2283 xp
Unlocks : Trippy bell, F-packer, Medium painting,
Level 23: 2472 xp
Unlocks : Early queen seed, Steel pot, Metal display,
Level 24: 0 xp
Unlocks : Large grow room, B-roller, Modern counter, A neon sign, Bamboo bong,
Level 25: 2885 xp
Unlocks : Water pump 2-1, Lighting 2-1, Ventilation 2-1,
Level 26: 0 xp
Unlocks : Neo wallpaper, Quality boost hardcore, Rookie pro setup 8 cap, Large painting,
Electric grinder,
Level 27: 3345 xp
Unlocks : Large shop, Blueberry seed, Grow boost hardcore, Modern shelf,
Level 28: 3596 xp
Unlocks : Large shop sign,
Level 29: 3860 xp
Unlocks : Modern workstation,
Level 30: 4140 xp
Unlocks : Afgani seed, Modern display, Large wall decoration,
Level 31: 4434 xp
Unlocks : N/A
Level 32: 4746 xp
Unlocks : Taco bell, Gro.io setup 6 cap, Lava bong, Water pump 3-0, Ventilation 3-0, Lighting 3-0,
Level 33: 5074 xp
Unlocks : California orange seed,
Level 34: 0 xp
Unlocks : Cryptonite floors, Pimp cup
Level 35: 5786 xp
Unlocks : Hi-tech insulation, Extra large safe,
Level 36: 6172 xp
Unlocks : Huge grow room, Marble floors, Goblin punch seed, Buddha statue, Water pump 3-1, Lighting 3-1, Ventilation 3-1,
Level 37: 6579 xp
Unlocks : Lowkey wallpaper
Level 38: 7008 xp
Unlocks : Huge shop, Large wall decoration,
Level 39: 7460 xp
Unlocks : Huge shop sign, Gro.io setup 10 cap,
Level 40: 0 xp
Unlocks : Designer leaf,
Level 41: 0 xp
Unlocks : Water pump 3-2, Ventilation 3-2, Lighting 3-2,
Level 42: 0 xp
Unlocks : N/A
Level 43: 0 xp
Unlocks : N/A
Level 44: 0 xp
Unlocks : Romulan seed,
Source: https://steamcommunity.com/sharedfiles/filedetails/?id=2470146539					
More Weed Shop 3 guilds
---