Part 1. Overview Army Strategy
Nkari is one of the most factions to play but is very difficult to master especially if you are new to She thing. But once you secure the Donut, you will snowball very easily and can go anywhere you want.
First thing is knowing your lords and heros. They are very powerful and can stand against most units besides Legendary lords. The Lords all have access to two lores of magic: Slaanesh and Shadow both of which are good if used properly. They also have access to SOUL SIPHON which is very important to know and master as well.
SOUL SIPHON: Causes passive damage to ALL units near the lord if they are at wavering or routed. This is great for when you use your spells to dish out damage to a particular unit and you swarm them get them routed and rinse repeat. Also RUN DOWN enemy units even when the battle is over. Later on for Keepers and Nkari you can heal for each unit you destroy.
The good thing about the magic is the base spells are all you really need.
SLAANESH:
ACQUIESCENCE : 6 winds cost for -24 Melee defence and 25% speed. This and enfeebling foe are great for difficult single targets like lords or units giving you difficulty in your lines. You will shred whoever you cast it on.
LASH: underrated spell which I always put 2 points into for an upgraded cost of 7 winds. Properly cast this take off half health of an infantry unit and alot more if they are grouped close. Learn to hit this right and you can break a unit with this real quick .
SHADOWS:
MELKOTH MIASMA: Does strong damage to units with over 60 men. Great for thinning out a unit before you Soul Siphon them.
ENFEEBLING FOE: Great spell for Legendary lords. Cas tthis and ACQUIESCENCE at the same time on an enemy lord and they will be reduced to nothing.
Most lords are also able to hold out in battle really well and can solo archers by themselves thanks to their high PHYSICAL resistances.
With these four spells you should have all you need to handle the elves infantry armies and their lords.
ARMY TACTICS:
You and your army are FAST. You need to know how to use that to maximum effectiveness and you will get good at most factions in this game. But here are the basics.
Your disciple armies and yours should be about 2/3 infantry chaff and 1/3 lords and cavalry. Your infantrys job is simply to pin down as much of the enemy as possible. Then with your lords and cavalry flank the sides and wipe out their weak cavalry. After that attack as many missile units with your army as possible. Any lords try to tie down with a couple units of infantry. Also try and fight with 2 armies as much as possible and to have numerical superiority.
SEDUCING UNITS: This is the cream on the cake of this faction. You can seduce enemy units to your side for a battle. In the beginning vs the 2 minor factions you shouldnt need to waste money on it. But once you face the legendary lord elves, stealing their archers/lothern/artillery is extremely useful! Early on though you should save the money. Also at the end of your turn try to keep around 4k gold in the bank for unexpected battles.
SEDUCING FACTIONS: This in my playthroughs i was only able to use a couple times. First is Wulfrik seems to be a very easy target and so just be friendly with him and youll be able to seduce him in no time. The other important character to seduce is Morathi. Build as many cult shrines in her provinces and build the one that gives lots of seductive influences. Get treaties with her asap and join wars on her enemies who will never visit you. Once you have her as a vassal the game becomes easy cake.
SLAANESH CORRUPTION and DISCIPLE ARMYS: These go together very well and it is important to pay attention to the amount of corruption in your province. If you have more than 90 Slaanesh corruption in a province, your disciple armies will take NO ATTRITION. With a cost of 300 devotees and an upkeep of a mere 20, these guys will be amazing assets in securing your provinces and bringing much needed firepower to fights.
Part 1.2 Campaign Development.
PROVINCE DEVELOPMENT: For the most part, your provinces buildings should be: Growth>Money>Hero buildings>whatever else you need. The growth building is a great price for how much growth and replenishment it gives you and you need as much money as possible.
DIPLOMACY: Try and get trade agreements with everyone you don't plan on going to war with and money from pacts with factions you know are wiped out early on (Draken coven, Greenskins in yvresse). DO NOT get a pact with scourge of khaine. Be friendly with belakor and he will take care of the east for you. Be VERY friendly with morathi because you want to seduce her so declare war on her enemies.
CULTS and SEDUCTION: The only factions I seduced were Norsca (wulfrik) and Morathi after i built alot of cults in her provinces. When she has no enemies she will start breaking pacts with you so do act quickly. The other humans and factions are rather difficult to seduce and require more effort than they are worth.
RESEARCH: Upkeep reduction.
RNG EVENTS: A couple times in my campaign i got a cult in the bottom of the map near kairos from that slaanesh faction. They will eventually go to war with kairos and lose their army and if you can do diplomacy with them you can CONFEDERATE them and get a juicy rich province for FREE. Kairos will even give you treaties afterwards and so you don't have to worry about it.
Part 2. Chrace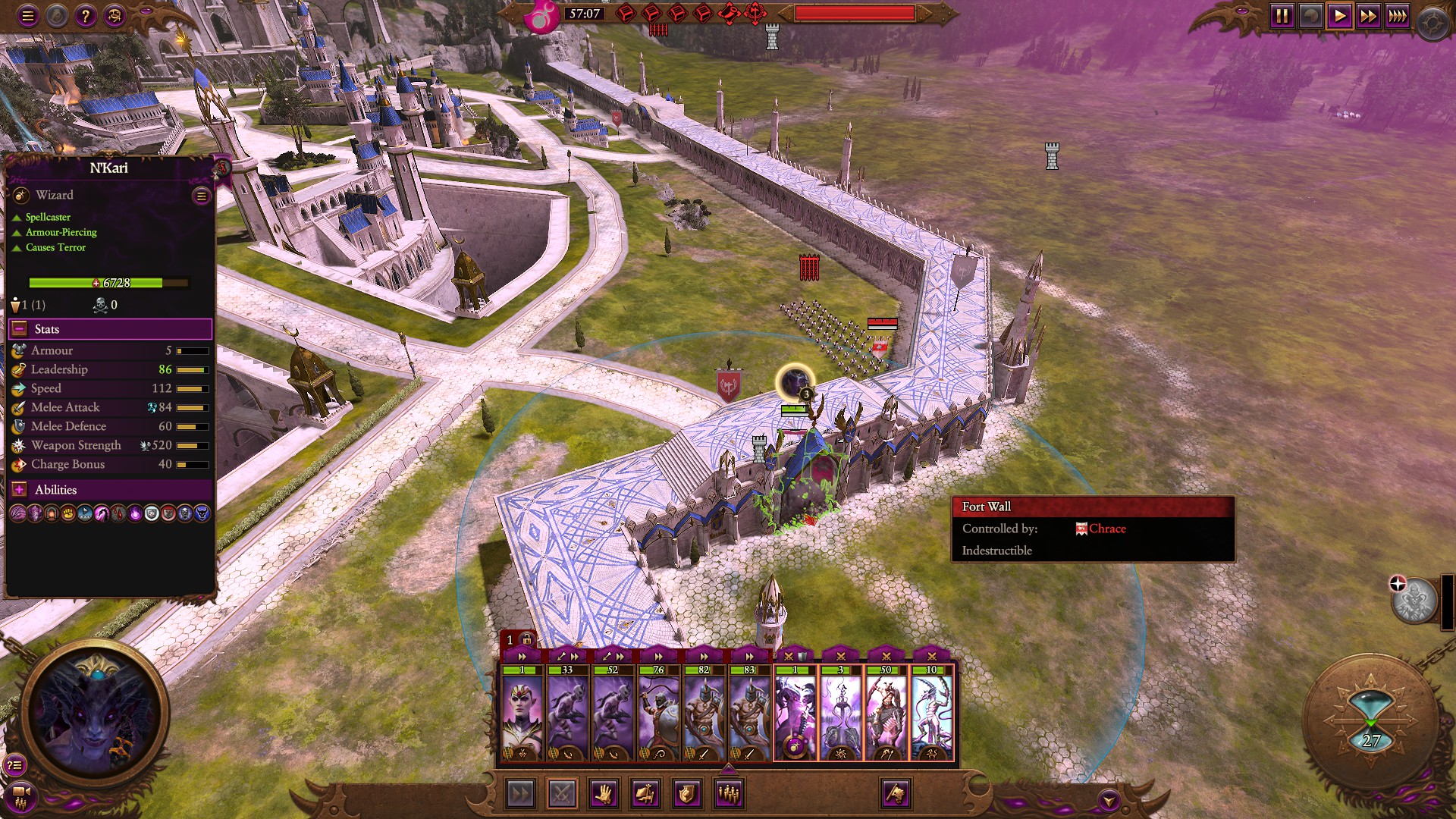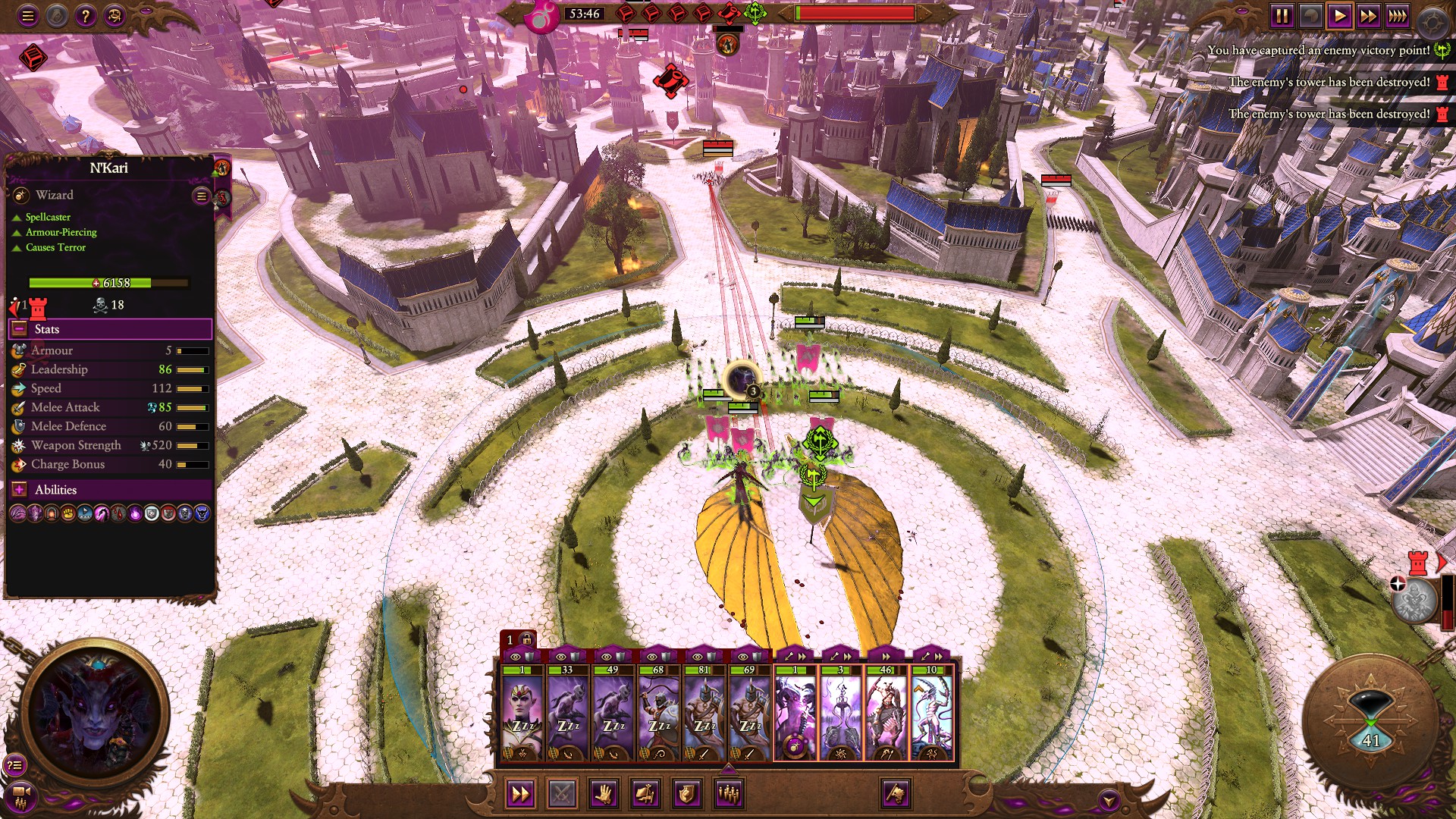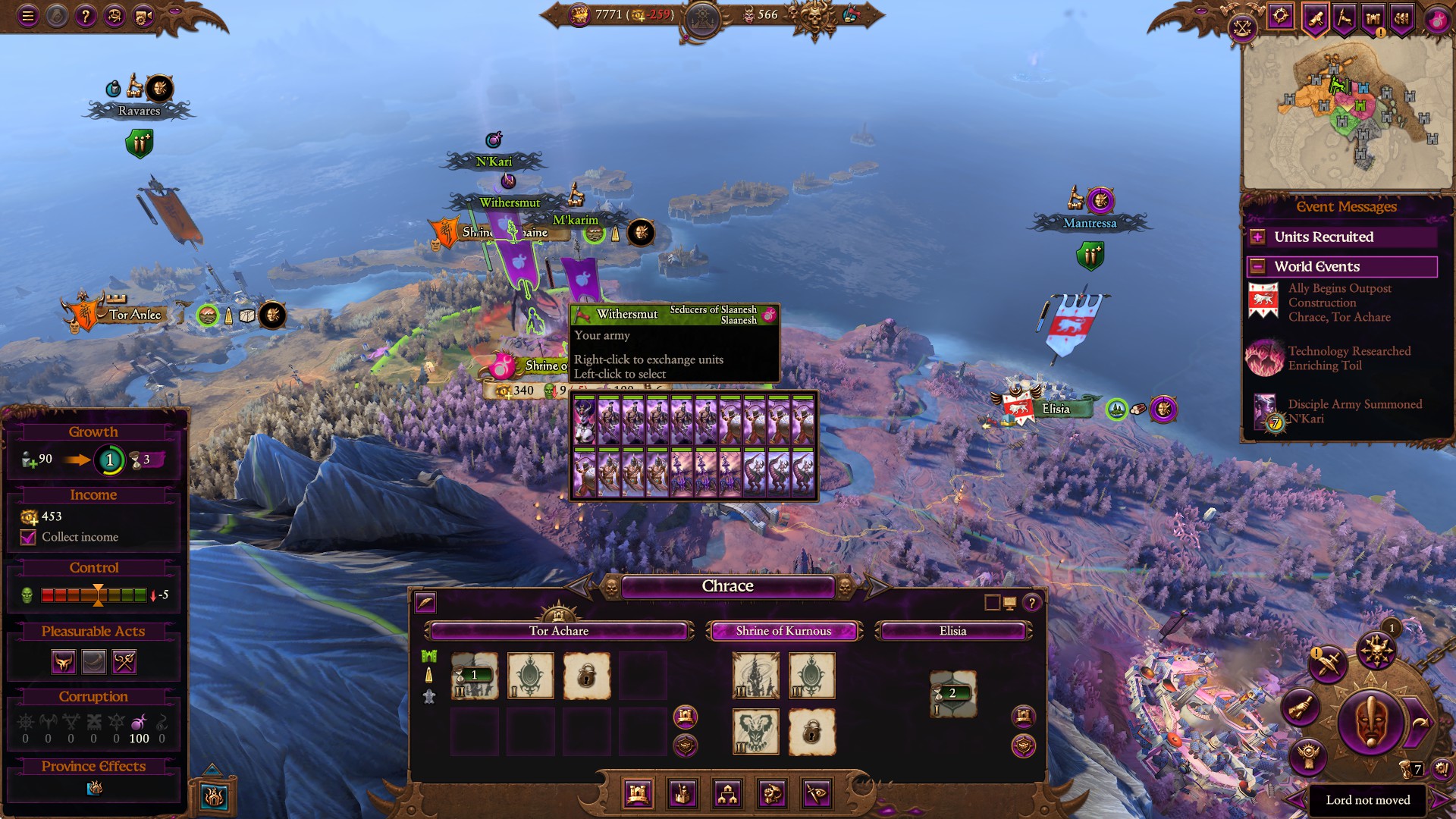 First battle autoresolve. The reason is this will wipe out the army giving you full experience. And you wont need a full army for the Tor Achare siege. Point into Speed and magic.
Now the next siege may appear hard but is actually very easy. Place your infantry and hero in the forest on the left side of the map and hide them for the battle. Now place NKari and the Cavalry near them but visible. Start the battle and move nkari and cavarly to attack the gate on the OTHER side of the map. Enemy ellryian reavers should follow. Once gate is down destroy their cavarly with nkari and spells to shatter them. Afterwards, RUSH to the capture point at the back and capture it as fast as possible. You should be able to fend them off until time runs out.
Turn 1 you should be level 5. Recruit a new lord (I prefer Shadow) and activate pleasure hunt to get better recruit rank. Build the growth building in both settlements and then the money building.
Now on turn 2 use your lord you just recruited to sack their final city with Nkari reinforcing. Use this as a sack city to stock up on devotees and exp for nkari and the lord while recruiting marauders until you have a full stack. Around when you have 18 units, subjugate chrace and move your forces WEST until you are on the border with Scourge of Khaine and summon a disciple army.
This is how your forces and province should look.
Part 3. Scourge Of ♥♥♥♥♥♥♥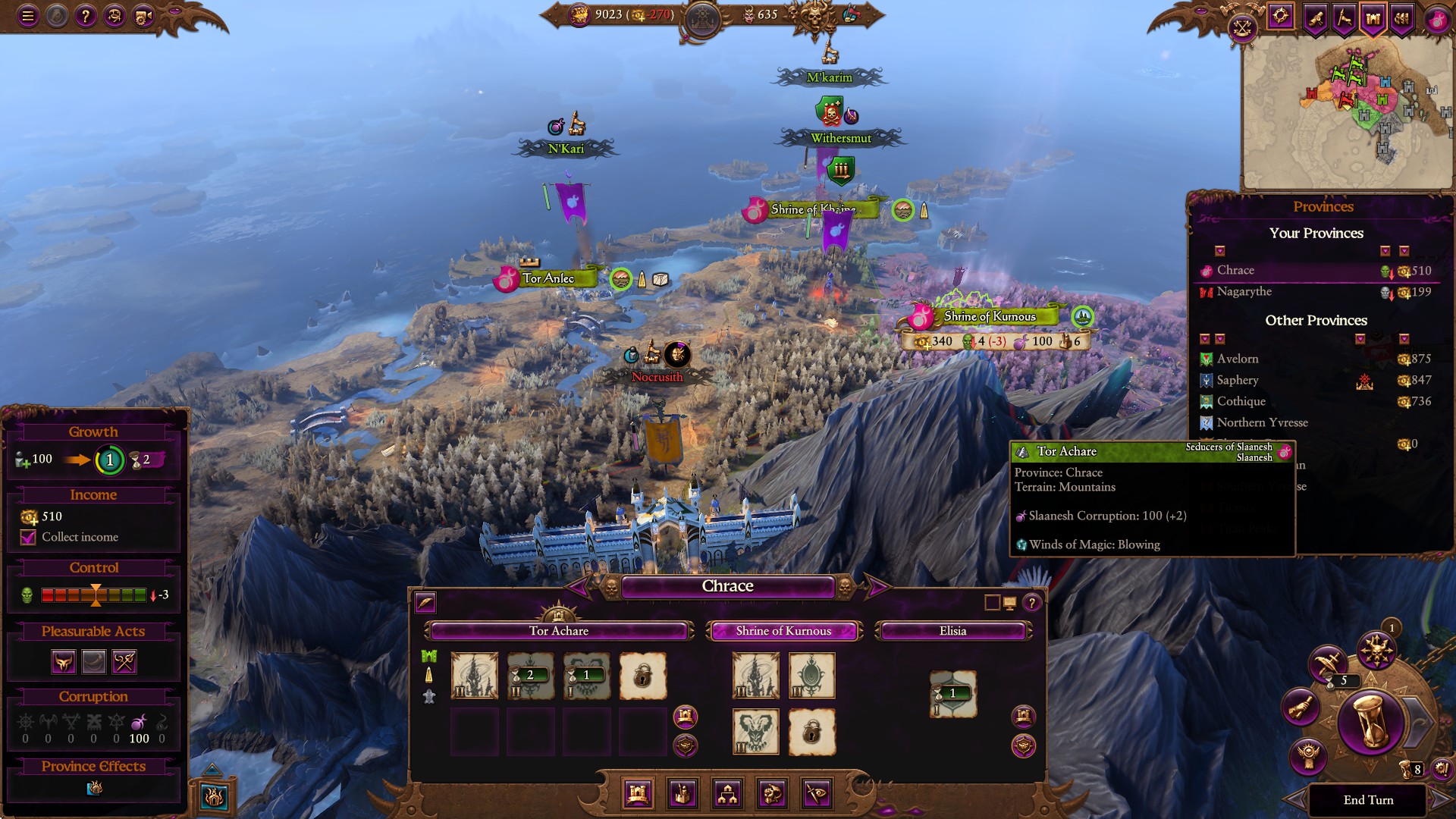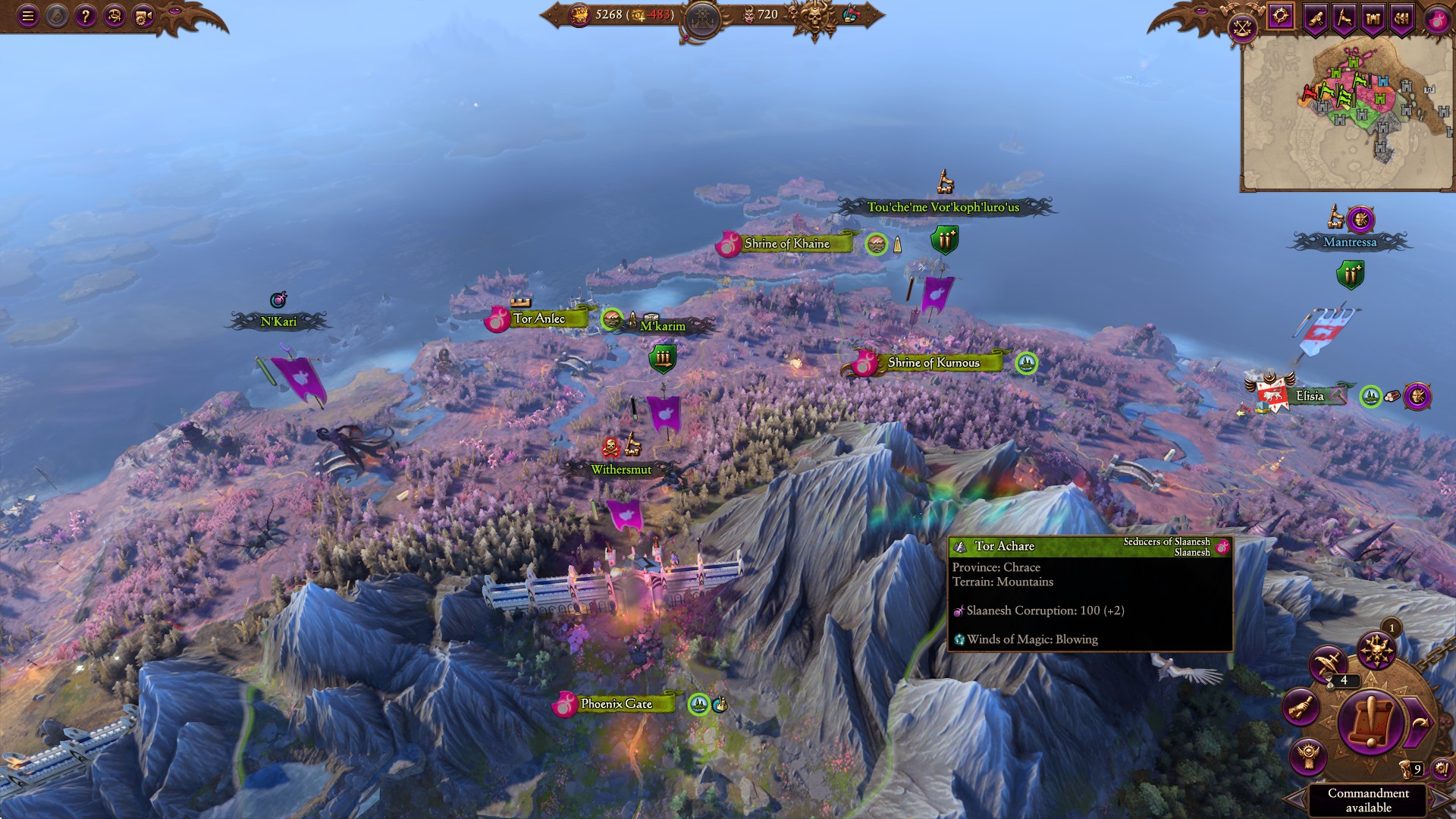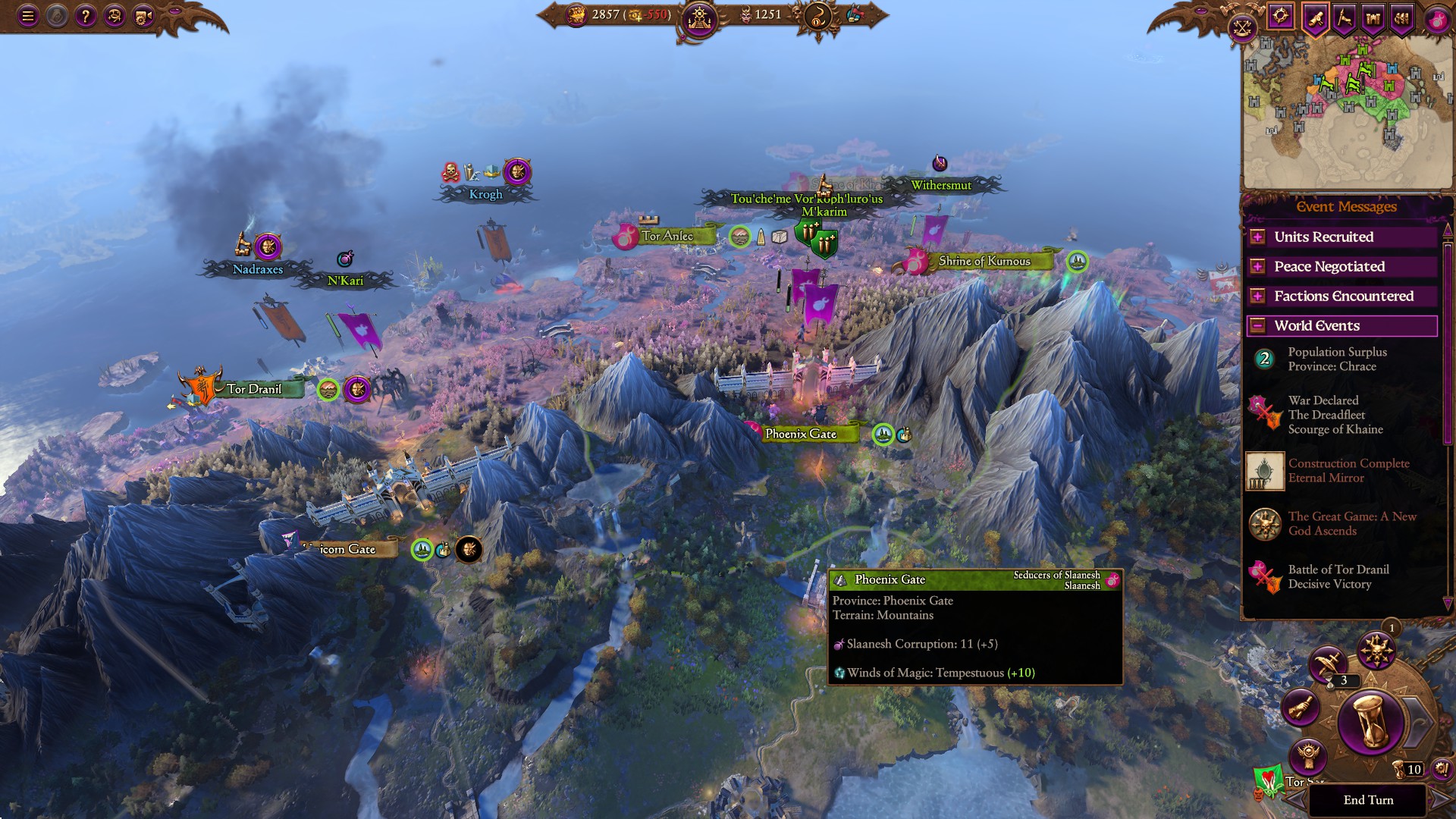 One of the biggest mistakes people make is that they are made to think their western flank is secure with a "friendly" dark elf faction there while you should go east to cothique and Yvresse. THIS IS BEGINNERS BAIT. Do NOT fall for it. In all of my playthroughs Allariale ALWAYS steamrolls these passive dark elves and invade chrace. Instead we will assume direct control and wipe them out first. As for the east, eventually belakor and his vassal will occupy cothique and keep eltharion busy on that flank. This method also keeps you from meeting bretonnia and the ever annoying leoncour.
End of turn 7 Nkari needs to be able to reach Tor Achare next turn so he needs to stand in the province but dont declare war. They will have an army in the phoenix gate but shrine of khaine and the capital will be practically undefended.
Turn 8 we will take both settlements. Nkari attacks the capital using the same strategy as chrace and your other lord and the disciple army reinforcing will take the shrine of Khaine. Loot and occupy both since public order is hardly an issue for this faction.
At this point I did not need to seduce any units, but if you feel lacking go ahead.
Now dont forget to keep recruiting with your other lord. The disciple army was reinforcing so it still has movement so force march it to attack range of the enemy lord. Thanks to how badly autoresolve ranks Nkaris faction they will attack but you will be able to defeat this army. It does have some shades so make sure your cavarly take them out and then the battle is easy. Make sure to run down as many units as possible. Take the replenishment option.
Turn 9: your disciple army will be in range to attack phoenix gate. You can force march your 2nd lord to reinforce for xp but as usual fight the battle manually. The garrision is pretty weak and should put up no problem. It takes nkari 2 turns to get to their last settlement. Also recruit a third lord in your first province so you are recruiting.
Turn 10: Nkari sacks and subjugates Scourge of ♥♥♥♥♥♥♥ and prepares for the attack on Unicorn gate. I moved my disciple army to my first province so it doesnt take attrition and moved my 2nd lord into the gate. There is a place that is in the 2nd province where you can reinforce phoenix gate while recruiting at the same time and that is where i placed my 3rd lord. Congrats you have 2 vassals and 2 secure provinces at turn 10!
Part 4. Allariele The Butt Queen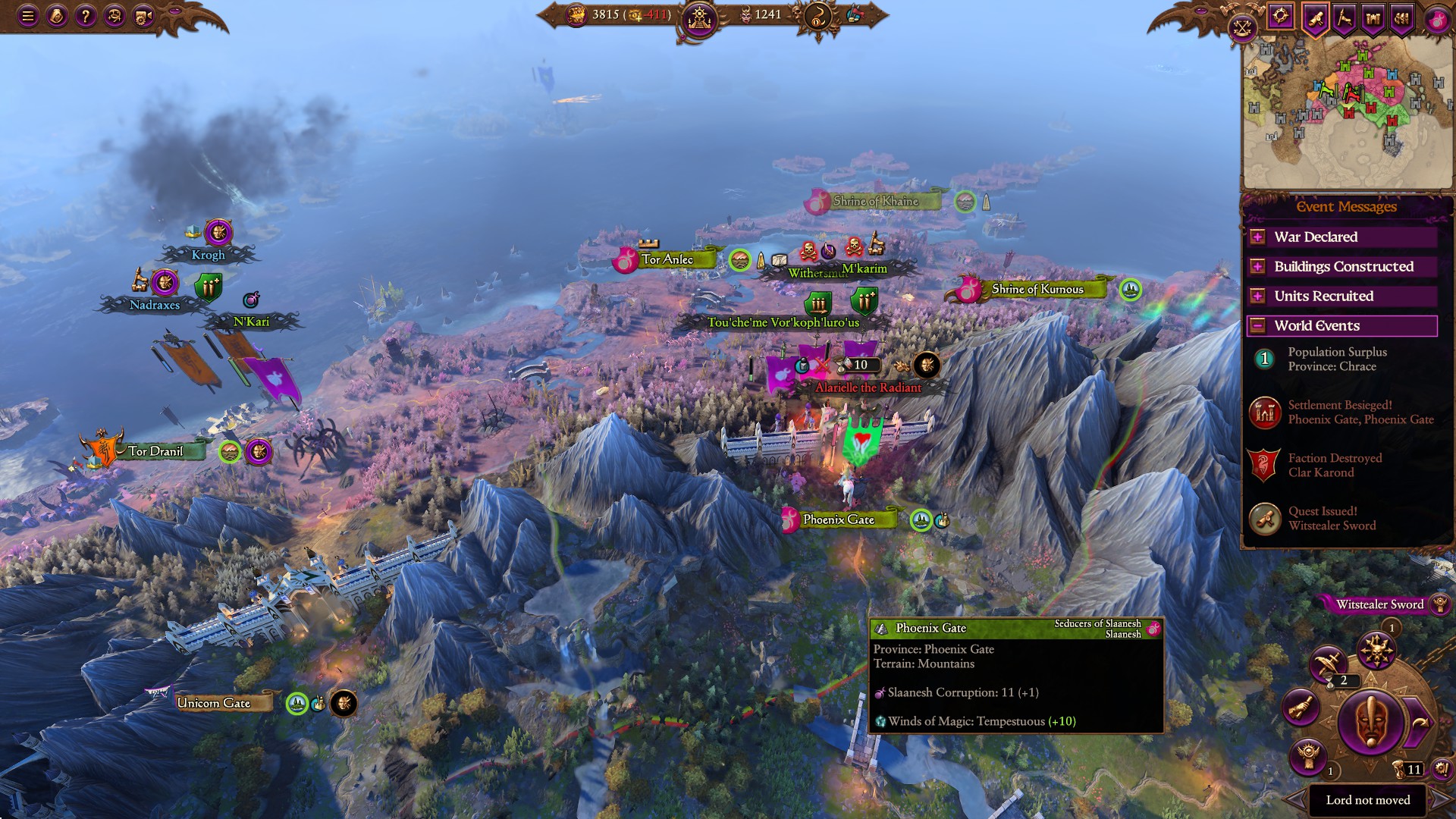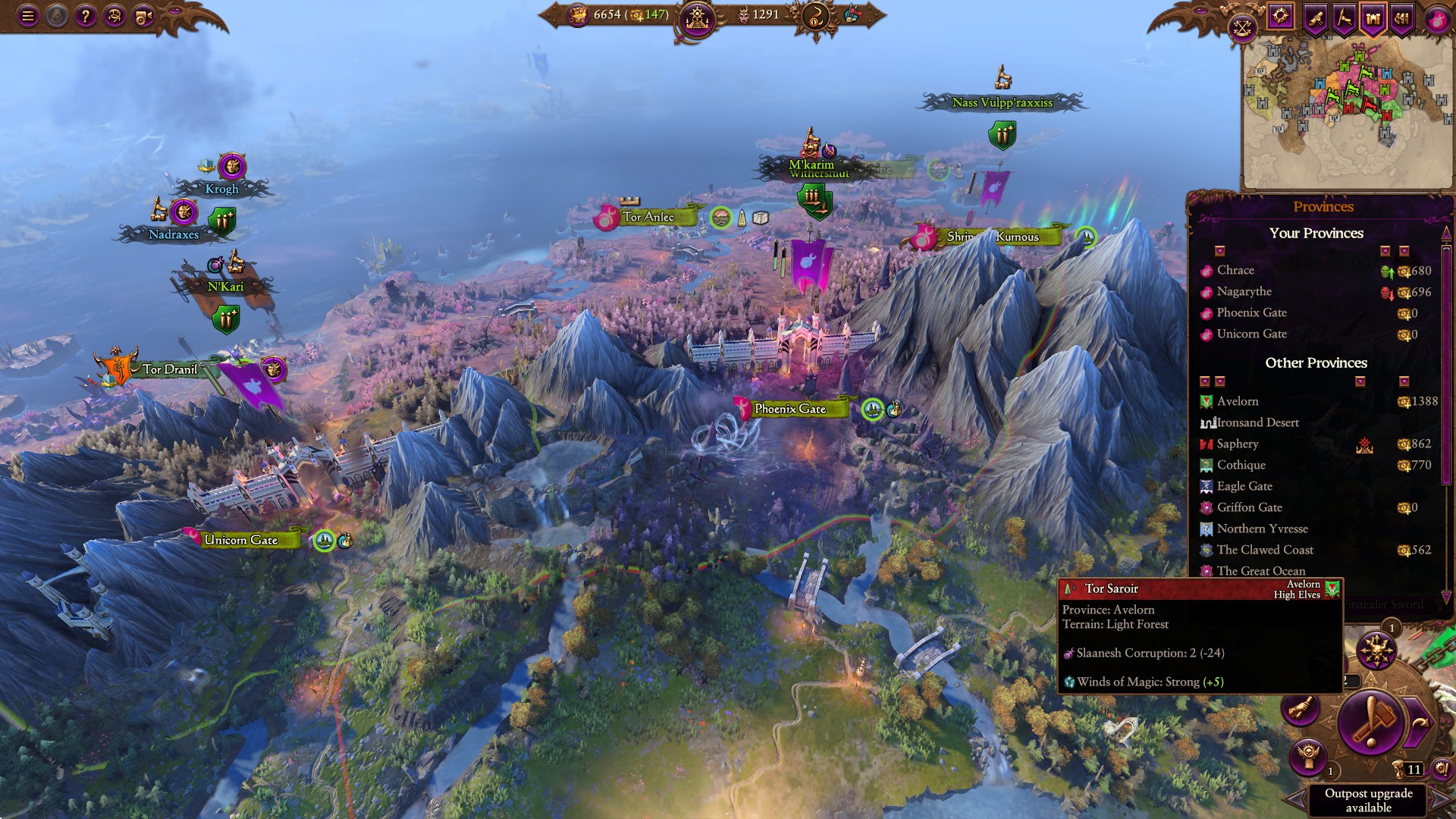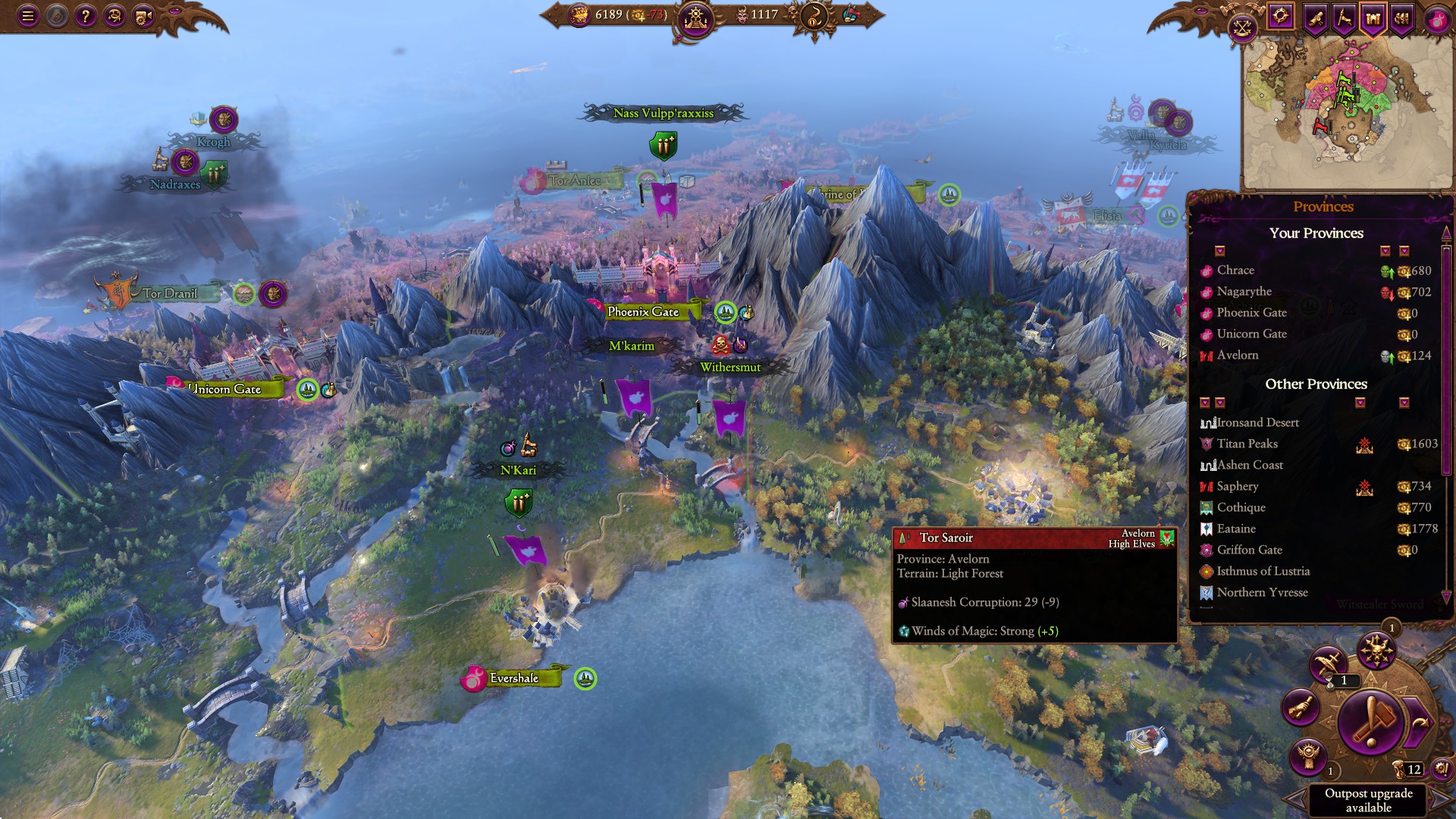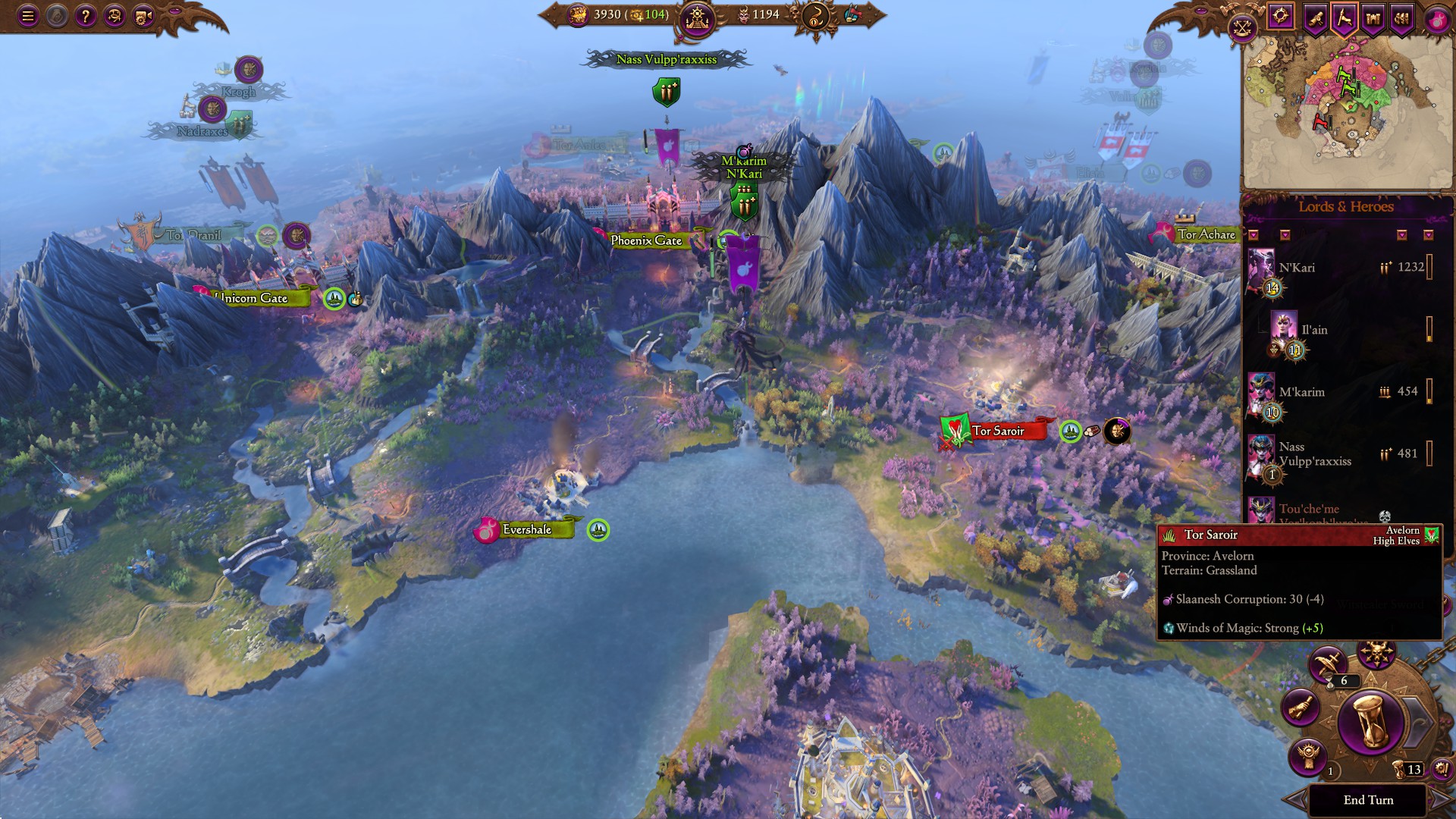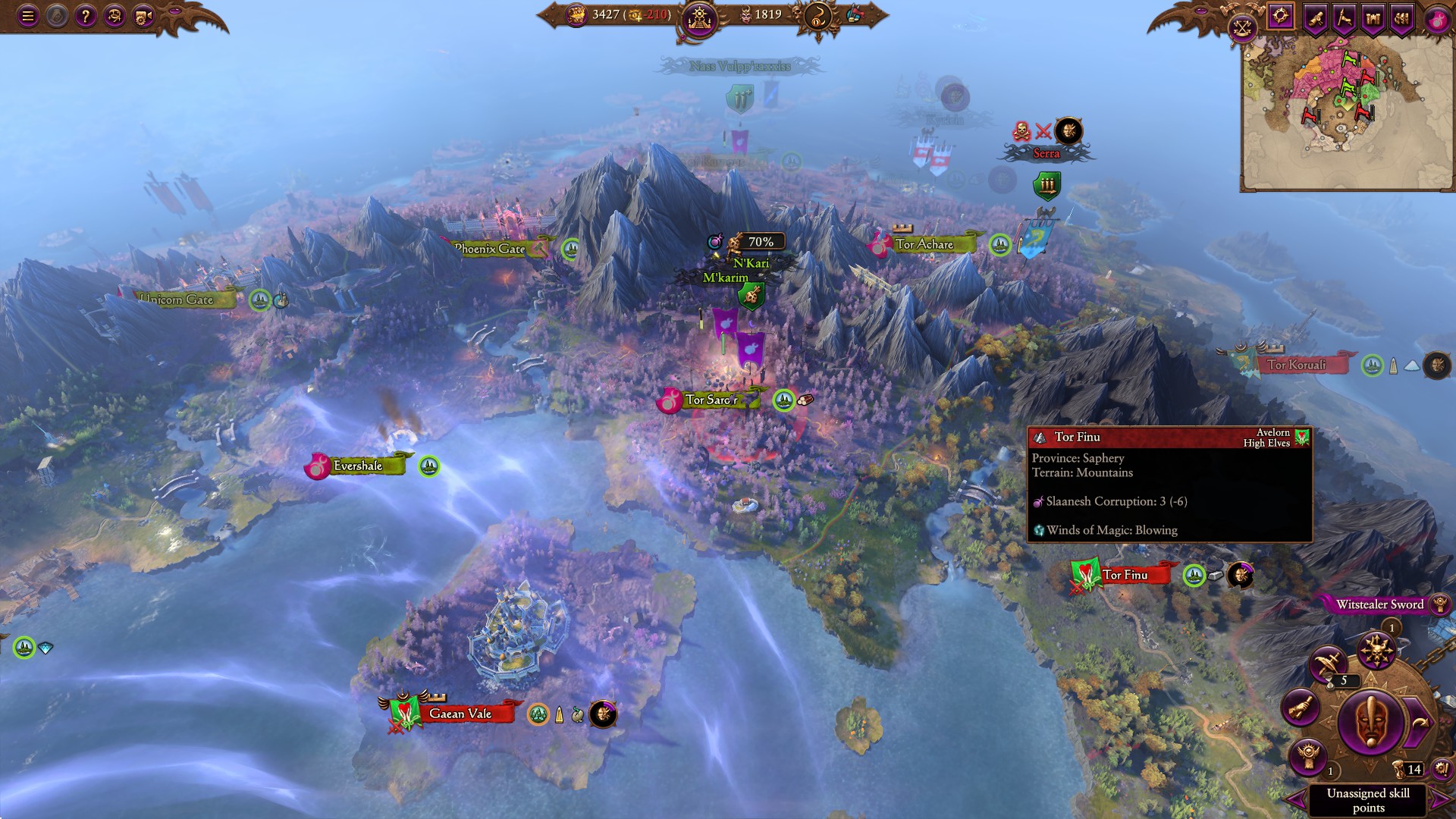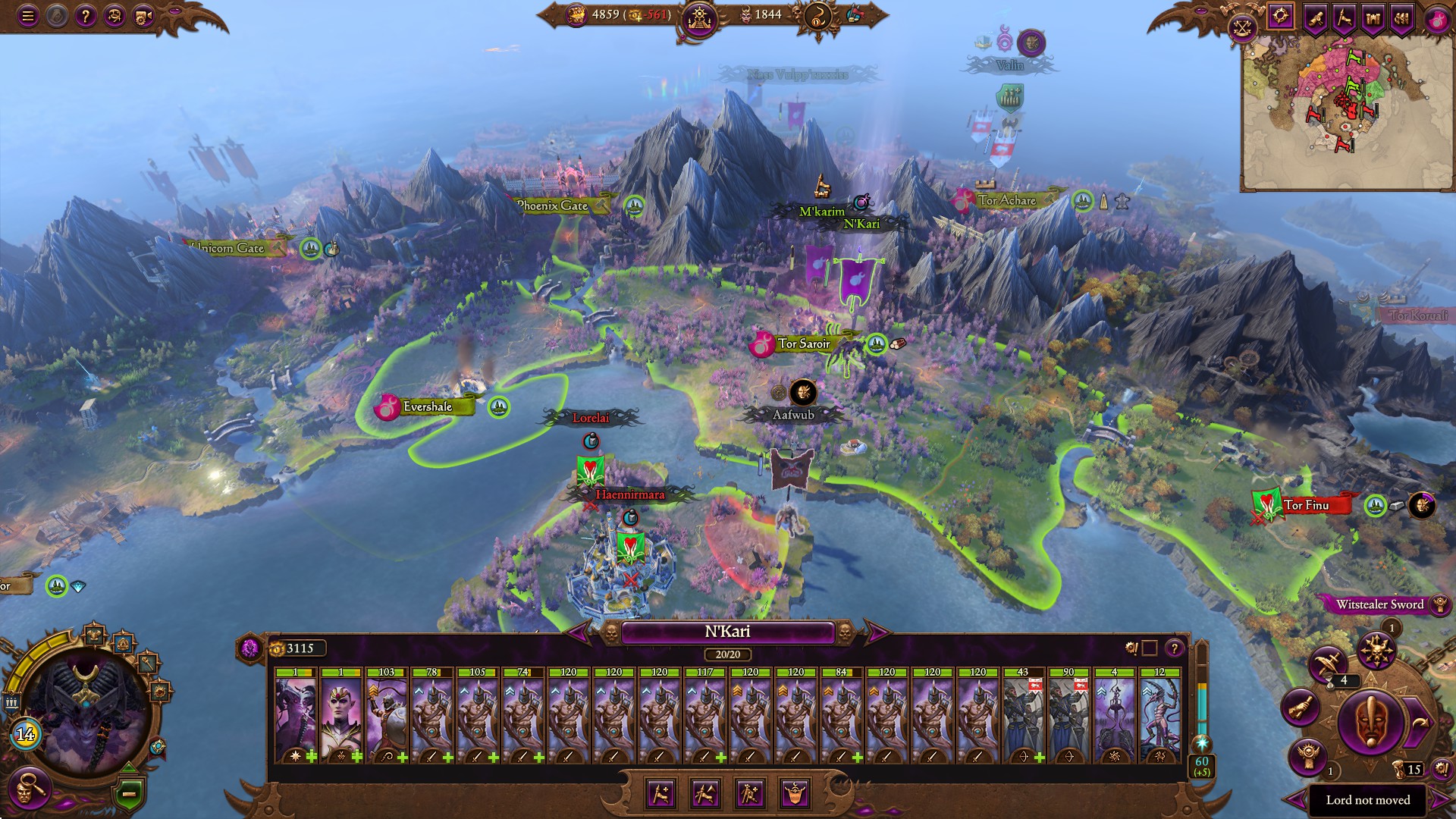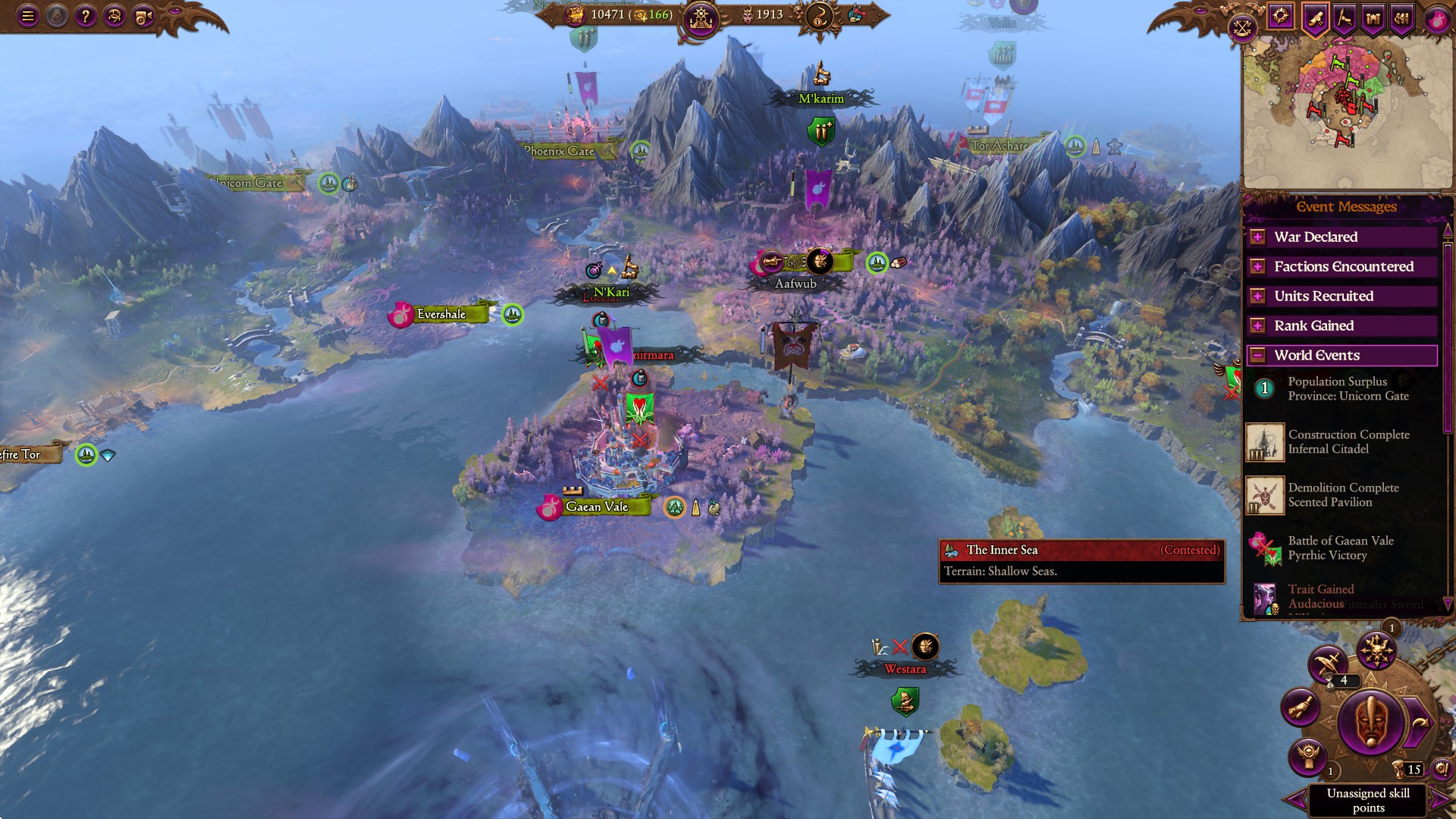 Turn 11: Allariele declares war and sieges phoenix gate. But dont worry this battle is winnable!Make sure you get your disciple and 3rd lord in proper reinforcement range (it can be a little tricky and attack allariele. This battle you should seduce some archers from her. The main concern in this battle is the sisters of averlorn and the tree kin. Use your archers from your vassal and the seduced ones to focus them as well as use the cavalry. Use your miasma and enfeebling foe on the tree kin. Allariele and the hero dont do a lot so dont worry about them while your infantry ties down the rest of the army. Wipe out as many after the battle. Whatever units escaped, wipe them out in the 2nd battle no problem with one army. After this I transferred all units from my 3rd army to my 2nd and recruited a 4th lord to recruit. Nkari has the gate battle and it is a little tougher than phoenix gate but if played properly should also be no problem.
Turn 12: This turn use all three armies to sack and take evershale with nkari occupying. Averlorn moved their last army to a saphery province so you are safe. Ellyrion are also passive like Scourge so dont worry about them. They are dealing with tiranoc and noctilus.
Turn 13: Using your 2nd lord with nkari reinforcing sack Tor sarorir. Return to evershale for replenishment.
Turn 14: Occupy Tor with your 2nd lord and put NKari in ambush stance to see if you can lure out the 2nd army. They didnt come for me but it doesnt matter because we take the Gaen vale next turn.
Turn 15: Nkari takes the Gaen vale using the same techniques as the other siege battles.
By this point you should be close to mastery in understanding how nkari and her army works so this battle is on the tougher side but properly done you should be able to do it. Afterwards congratulations! you have 3 provinces, 2 gates and averlorn almost knocked out by turn 15!
Part 5. Mopping Up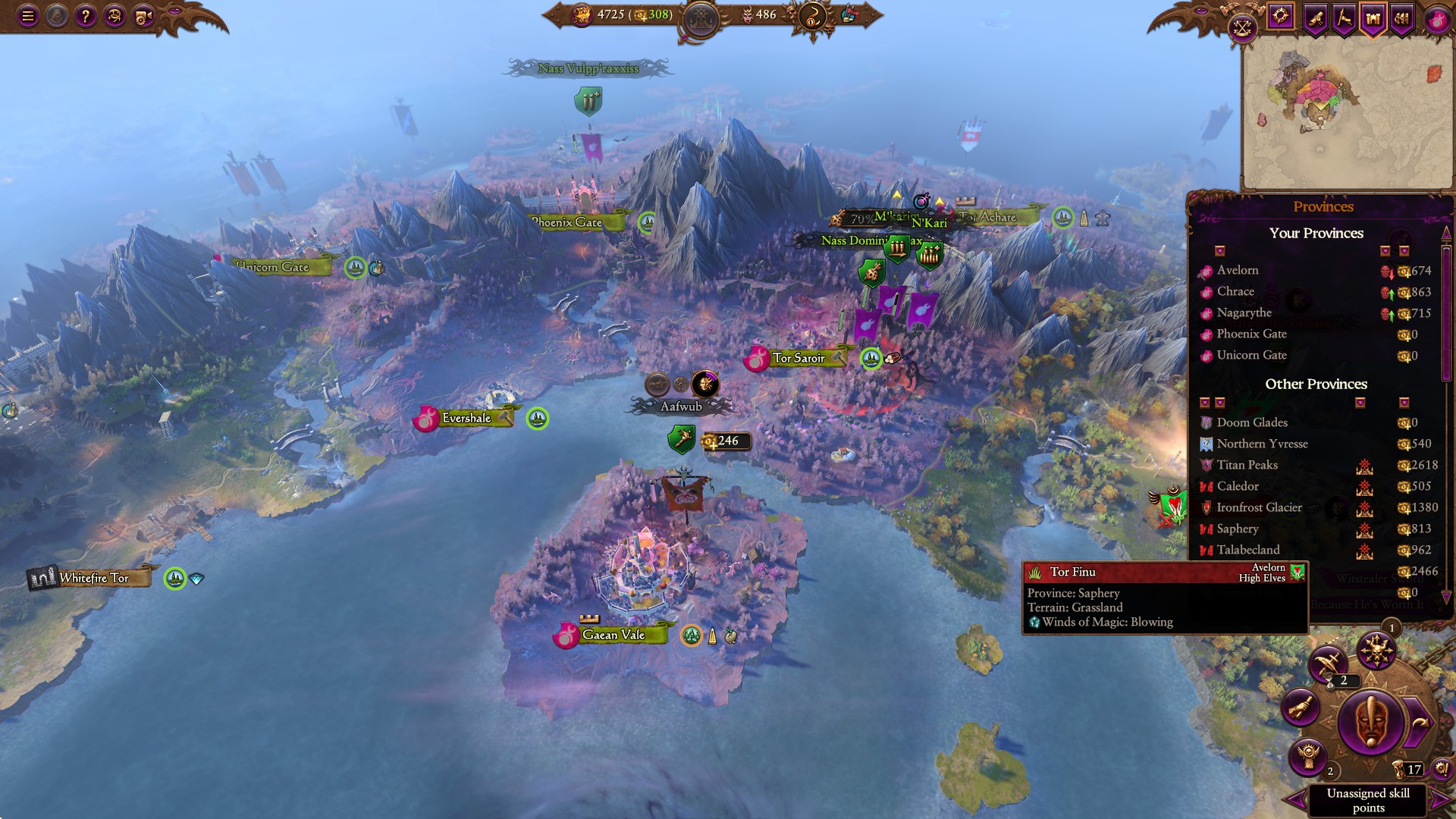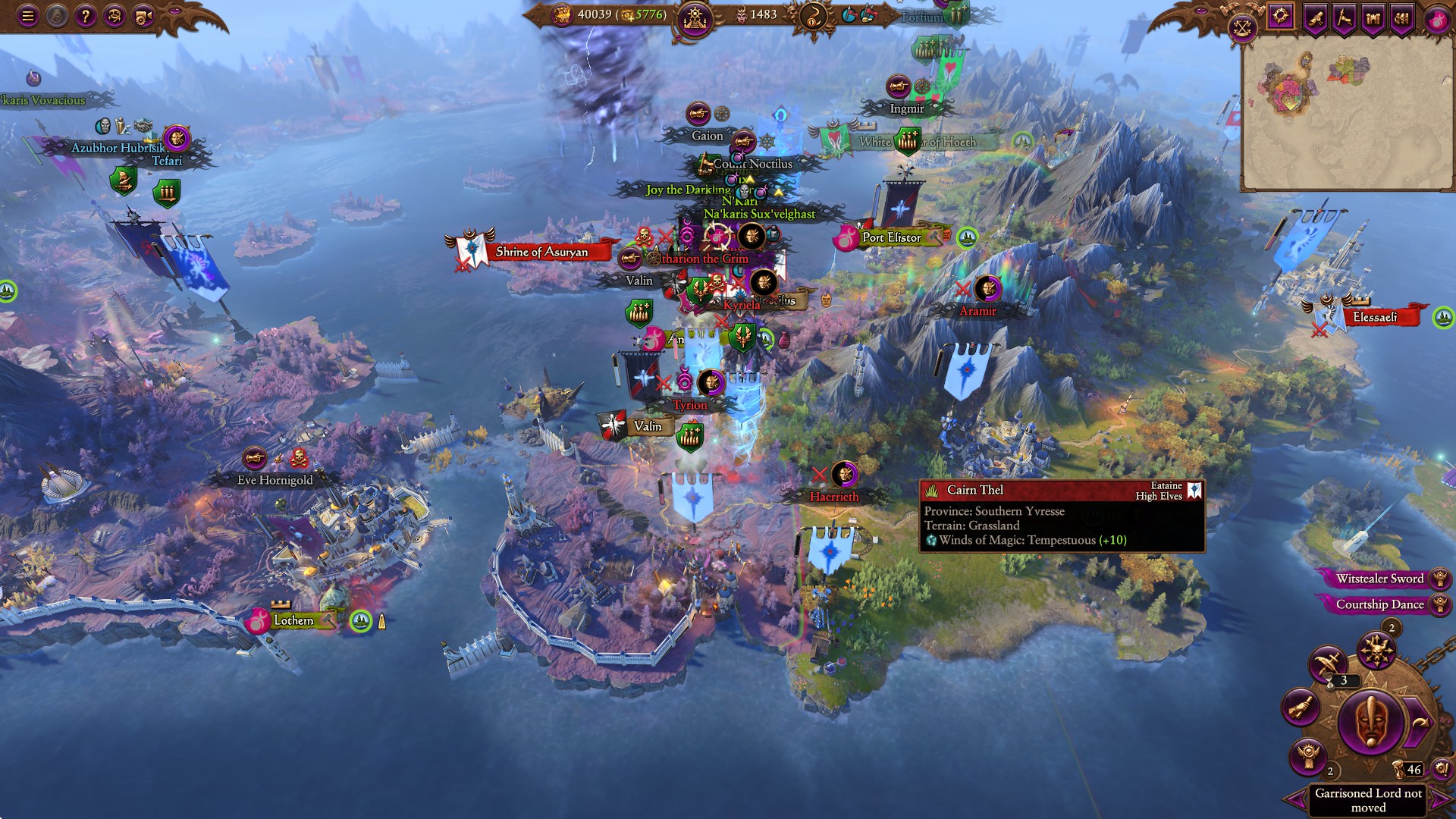 For the most part the difficult part of the campaign is over. Here we finish off averlorn and target the rest of the high elves.
By this point Tyrion and Eltharion should be sending armies at you. But the only settlement they can easily reach is evershale for the moment.
Turn 16: i moved nkari back into ambush stance to see if i could bait out the last army to no avail again.
Turn 17: I summon a disciple army and with these 3 armies you can knock out and subjugate averlorn.
Move Nkari back to the left side of the donut and keep your other lord in averlorns settlement to make sure they arent attacked by saphery or tyrion. Also point of note: Don't hold settlements in the same province as averlorn because she will remove all slaanesh corruption. So when you are ready subjugate sapherys capital and either give it to averlorn or raze it.
That is the end of specific strategy and from here there will be more variables. Nkari should take the west and push into eataine from that direction and then from the east your vassals and 2nd lord take care of that. Make sure to summon disciple armies when needed. As for noctilus, you can get agreements with him if he doesn't have desirable settlements. He will break them when you vassalize tyrion and eltharion due to wierd diplomacy mechanics.
Thanks for reading and happy seducing! Here was one of my other nkari campaigns where everyone came to have an orgy in eataine :0
Let me know comments, suggestions and strategies you have.
Source: https://steamcommunity.com/sharedfiles/filedetails/?id=2934041950					
More Total War: WARHAMMER III guilds
---