Step 1. Downloading The Previous Version



To download the previous version, simply type steam://nav/console in the search bar of google.
After that, press enter. You should get this message. Click "Open Steam Client Bootstrapper"
After that, you should be sent to steam, and a new option should appear at the top of your screen called console
When you are there. Enter this code.
download_depot 488860 488861 6529003183368649878
Once you do this, just wait a bit, it takes a bit to install. Once installed you have officially installed the 1.05d version of madness project nexus. Congrats!
Step 2. Locating Your Previous Version

After you have installed the previous version, it's time to locate your previous version.
To do this, go to your _ drive that has your steamapps folder in it (It can be your A drive, B drive, C drive, D drive, etc. Whichever one contains your steamapps), for me it's my D drive, and go to steamapps, then content, app_488860, and depot_488861.
There! You have officially located your previous version. I think this one was shorter than the other one but it's fine... I think.
Step 3. How To Apply Your Mod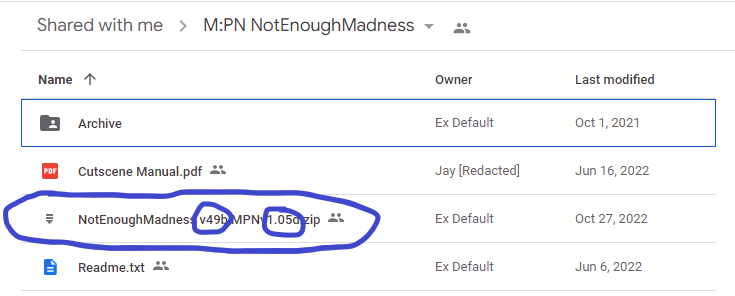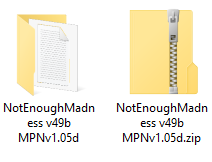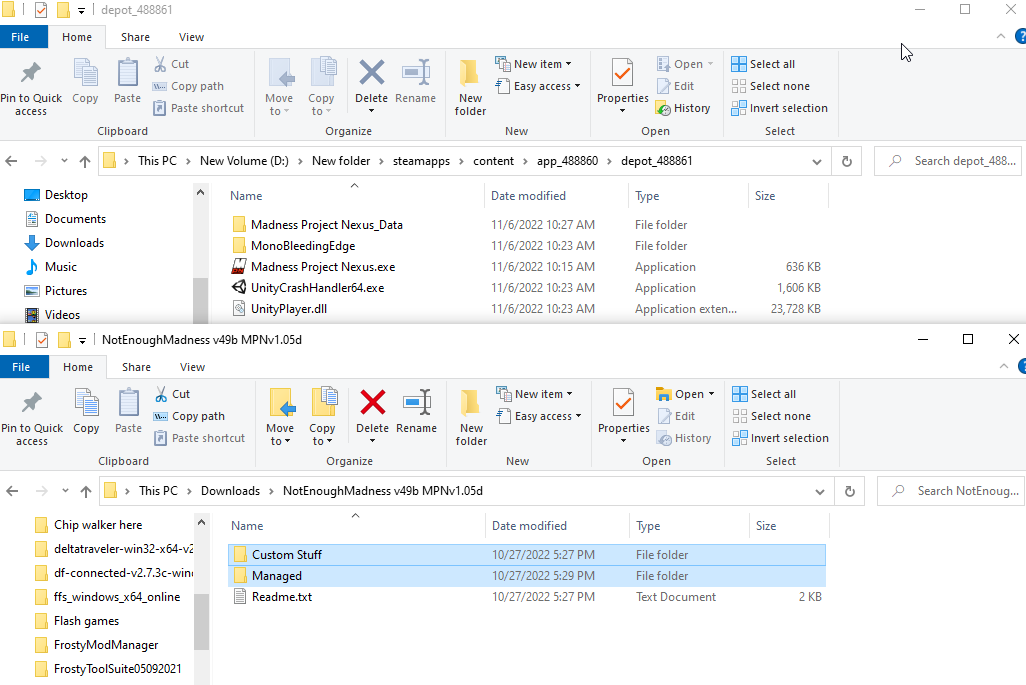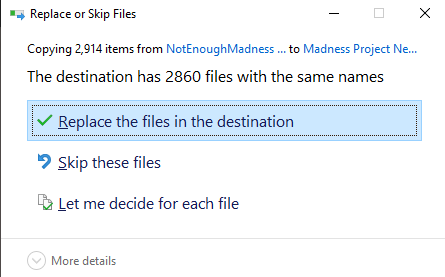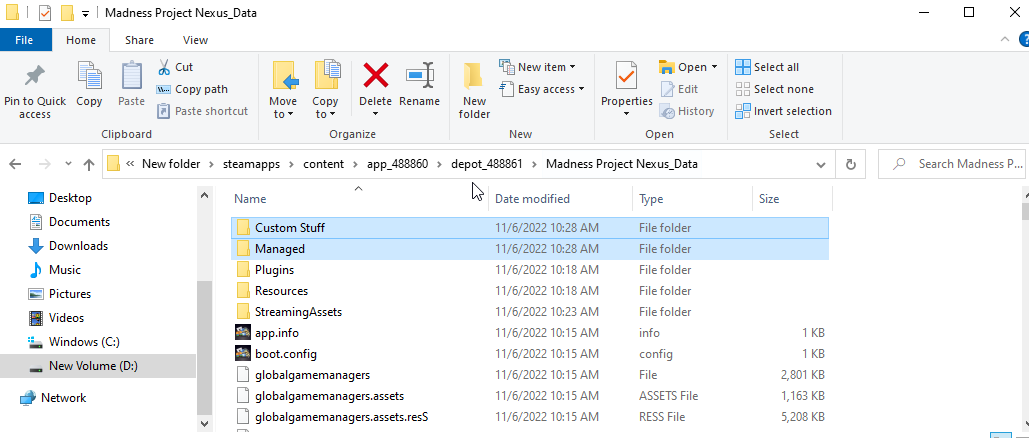 You now know your file location, now it's time to apply the mod. First off, download the mod. MAKE SURE IT SAYS "NotEnoughMadness v49b MPNv1.05d"
After that, you need to unzip the file and open it
After you've done that go to your file location and also have your mod
After that, place your mod contents (not the readme) into the game location, you should be prompted with this (the reason it says 2 thousand something is because I already did this, so if you are doing this new then it should say like 2 or something)
Pick replace all files. After you've replaced the files. It should look like this
Once you've done that, start your game. It will be a black screen, DO NOT PANIC. It takes longer to load due to the mod. So if you screen is all black and you have the loading cursor, that's good, don't press anything, it will crash if you press while it's loading.
After it loaded, go ahead and look at the bottom right, it should say this
Step 4. ENJOY
After you've done all that, YOU CAN NOW PLAY. Test this out by going into playground (or story/arena mode) and press f or c. If a mod menu pops up in the top left, YOU HAVE DONE IT.
Your hard work has finally paid off!
I played around with this in playground and also took a screenshot for it
Well, go ahead. Leave this guide now and play, YOU'VE EARNED IT!
:D
QNA (If You Have Questions. I Awnser)
A youtuber also made a vid on downloading older versions. SHOUTOUT TO "DRG Historian"
Q: Why is there no questions?
A: There isn't supposed to be any yet. I decided to awnser any question/problems on this section instead of just replying in the comments, that way people with the same question/problem can just see the awnser here
Source: https://steamcommunity.com/sharedfiles/filedetails/?id=2890385438					
More MADNESS: Project Nexus guilds
---