How To Get Butterflies / Comment Récolter Tous Les Papillons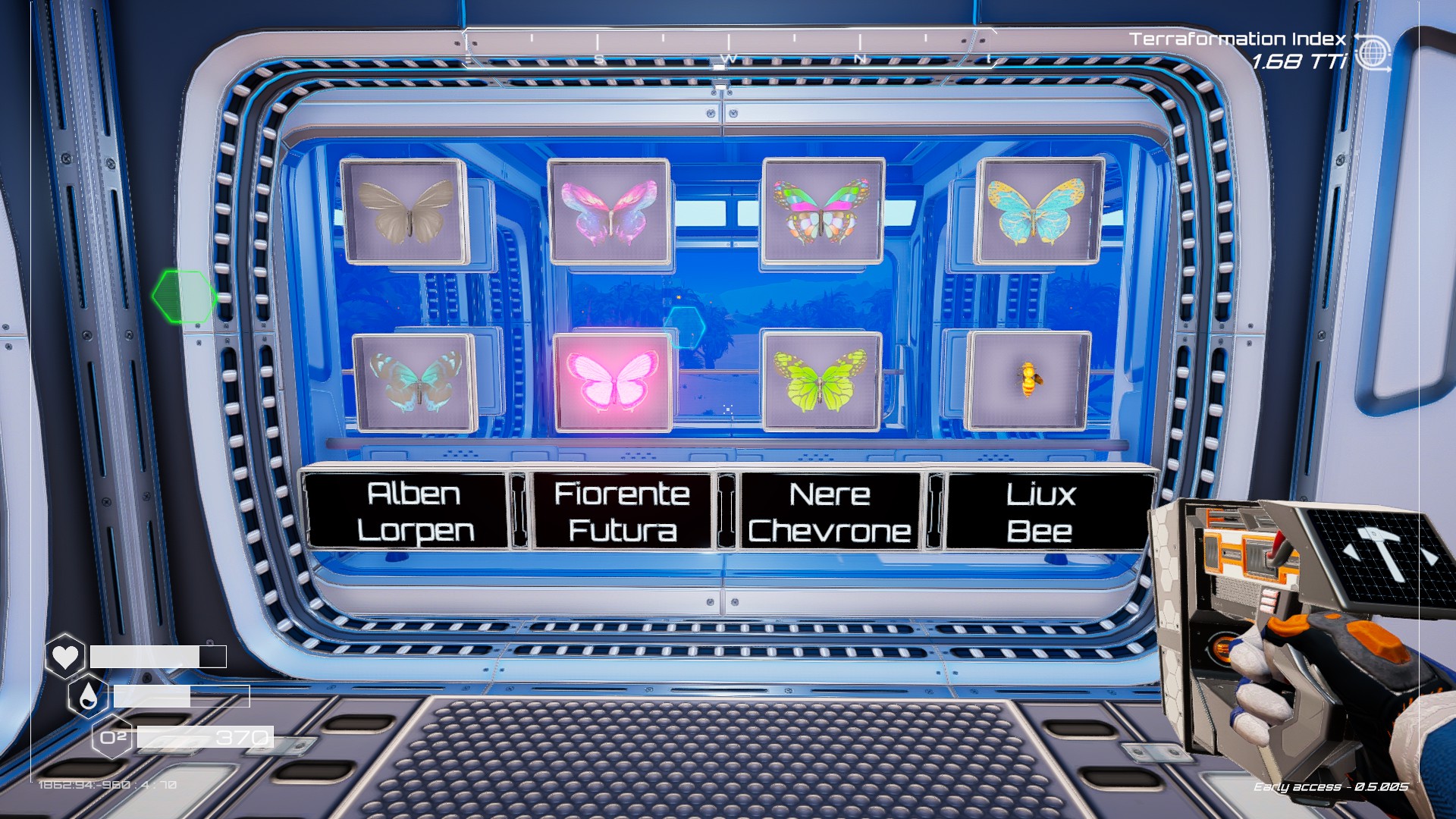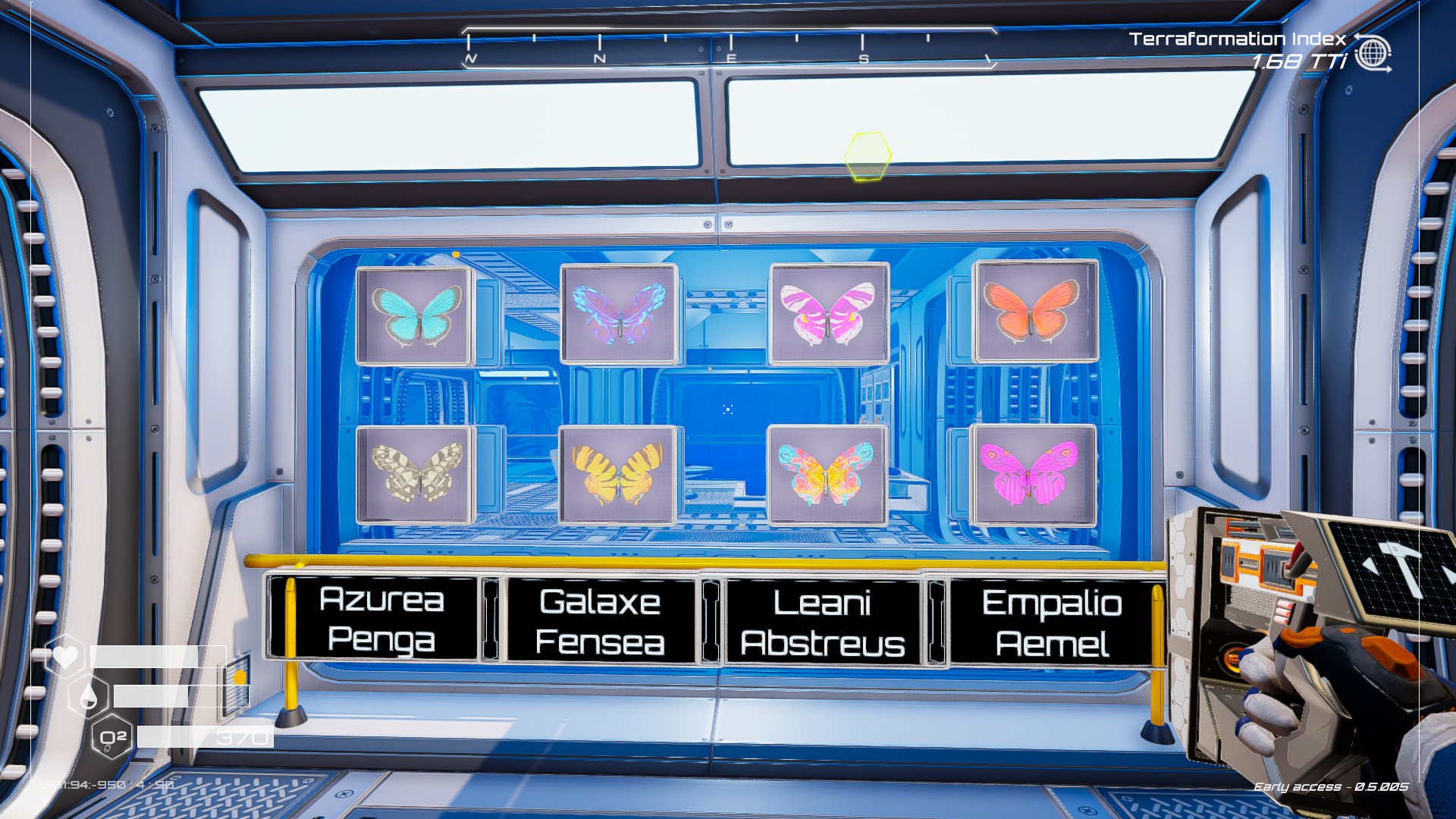 Butterflies are, quite obviously, available after you reach the insect stage so you'll have to do quite a bit of terraforming before you start. Butterflies can be used to increase your progress in the insect stage.
Once you have reached that level, larvae will start to spawn on the floor, which you can pick up and mutate using their designated crafting table, one mutagen and one fertiliser.
There are 3 categories of larvae, common, uncommon and rare, as well as wild butterfly pupae (still called larvae in game).
Common larvae can be turned into 6 different butterflies (screenshots are located in the section below): Azurea, Galaxe, Leani, Empalio, Fensea and Abstreus.
Uncommon larvae won't give you any butterflies. Instead, you can turn them into bees and silkworms.
Rare larvae can only give you 4 different butterflies (screenshots also located in the section below): Penga, Aemel, Chevrone and Liux.
Les papillons ne sont, en toute logique, disponibles qu'après avoir atteint le stade des insectes. Il vous faudra donc avoir terraformé suffisamment pour commencer votre collection. Ils vous serviront à faire progresser votre niveau global d'insectes sur votre planète.
Une fois ce stade atteint vous trouverez, sur le sol, des larves que vous pourrez faire muter dans leur table de modification spécifique en les associant à un mutagène et un fertilisant. Il y a 3 catégories de larves ainsi que des chrysalides rares dans la nature.
Notez qu'en jeu les chrysalides sont appélées des larves (pour l'instant).
Les larves communes peuvent vous donner les 6 papillons suivants (dont les images sont situées plus bas): L'Azurea, le Galaxe, le Leani, l'Empalio, le Fensea et l'Abstreus.
Les larves communes ne donnent pas de papillons mais des abeilles et des vers à soie.
Les larves rares ne donnent que 4 papillons différents, à savoir: Le Penga, L'Aemel, le Chevrone et le Liux.
Common Butterflies / Les Papillons Communs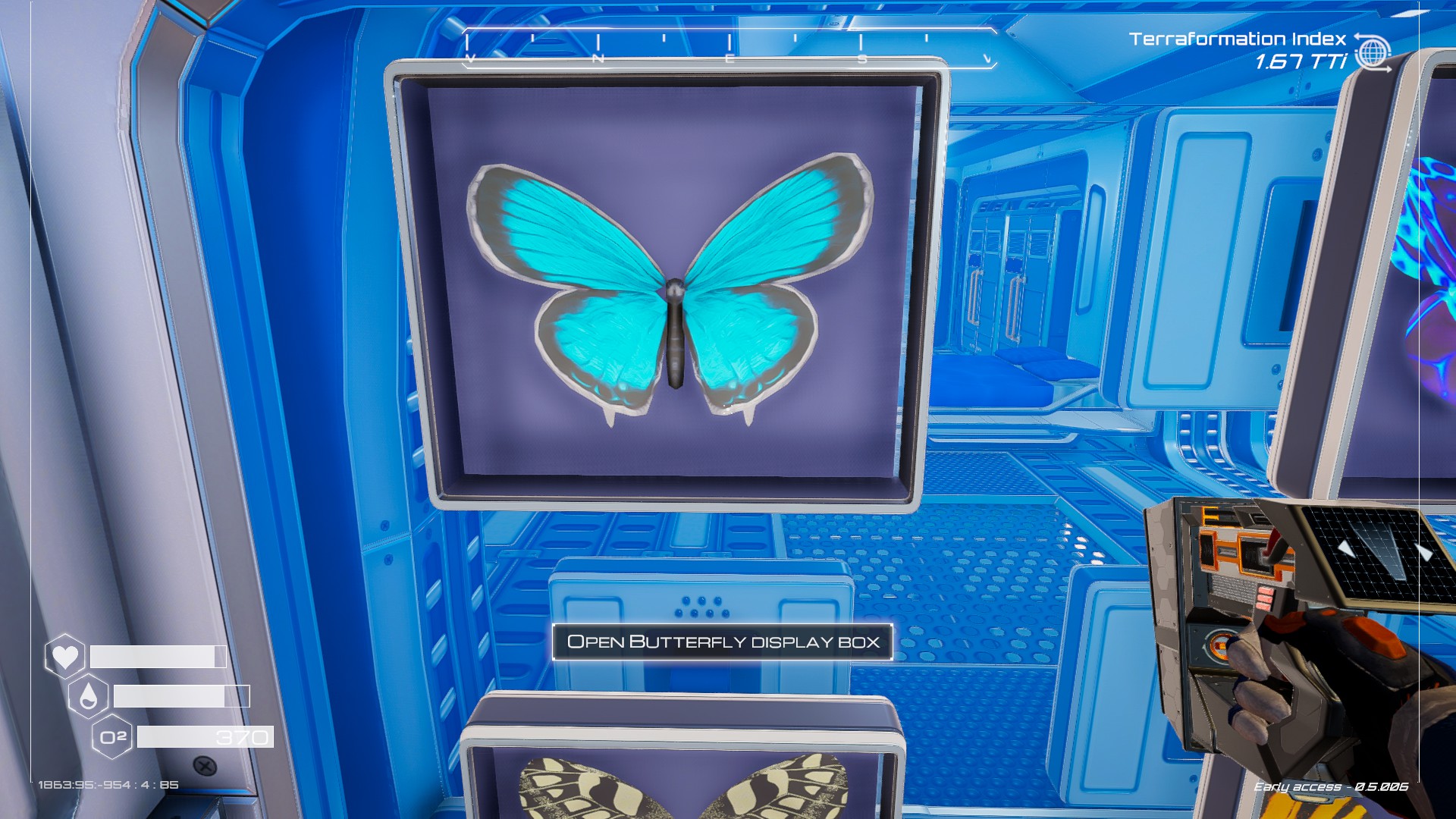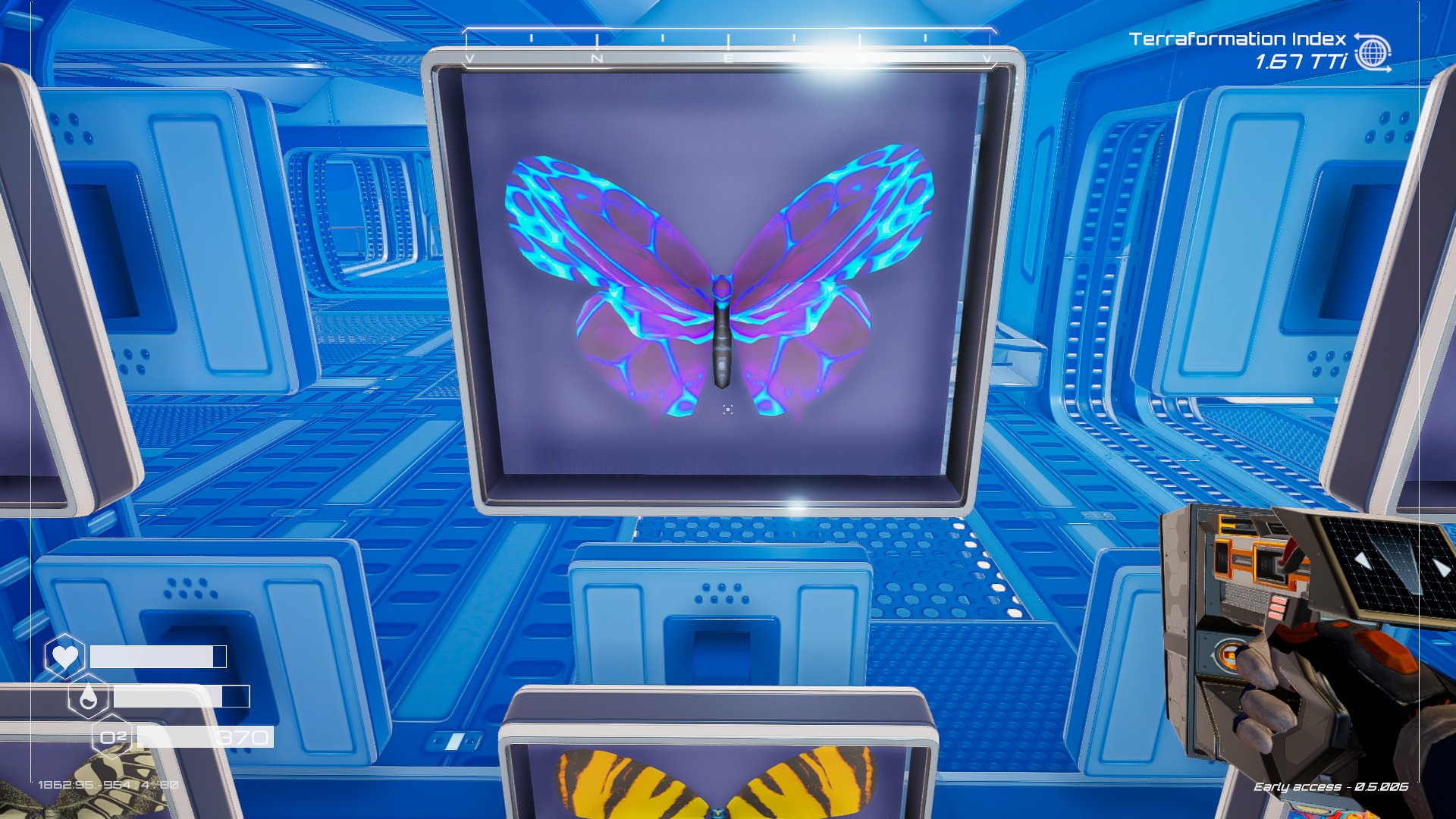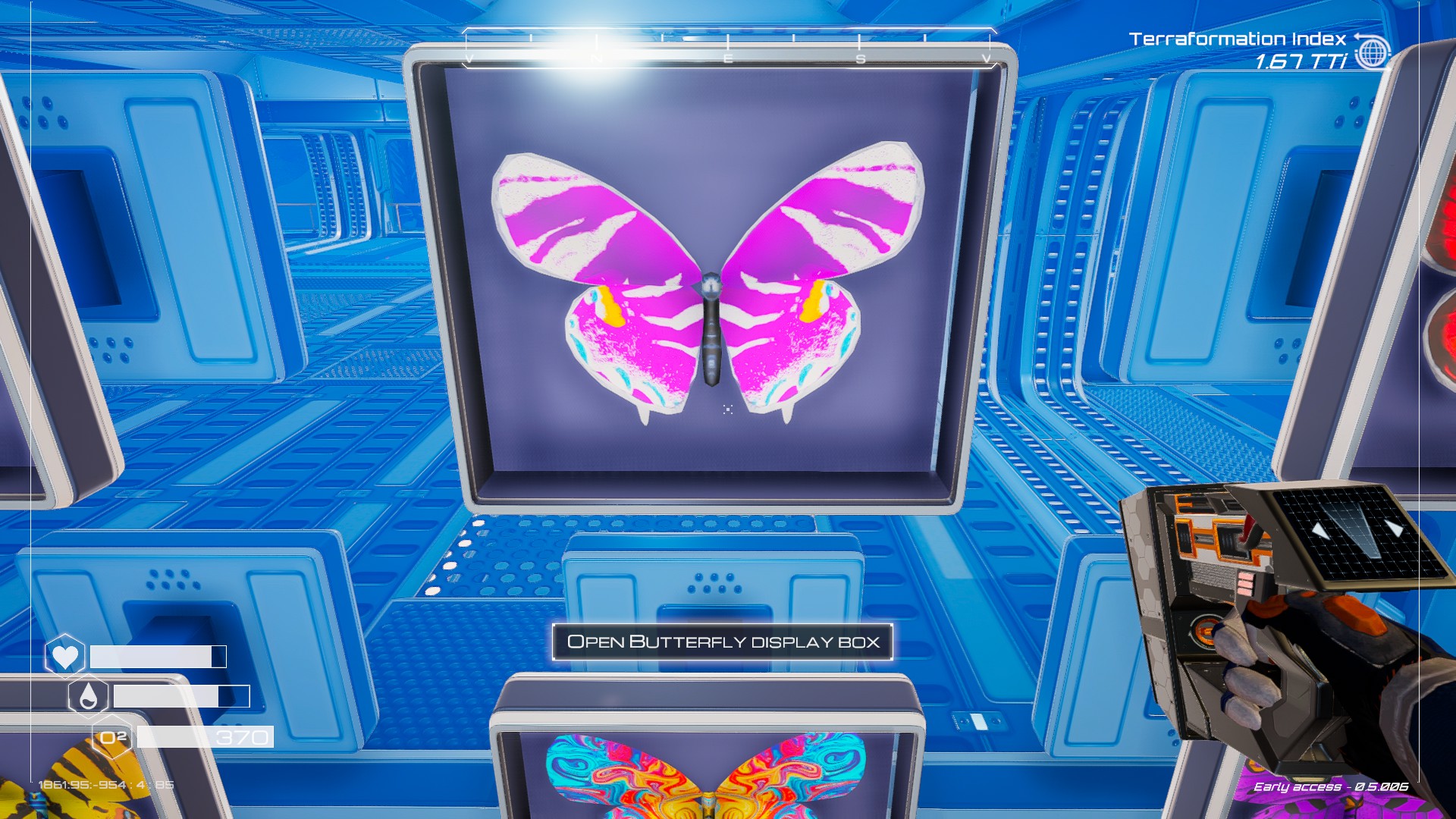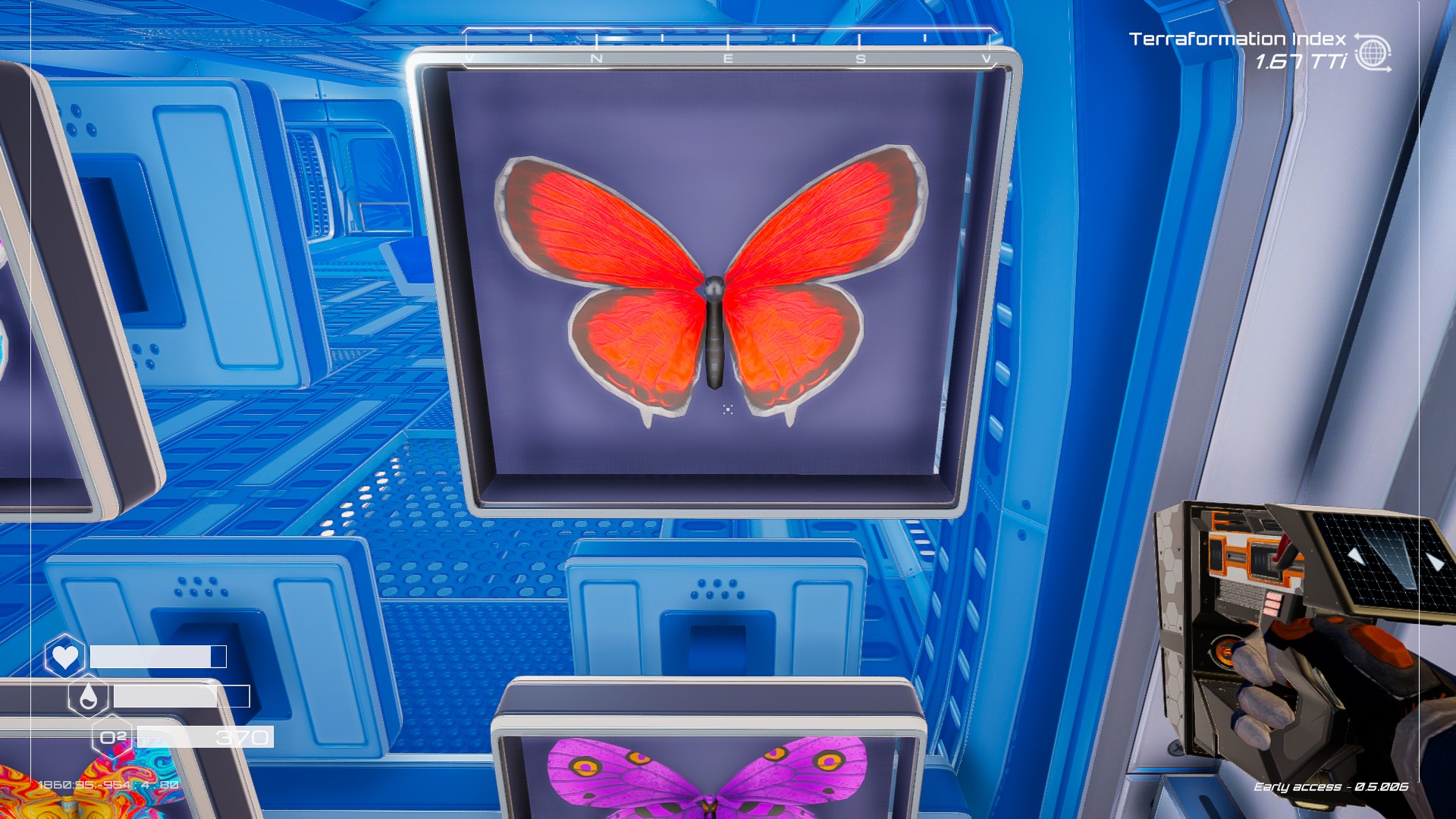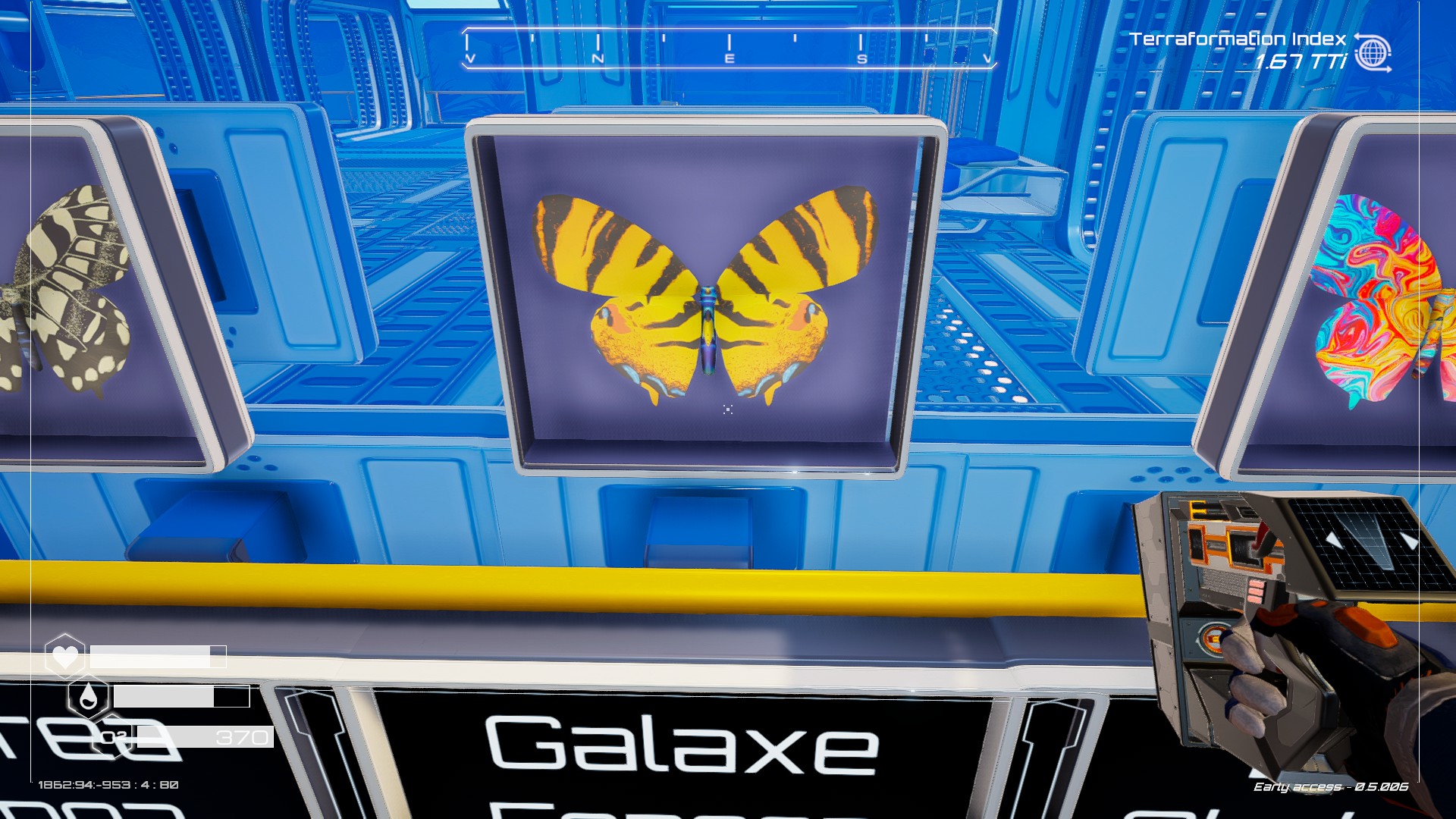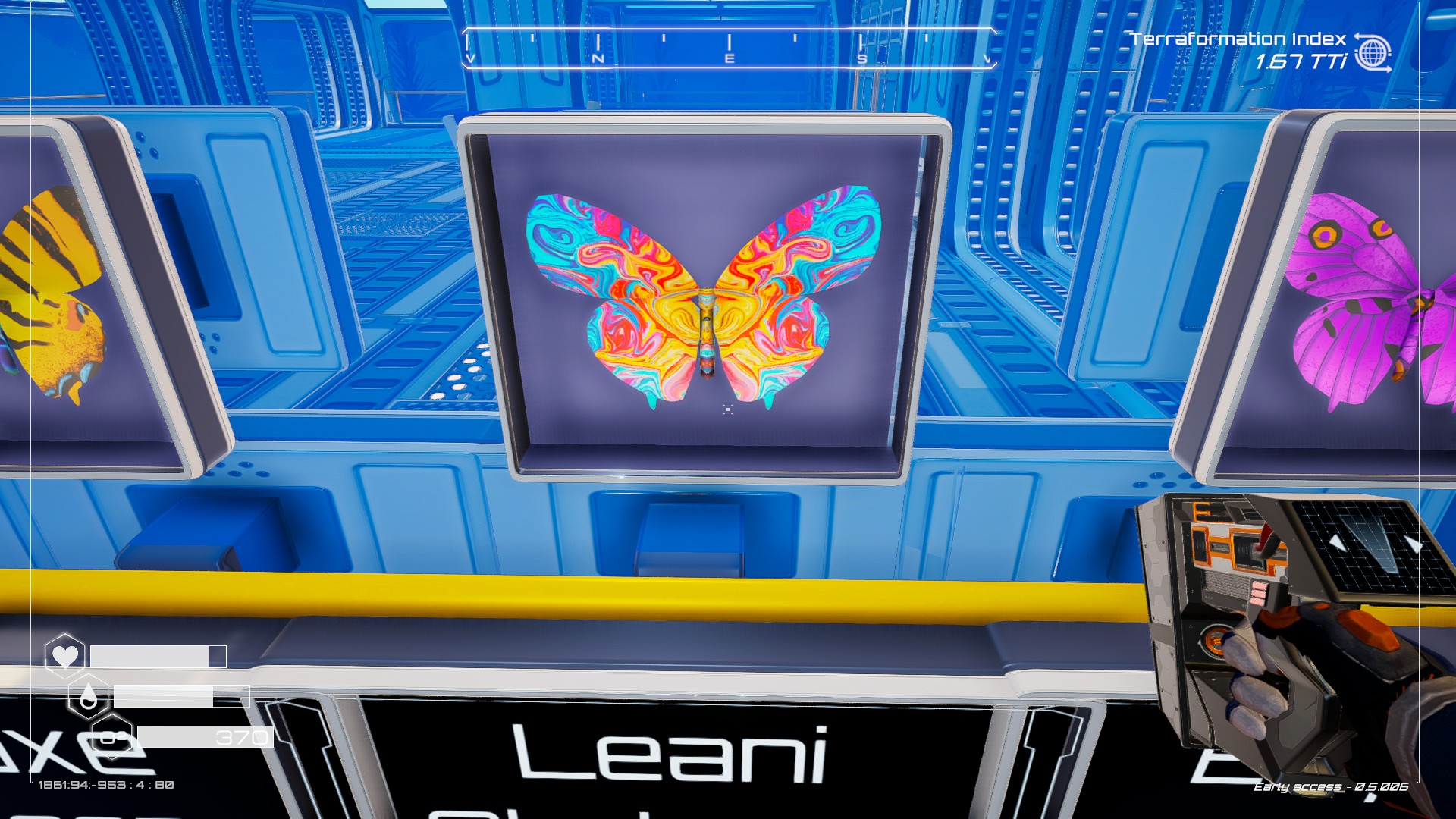 Azurea (120%)
Galaxe (175%)
Leani (175%)
Empalio (120%)
Fensea (200%)
Abstreus (175%)
Rare Butterflies / Les Papillons Rares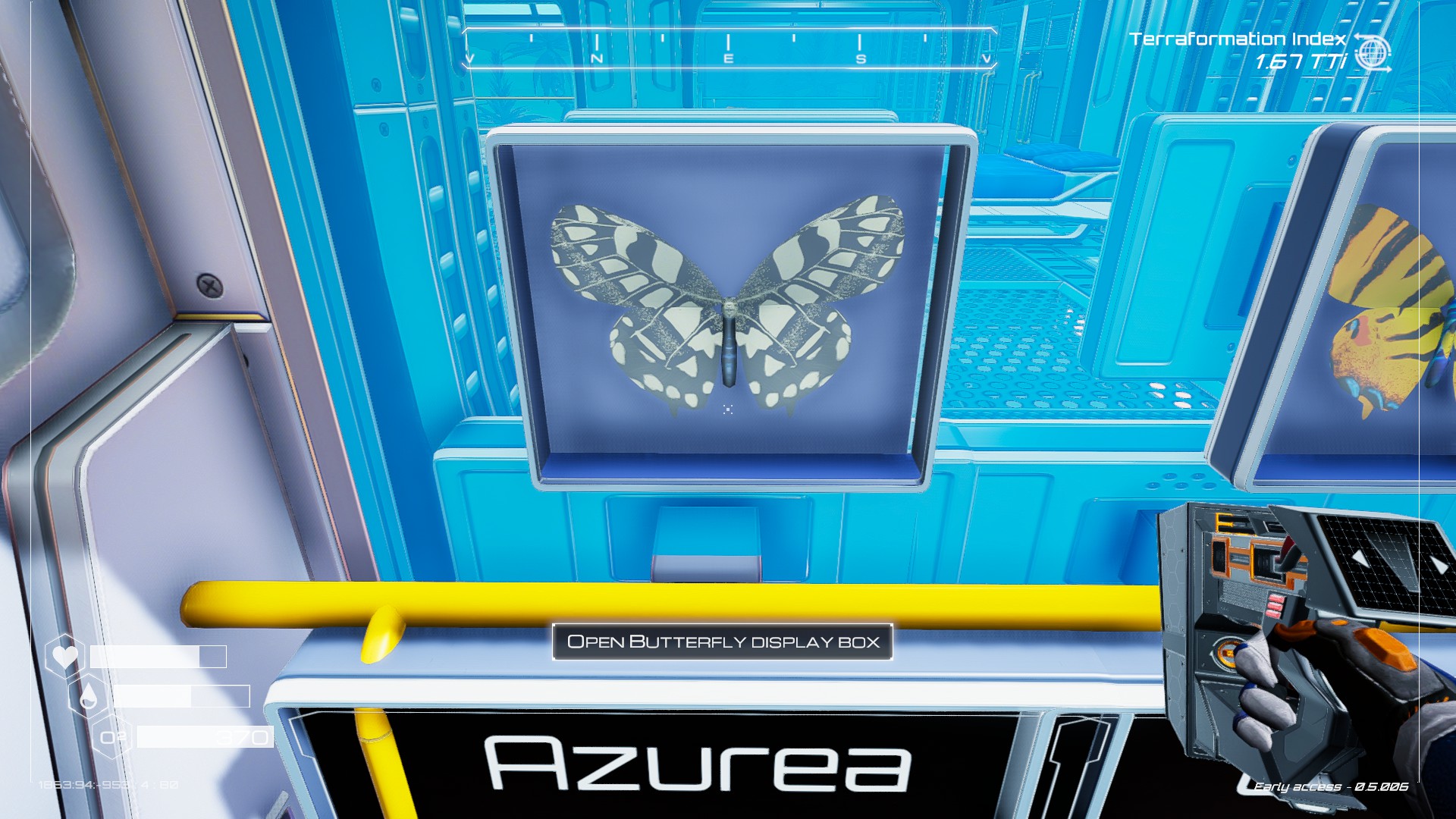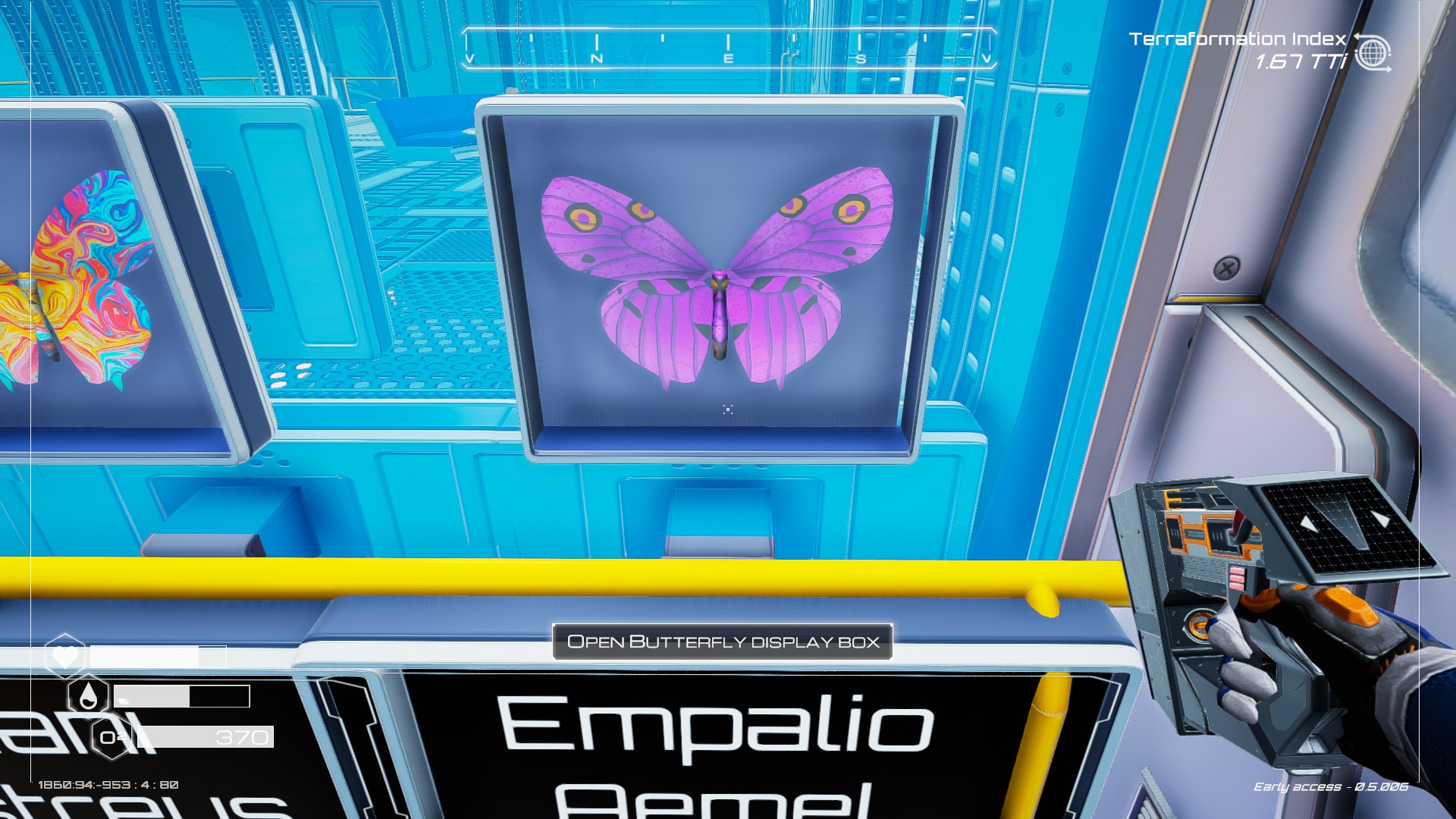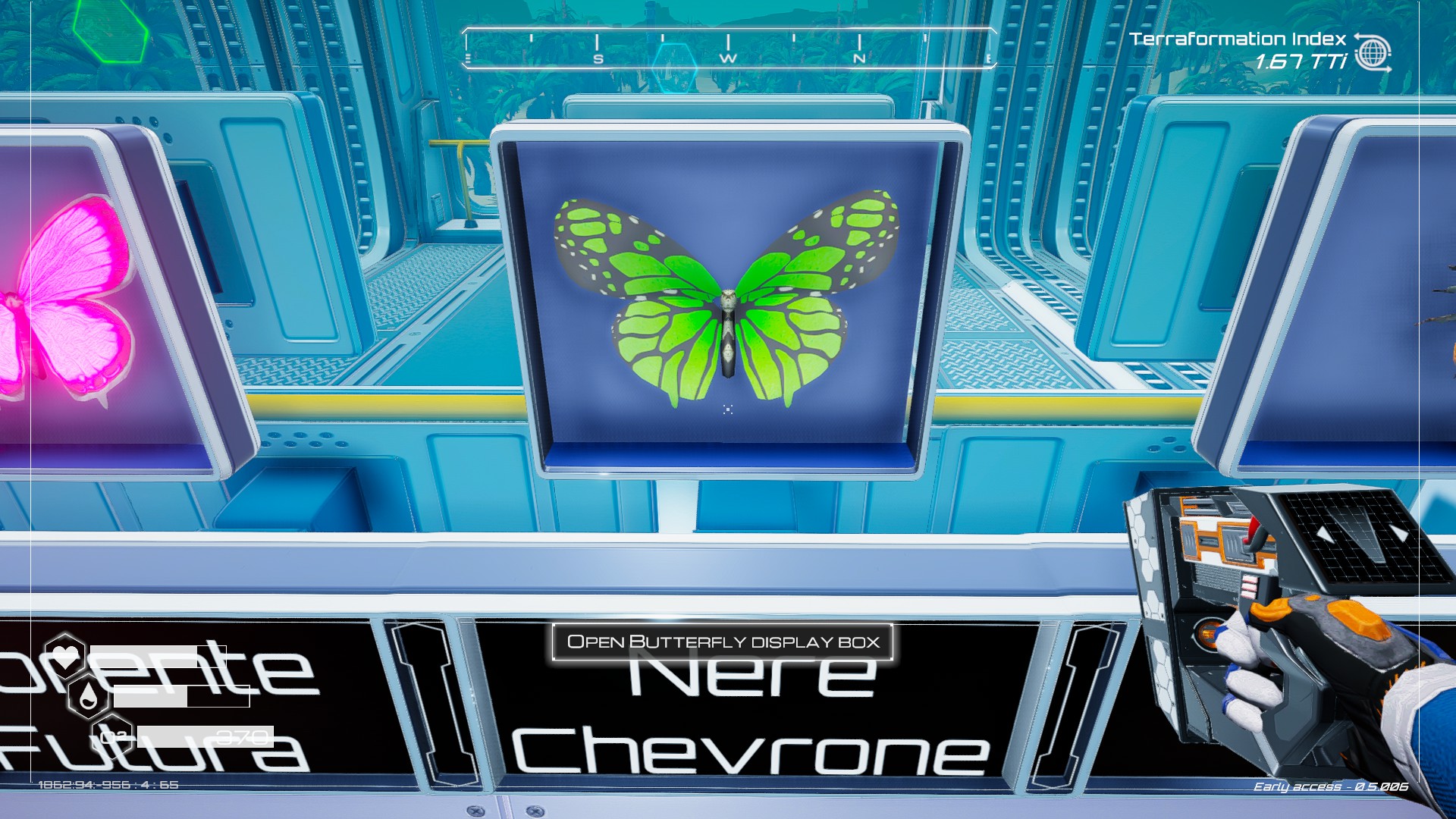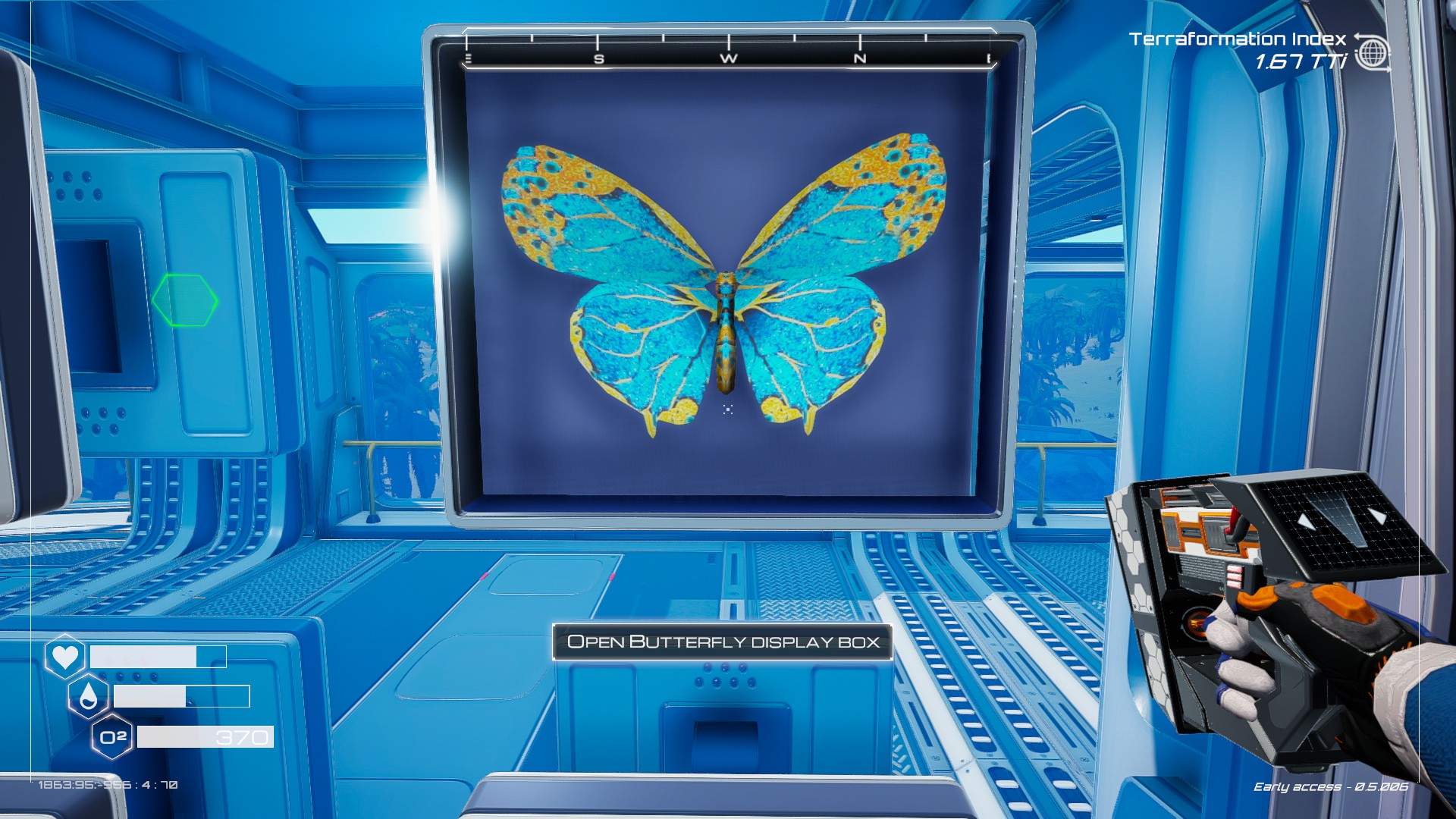 Penga (230%)
Aemel (300%)
Chevrone (250%)
Liux (500%)
Wild Butterflies / Les Papillons Sauvages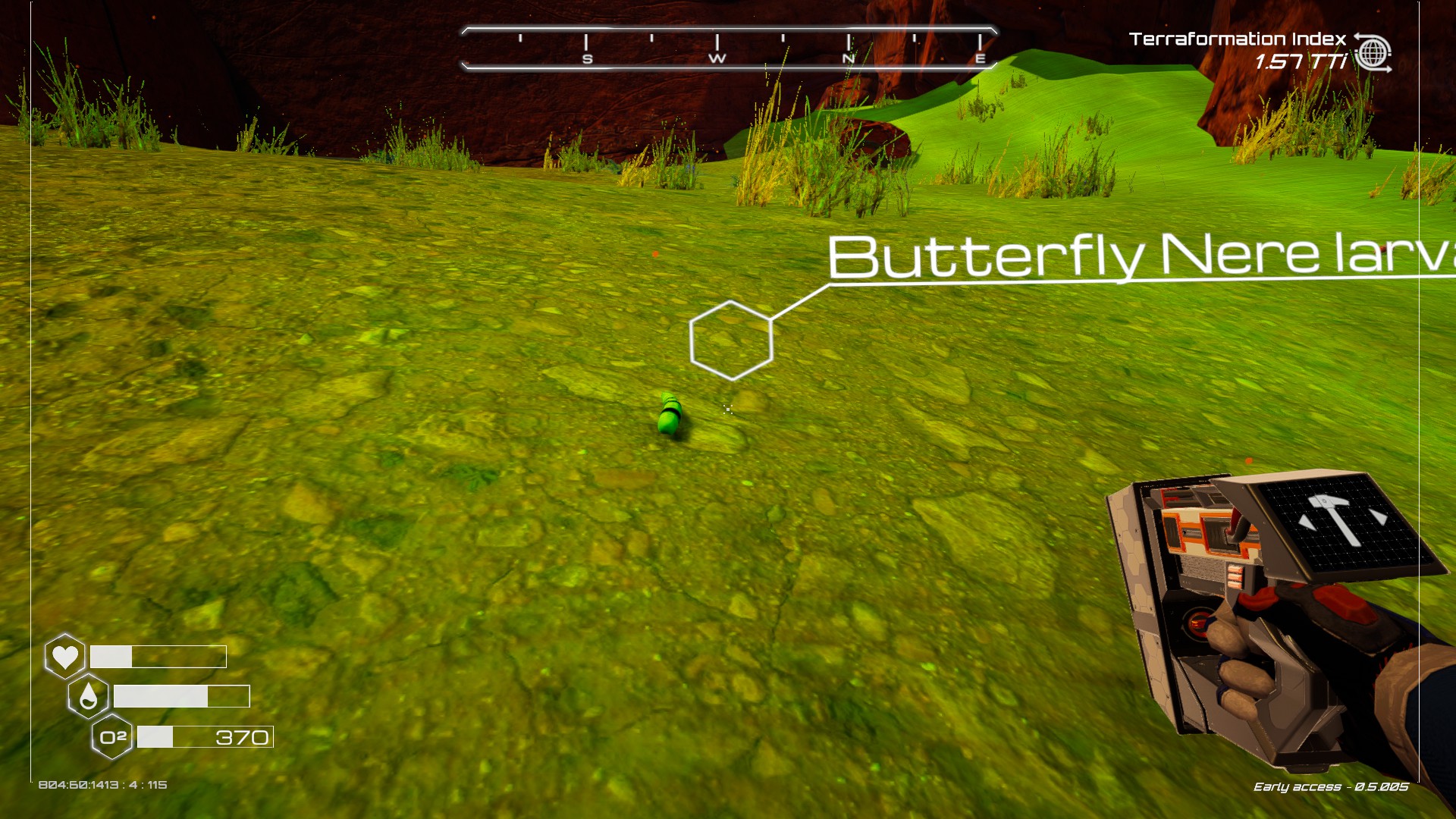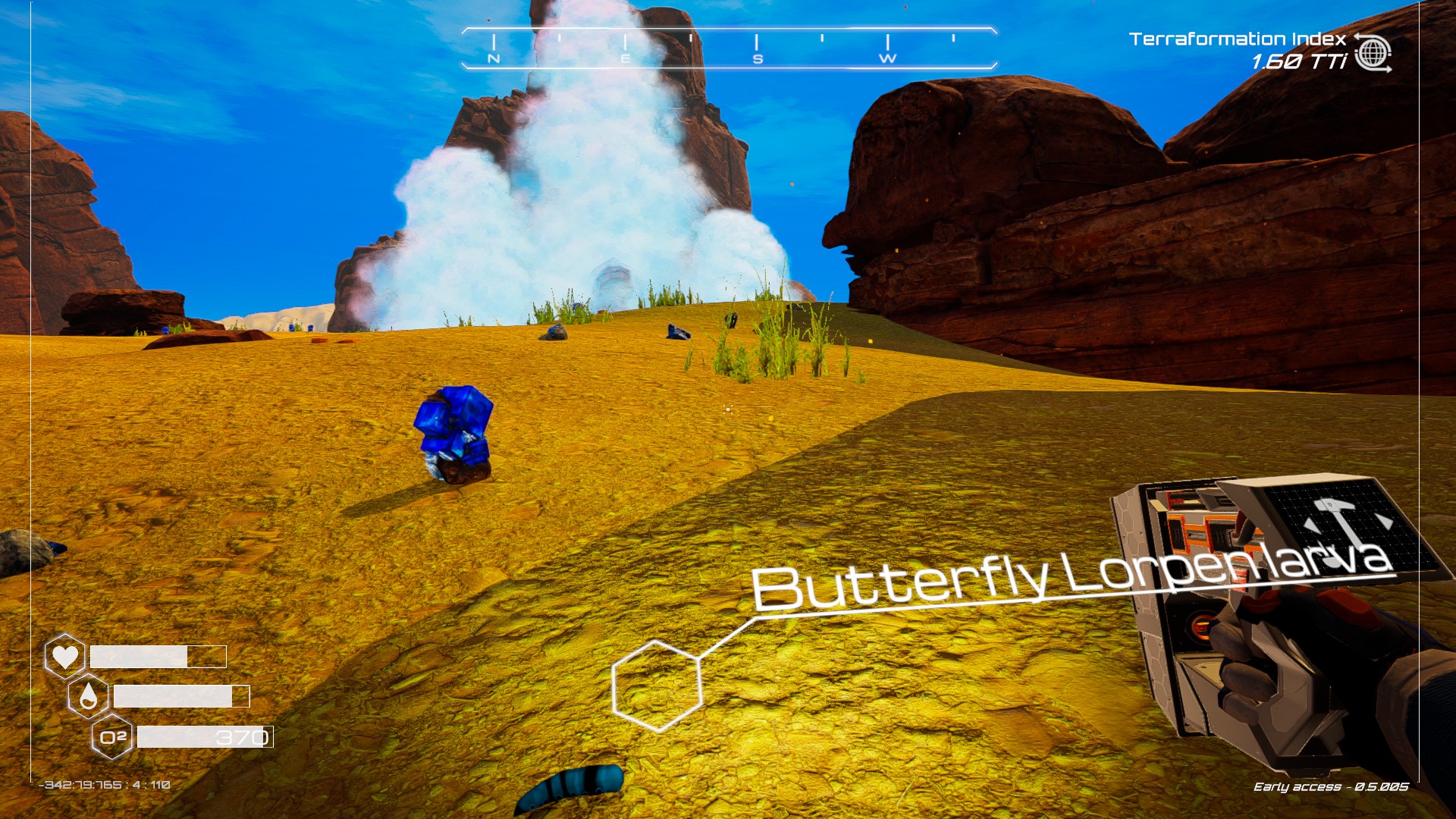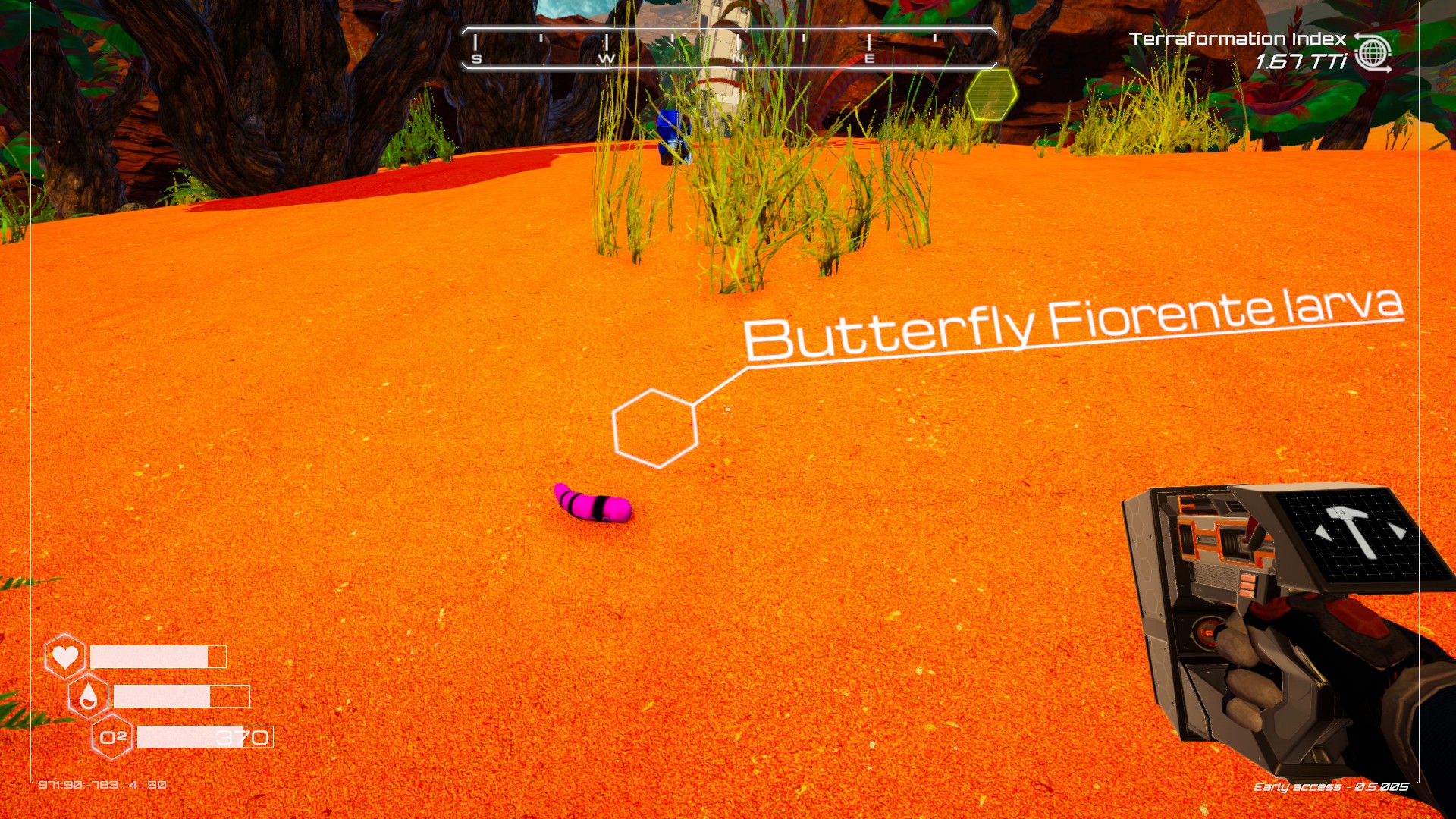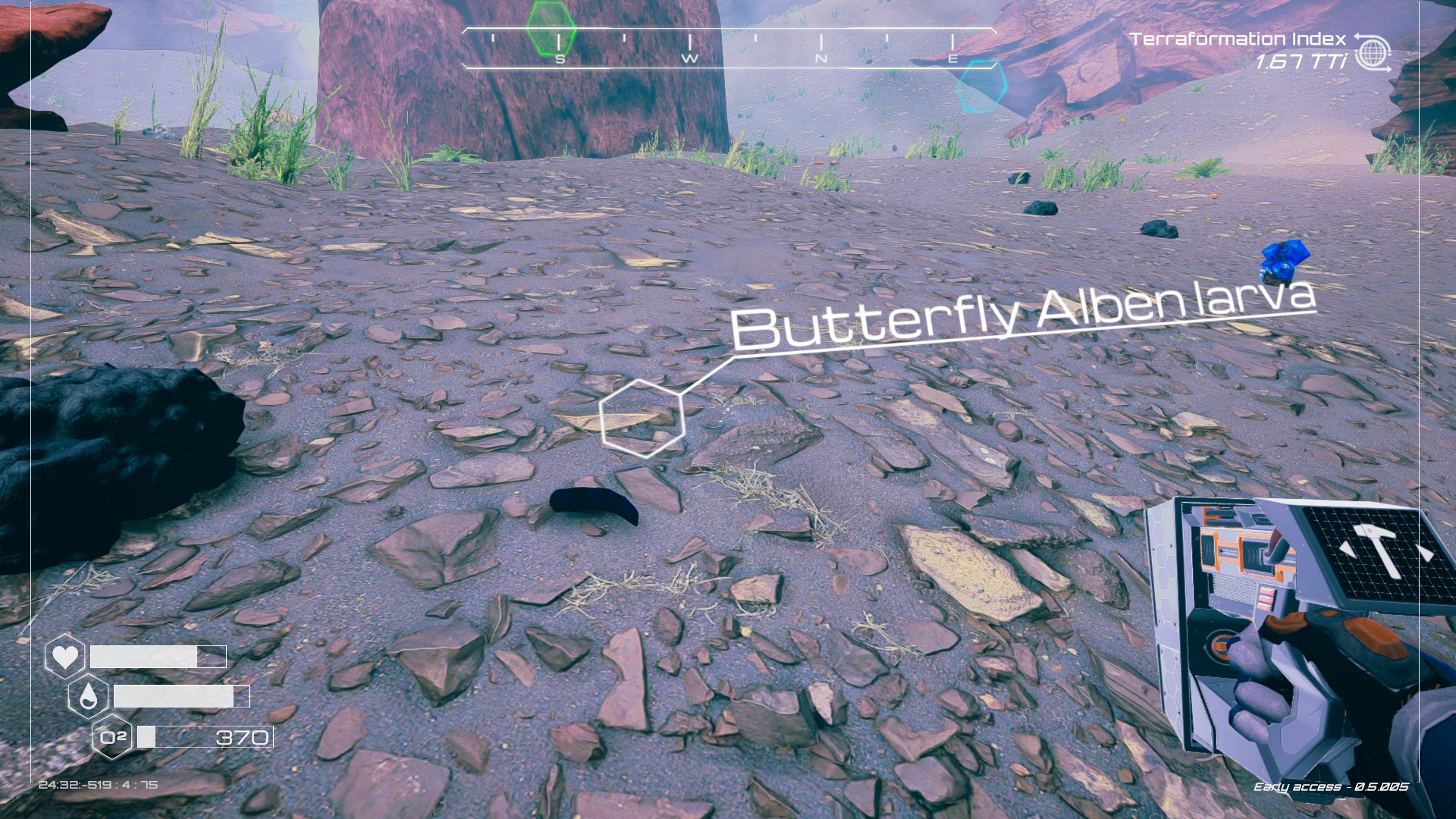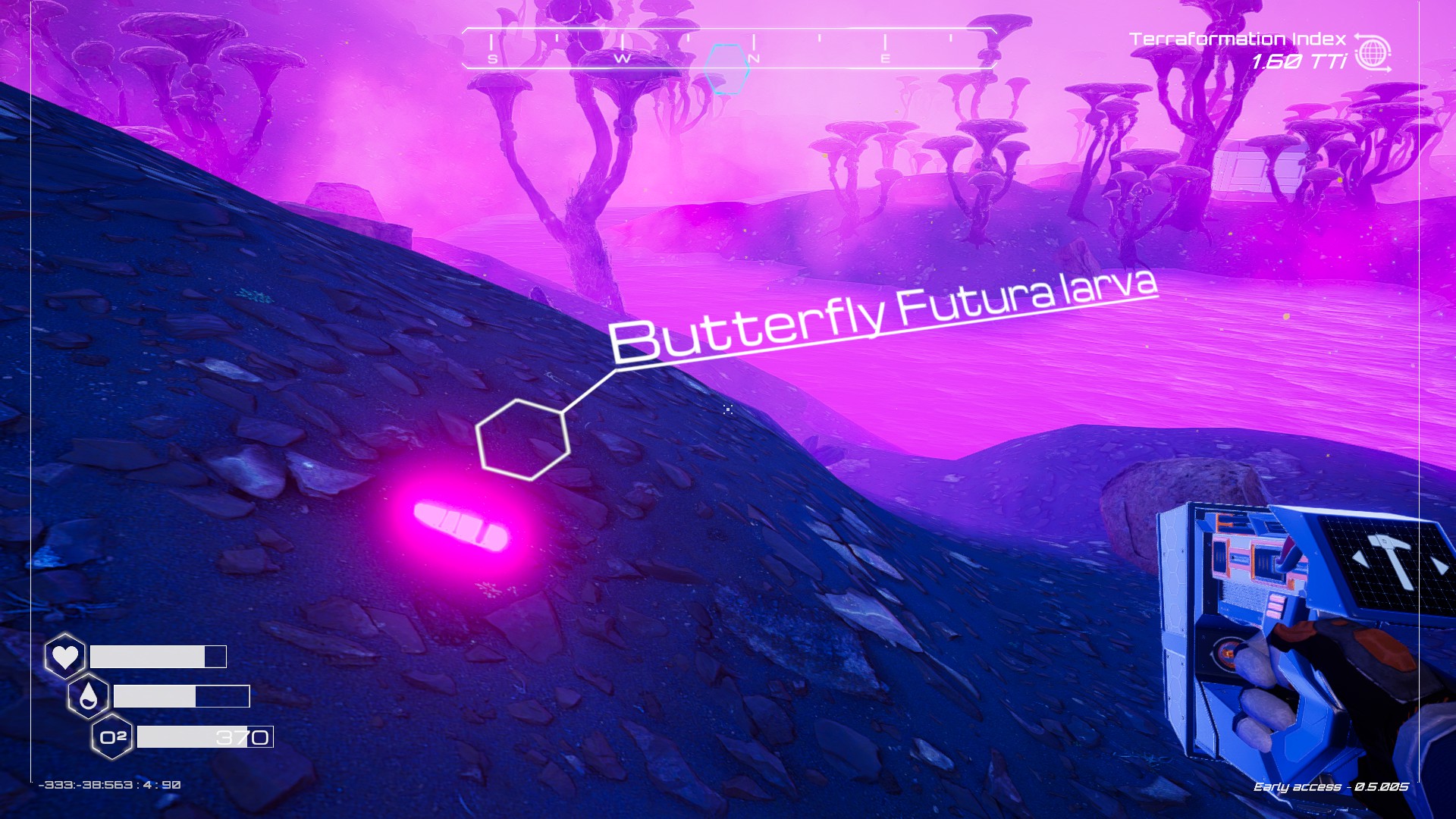 Wild butterfly pupae are found in specific areas in place of regular larvae. Some can be quite hard to spot and the process of finding them all quite frustrating but if you keep at it and you know what to look for you'll be able to get them fairly quickly.
I've noticed that moving around too fast did not leave them enough time to spawn so my favourite method was to jetpack away for about 3 or 4 seconds then stand still and look around to give them time to appear.
Les chrysalides de papillons sauvages se trouvent dans des zones spécifiques de la carte dans des emplacements de larves normales. Ils sont parfois difficiles à voir et les collectionner tous est un peu frustrant. Grâce à ces quelques images, vous devriez les obtenir assez rapidement.
J'ai remarqué que les larves n'apparaissaient pas très vite. J'ai donc utilisé une méthode qui consiste à me déplacer en jetpack sur une durée de 3 ou 4 secondes puis à faire un tour sur moi même à 360 degrés pour laisser le temps aux larves d'apparaître.
Nere (600%)
Nere pupae are located in the sulphur pits and the adjacent area with the sandfall. I recommend avoiding the dusty area if possible as larvae are very difficult to spot due to low visibility.
Les chrysalides de Nere se trouvent dans l'arène de souffre et le canyon adjacent où se trouvent les chutes de sable. Cette dernière est bien plus propice en raison de sa meilleure visibilité.
Lorpen (600%)
Lorpen pupae are located in the waterfall area. They are quite easy to spot because their colour contrasts well with the sand. However, I did find a couple underwater so it may be a good idea to check near the waterline.
Les chrysalides de Lorpen se trouvent dans la zone de la grande cascade. Leur couleur contraste avec le sable, ce qui les rend assez facile à détecter. J'ai cependant trouvé plusieurs d'entre elles sous l'eau. C'est donc une bonne idée de vérifier si certaines ne se cachent pas sous les vagues, près de la rive.
Fiorente (600%)
Fiorente pupae were, to me, the most difficult to find. I think this is because they can spawn in several different areas. However, the ones I found were all close to the eastern part of the map were the crashed space station is located. It might just be because they were easier to spot on the bright sand.
Les chrysalides de Fiorente m'ont donné le plus de fil à retordre. Je crois que c'est parce qu'elles peuvent apparaître dans plusieurs régions. Toutes celles que j'ai trouvées étaient dans ou proche de la zone est de la carte où se situe la station spatiale écrasée (mais il est possible que cela soit juste lié à la couleur du sable).
Alben (700%)
Alben pupae are, apparently, limited to the south eastern area with grey dirt and several abandoned buildings. The whole colour scheme in the area makes the larvae quite difficult to spot. I recommend taking it slow here so as to not miss it.
Les chrysalides d'Alben sont, il m'a semblé, uniquement dans la zone grise située au sud est de la carte où l'on trouve quelques bâtiments abandonnés. Les couleurs de la zone (grise) et de la chrysalide (noire) rendent les recherches plutôt pénibles, c'est pourquoi je recommande de bien prendre votre temps pour éviter de rater une trouvaille potentielle.
Futura (800%)
Futura pupae have the best ratio of all. They are also quite easy to spot thanks to their bright pink glow. They are available in the underground mushroom cave (which can be accessed from the southern darkest area or from the waterfall area). If you've followed this guide, they should be the last butterfly on your bucket list. Congratulations!
Les chrysalides de Futura ont le meilleur pourcentage de toutes. Ce sont également, à mon sens, les plus faciles à trouver car elles brillent et sont d'un rose très voyant. Elles se trouvent dans la caverne à champignons (accessible à partir de la zone sombre au sud ou de la cascade). Si vous avez suivi ce guide, elles devraient également être la dernière pièce de votre collection. Félicitations!
Addendum:
I was able to confirm Dagerai's observations and found Nere and Fiorente in the waterfall area.
J'ai pu confirmer les observations faites par Dagerai et trouvé des chrysalides de Nere et de Fiorente dans la zone de la cascade.
Tips / Astuces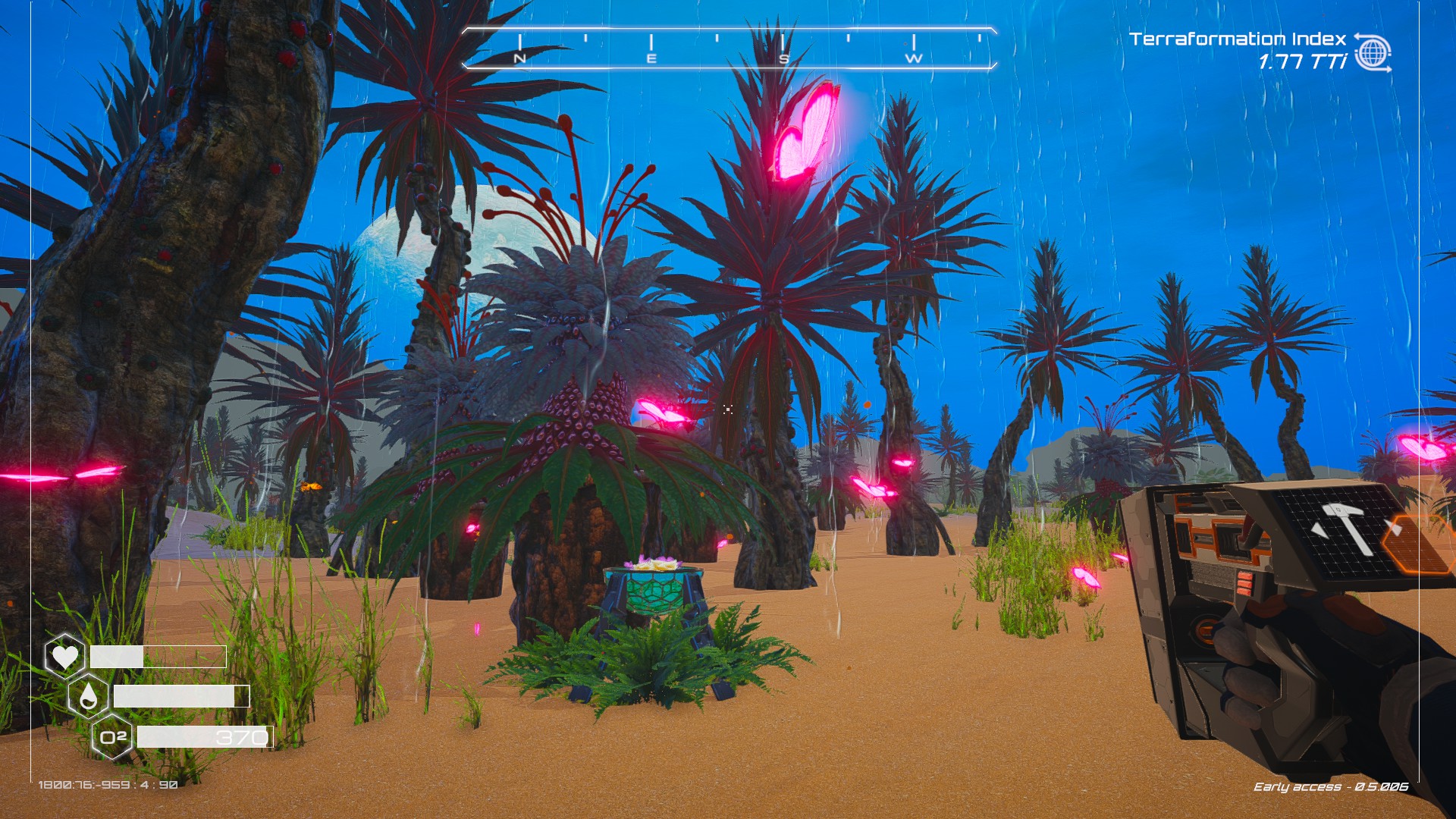 My first tip when hunting for butterflies is to carry with you 3 iron, 2 titanium and 1 silicon at all times. This will allow you to place a small shack down every time you need to refill your O2.
Farming butterflies takes quite a long time and can be quite frustrating. Planning ahead can be very helpful: bring plenty of food and water with you and, if you're like me, get yourself something to listen to while you're hunting to keep your spirits up!
Unwanted rare and common butterflies can be recycled! I found it weird that this would be allowed but placing two incubators around a recycler saved me a ton of time.
That's it for tips, and for this guide I guess. Thanks a lot for reading, I hope you'll find this useful.
Ma première astuce pour la chasse au papillon, et pour le jeu en général, vous permet de remplir votre jauge d'oxygène à tout moment. Emportez simplement avec vous 3 fer, 2 titane et 1 silicone et placez un abri temporaire lors vous en avez besoin.
Puisque vous allez rester dehors pendant un bon moment pour remplir votre collection, pensez aussi à emporter plein d'eau et de nourriture. Pour garder un bon moral et ne pas m'ennuyer, j'ai également prévu de la musique à écouter pendant mes recherches.
Finalement, j'ai été surpris d'apprendre que les papillons qui ne vous servent pas peuvent être recyclés! J'ai donc placé deux incubateurs autour de mon recycleur pour gagner beaucoup, beaucoup de temps.
Voilà pour les astuces. J'espère que mon guide vous sera utile. Merci beaucoup d'avoir pris le temps de le lire.
Source: https://steamcommunity.com/sharedfiles/filedetails/?id=2843725933					
More The Planet Crafter guilds
---