Main Story (Stuff You Can't Really Miss):
















Castle of Lust: Seized
Completed the castle Palace.
Museum of Vanity: Repossessed
Completed the museum Palace.
Bank of Gluttony: Cleaned Out
Completed the bank Palace.
Pyramid of Wrath: Plundered
Completed the pyramid Palace.
Spaceport of Greed: Obliterated
Completed the spaceport Palace.
Casino of Jealousy: Bankrupted
Completed the casino Palace.
Cruiser of Pride: Capsized
Completed the cruise ship Palace.
The Thorough Trickster
Completed Mementos.
Take Back the Future
Completed every Palace.
"This achievement will take a bit of work to complete, as it involves finishing the final palace which is locked behind some special conditions. Spoilers for the conditions to unlock the final palace. You'll need to work on 3 seperate confidants; Takuto Maruki, Goro Akechi, and Kasumi Yoshizawa. For Takuto Maruki, you'll want to have him reach rank 9 before November 17. Ranks 1-5 can be done right after meeting him for the first time, which will have you and the other phantom thieves go through counseling with him. Ranks 6-9 will be available after September 20. You can wait to work on his Confidant Rank after September 20, but I personally advise working on his Confidant Rank whenever the chance arises. If you do not reach rank 9 before Nov. 17, you'll be locked out of finishing his Confidant Ranks and in turn, locked out of the final palace. For Goro Akechi, it's pretty similar to Maruki. You need to have him reach rank 8 before November 18. After 6/10 which starts the confidant, you'll be able to hang out with Akechi like any other party member. For ranks 2-5, you'll progress like normal, though you'll need Knowledge and Charm at rank 3 each. For rank 6 you'll need to wait until September 3 for it to unlock. Rank 7 and 8 are locked until November 2. If you manage to reach rank 8 before November 18, rank 9 & 10 will be completed through story events. For Kasumi Yoshizawa, she is by far the simplest character to work on. Kasumi only has 5 confidant ranks, which is different from the normal 10 required for every other confidant. None of her ranks are time gated, and you have until December 22 to finish her confidant. So just chill and slowly work on her if you have the free time. A tip for completing these easily is by having a Persona of the same Arcana as the confidant you're working on in your storage. This will give you more points for proper dialogue choices, making Confidant Ranks go by faster. "
The Path Chosen
Watched the ending.
Phantom Thieves: Assemble!
Established your own squad of thieves.
Spirit of Rebellion
Obtained Arsène.
I am Thou...
Obtained a Persona through negotiation.
Tactical Teamwork
Performed a Baton Pass.
You'd Better Hang On!
Used the grappling hook.
One Step at a Time
Completed a Mementos request.
The Purpose of a Thief
Obtained a Treasure Demon.
"Note: This one can technically be missed, but I would say it's hard to miss. Within the second palace, there will be a room where the game introduces Treasure Demons to you. You'll be able to capture a Treasure Demon easily. If you somehow kill the Treasure Demon and need to get another one, they rarely spawn throughout the game and during the Third Semester, they will spawn even more."
Gameplay:




Let's Blow It Up
Defeated enemies via Disaster Shadow explosion.
Technician
Triggered a Technical.
Pure Perfection
Maxed out all social stats.
It's Showtime!
Performed a Showtime attack.
Velvet Room:






A Deadly Debut
Performed a Guillotine execution.
Efficient Executioner
Performed a Group Guillotine execution.
Intensive Training
Used Incense on a Persona in Lockdown.
Success Built on Sacrifice
Performed a Gallows execution.
Accident-Prone
Performed an execution during a Fusion Alarm.
A Grand Experiment
Performed an Electric Chair execution.
Confidants:




Tokyo Tourist
Went to a hangout spot with someone.
My Closest Partner
Entered a special relationship.
True Confidence
Maxed out one of your Confidants.
Awakening the Phantom Thieves
Evolved a party member's Persona.
Misc:






















A Most Studious Disguise
Scored the highest on your exams.
Talent Thief
Obtained a Skill Accessory from a Palace ruler.
"These Skill Accessories are obtained from each of the games palaces. They are spread across each palace as 3 separate pieces called 'Will Seeds.' Once all 3 have been found for that palace, you'll unlock the accessory, but you won't be able to use it. On 5/7, you'll meet Jose in Mementos, which will initiate a tutorial on how he works. After this, you'll be able to take the accessory you found and give it to him. He will then refine it, turning it into a usable accessory."
Jose's Favorite Customer
Traded in flowers while in Mementos.
The Phantom Philatelist
Traded in stamps while in Mementos.
The Search for Power
Completely changed the cognition of Mementos.
"This one will take some time to complete, but shouldn't be very hard. After meeting Jose , stamp machines will appear throughout Mementos. Upon interacting with them, you'll be able to collect a stamp, which can be turned into Jose for permanent upgrades to Mementos. These include: EXP Up, Money Up, and Items Up. Each Cognitive Category has 10 ranks, with the cost of stamps increasing with every other rank. There are 165 Stamps in the game. After collecting all the Stamps and upgrading all the Categories, you'll be awarded the achievement."
The Deviated Cognition
Encountered a deviation in Mementos.
Unsurpassed Rebel
Conquered the Reaper.
"Pretty simple. After waiting around on a floor in Mementos for 2 minutes, the Reaper will appear. You'll know he's there by the sounds of chains rattling and the outer edges of the screen turning red. After he spawns, he'll always be following you for that floor, so it's a matter of time before he gets to you. If you plan on fighting him, I would recommend waiting until you're around level 65-70, as his movelist is pretty beefy and can easily down your entire party if you're not careful. Another tip is to let him hit you instead of you initiating the fight. This way, he'll only get one turn to act instead of two, increasing the chance of successfully beating him."
Leblanc Buffer
Cleaned up in Leblanc.
Punch That Clock!
Worked a part-time job.
Batter Up!
Scored a hit at the batting cages.
Getting the Vapors
Couldn't take the heat in the bathhouse.
Easy Money
Won the lottery.
Going Against the Crane
Scored a prize in the crane game.
Trash Into Treasure
Sold old clothing at Furugi no Neuchi.
Dartslinger
Played a game of darts.
A Hustler's Journey
Played a game of billiards.
A Night in Kichijoji
Attended the jazz club.
A Serene Experience
Visited a temple.
Professional Modification
Customized a gun.
Angler's Debut
Passed time at the fishing pond.
Master of Akihabara
Ordered from the special menu at the maid café.
The Phenomenal Phantom Thief
Obtained all trophies.
End Notes: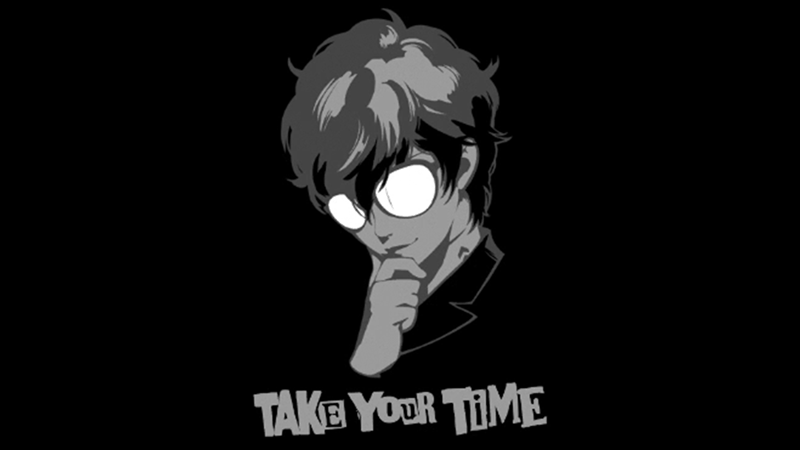 Overall I would say most achievements can be gotten in a normal play through of the game. The only ones I would say are hard to get are the "Take Back the Future" and "Unsurpassed Rebel," but with most players I'd say if it doesn't happen on your first play through, you'll definitely get it on your second play through. Hope this helped you. Have a wonderful day.
Source: https://steamcommunity.com/sharedfiles/filedetails/?id=2877808672					
More Persona 5 Royal guilds
---