WARNING Before You Continue
This literally breaks any sense of progression and hardships in the early-game.
This is really only for those that cant be bothered to play the game how its intended to be played or those that wants to have a quick start without the early hardships.
The Setup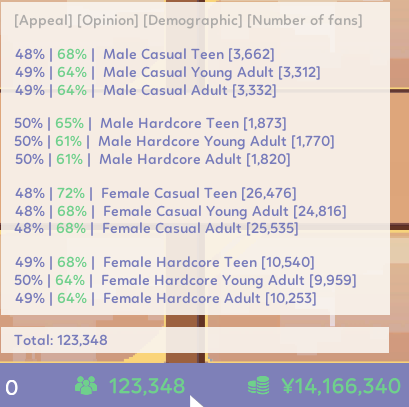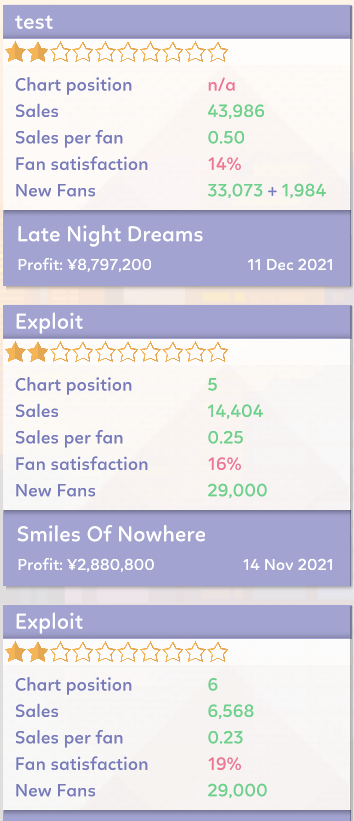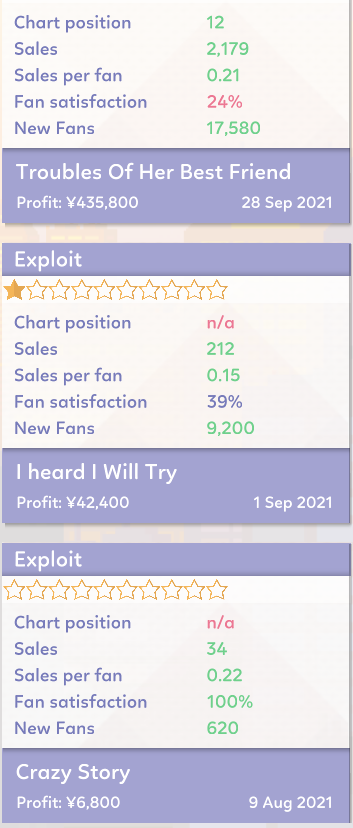 We start a new game and do the following things
1. Build your office and place you inside
2. Do 2 Local auditions and recruit all 10 (2x5) idols
3. Form a second group with the 6 idols. Which type is up to you. I like Hardcore + Female audience
4. Go to Research and buy for each type 500 points
- Buy any Lyric type that fits to your 2nd groups selection (Loneliness as example for Hardcore)
- Buy Digital from Manager Tab
- Buy any Choreography that fits to your 2nd groups selection (Cute as example for Hardcore)
- Buy any Genre that fits to your 2nd groups selection (Avant-Garde as example for Hardcore)
5. Build a Break Room + Doctor (Physical)
(Optional: Adjust your policies to match your target audience like Long Skirt for Female Hardcore, i left it for demonstrative purposes on neutral on everything)
6. Create a Digital Single (for 0 production cost) by using your character only
IMPORTANT: THE SINGLE NEEDS TO BE FOR THE 2ND GROUP
(you can buy the regular buildings if you want to, but i didnt for demonstrative purposes)
7. Spam like an idiot "Promotion" to get an early fanbase for the first single
8. Once you released the Single go to your Idols Tab and click the green flask icon next to your 2nd Idol Group
9. Spend your points on your focus, so Hardcore > Female in my case.
10. Create another single for your 2nd Group and just release it once you are done
11. Repeat Step 7 to 10 for the first year
PROFIT Have 100K+ Fans by the End of year 1 and dont worry about money anymore.
TLDR
The Sister group mechanic is absolute broken.
Tips for after you have gotten the amount of fans you want.
Dont release Singles instantly anymore and instead wait until its green.
- Sales are cut by like 50%+ or so if you spam them.
- Also you can release 1 single per group per month without penalty.
- Another reason why you dont want to spam singles is that "Fan Satisfaction" is a stat for Concerts that helps getting more hype (more stats on idols centering is tbh better but hey every bit helps)
Source: https://steamcommunity.com/sharedfiles/filedetails/?id=2624408554					
More Idol Manager guilds
---