Why?
These groups allows the people who use it to see the bloodstains and messages left by other members more easily. It also provides a rune buff to all members when someone using the password kills a major boss or becomes Elden Lord.
And you get the benefit of less trolls leaving troll messages.
Note: that this does not lock you out of PVP or online play. It just sets you in a group.
PS: read my comment for a better explanation.
How To
How to access Password;
1. Press start
2. Go to the "Multiplayer" tab
3. Press "Y" or "Triangle" to open "Password"
Groups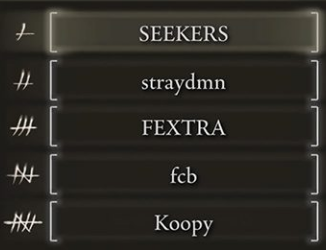 After getting inside "Password", make your way down to the 1ste Group Password. Not Multiplayer Password.
After that enter the following;
1. SEEKERS
2. straydmn
3. FEXTRA
4. fcb
5. Koopy
It should look something like this;
Source: https://steamcommunity.com/sharedfiles/filedetails/?id=2788721350					
More ELDEN RING guilds
---