Main Section
Zone Reclamation Project works with 1.0004, 1.0005 and 1.0006 versions.
It's officially recomended for english localisation.
Link for site of developers and download links
http://www.metacognix.com/files/stlkrsoc/index.html
ZRP 1.07 R5 RC direct link from google drive
https://drive.google.com/file/d/1HNGGp5uuB9ZjLmJzJusfOB9T73Gmt6zj/view?usp=sharing
ZRP 1.07 R5 RC - Stable version (recommended)
ZRP 1.09 XR3a - Experimental version (you can try this from official site but it's snapshot and can cause bugs and crashes)
Installation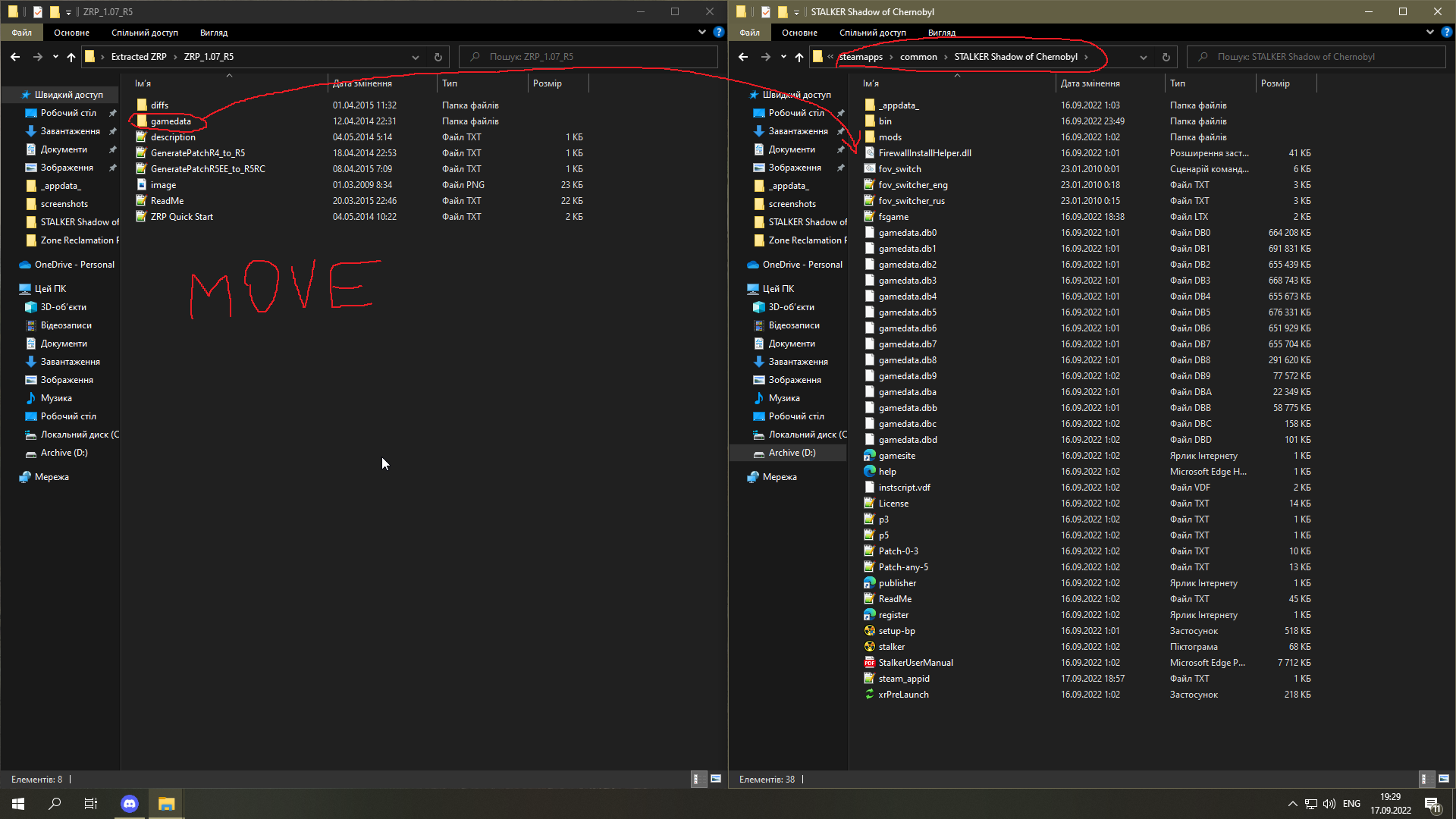 Use clean installation of Shadow of Chernobyl and launch a game at least once and start a new game once until you appear in starting bunker (and of course exit from game) before installing this mod. Check your version in the main game menu after first-time launch (it should be 1.0004,1.0005 or 1.0006
1) Extract the ZRP 1.07 archive with 7-Zip or compatible
archived file extractor to a convenient location.
2) Drag/drop the gamedata\ directory from the extracted ZRP
1.07 archive into your STALKER installation directory. DO NOT
OVERWRITE any existing gamedata directory; rename it first.
(The diffs\ directory is for modders.) Normaly there would not be another gamedata folder in your fresh installment of the game. It means that before you had installed another mod.
3) Edit fsgame.ltx(it's located in your stalker shadow of chernobyl folder) and change any occurrence of "false" on the
second line to "true" (without the quotes) and save your change.
From this:
$game_data$ = false| true| $fs_root$| gamedata\
To this:
$game_data$ = true| true| $fs_root$| gamedata\
If you confused - here's link for mine fsgame.ltx. Just drop it in root game folder and replace old one.
https://drive.google.com/file/d/1atQ4tbRASENp6T1NcaAbpMGBIqBcUBdg/view?usp=sharing
4) Play (or setup your preferences of patch in modifier.exe in gamedata folder you put in game folder before). If all went well, the main menu should show ZRP version
info on the lower left with the SoC patch version.
5) Read the docs to get the most out of the ZRP patch-mod. It
has a lot of features that can make your game experience more
enjoyable.
Modifier.exe (That Is A File For Additional Settings For This Patch)
So this file is located in your gamedata folder that is lying right now in root folder of your S.T.A.L.K.E.R. Shadow of Chernobyl (folder in which you installed mod)
With this app you can pick any settings for this patch with your preferences.
Location of this file from S.T.A.L.K.E.R. Shadow of Chernobyl root folder:
I personally recommend to check next five settingsthat i will describe and apply to your preference. BUT REMEMBER: after changing any setting (tick or untick) and before moving to another setting menu - always press apply or all changes will be lost
1) This allowing two characters (Screw and Captain Ivantsov) repair armor and weapons in game. (in original game there is no mechanics that could do this).
PRESS APPLY
Screw is a Freedom member. He's located in Army Warehouse location, on Freedom base, near their main base building (north-west from it) To unlock his engineering skills you need to complete his personal quest (bring him bottle of cossacks vodka)
You can buy cossacks vodka from nearest trader inside closest building (main base bulding just near to this mechanic) from Skinflint.
Then bring Cossacks vodka to Screw:
Now you are allowed to repair all stuff,congrats:
Next mechanic,Captain Ivantsov, is in Rostok Facility on the BAR 100 RADS location inside of Duty base. You are not allowed to cross Duty base borders until completing x-16 quest from Barmen (it's main quest line so you would never miss it) After finishing lab X-16, Barkeep will tell you General Voronin (the leader) wants to talk to you. After that you can enter the base without getting gunned down.
Here's no cossacks vodka is required. Just talk to him. Here you are.
2) This allowing to join Duty faction or Freedom faction after helping them(no spoilers - if you completing this game for the first time try figure out how to join them)
PRESS APPLY
Also check down below this one Faction Relationship Tweaks and tick everything.
PRESS APPLY
1. So first one pretty simple - increasing your reputation in Duty after joining them.
2. This one is provided for story-wise because if join Freedom before main quest with Saharov
(scientist in bunker) it would be ridiculous to be an enemy to Scientists. Why Saharov should
help you if you are enemy to him? Also buying prices would increase but it's not too bad. What
is worse that selling him artifacts or anyhting else now is cheaper than to Sidorovich and there is
no point to carry lots of artifacts to him for good profit. Normaly when you neutral to Scientists
Saharov paying much more money for artifacts and animal parts than any trader.
3. Same as second one but Scientists members become neutral to all Freedom Members(not only
player).
4. Opposite to third one. All Freedom members neutral to Scientists now.
5. In canonical way Freedom Faction was the enemy of Mercenaries in time of Shadow Of
Chernobyl occurs and in original game (where you cannot join factions because it's cut feature)
Freedom members are enemies to Mercenaries. But somehow only you becoming neutral to
them after joining Freedom so those setting fixing this and they still stay hostile to you.
3) Third one - notorious head bobbing:
Actually by default it's already rigged to reduced head bobbing(that's actually pretty balanced for me) but maybe you want to fully remove it or make like it was in original.
Choose and PRESS APPLY
4) Disable fast travel (jump level) through J button and chapter skip by T button (why it's enabled by default i can only guess)
Nothing to explain - cheating feature. Crushing game balance and killing exploration feeling for any player. It's cool that this option exist - but not for default,come on(((
Tick - Disable Esc T TZIO chapter selection
Tick - Disable Esc J level jump
PRESS APPLY
5) Enable grenade throwing by NPC (just like from Clear Sky and Call of Pripyat)
Choose Install xStream's Grenadier
PRESS APPLY
In-Game Main Menu Functions
While in game, momentarily press Esc to return to the main menu.
There you can execute these additional functions:
S - Save a quick named save, of the form "levelname_datestamp".
This is the same as the "Quick named save" button.
F6 (or F5) - Save a level snapshot, essentially a level-based
quicksave named "levelname_snapshot". Unlike the Esc S save,
these will overwrite any existing "levelname_snapshot" files.
This one is highly recommended, as it permits a named save for
each level, so if your quicksave has a problem, you can always
load a save from another level.
Both of the above can have custom prefixes to identify your
games. See the New Game Tweaks entry in the Modifier's _ZRP
configuration.
T - This brings up the dialog for TZIO (The Zone Is Open)
chapter selection. You can advance your progress in the game
at any time, or start free play by completing all the tasks.
See docs\TheZoneIsOpen.txt for details.
(That's what i recomended to disable in modifier)
J - This opens the Intra-level Jump facility for quick travel
across the level. Read docs\TheZoneIsOpen.txt for info.
(That's what i recomended to disable in modifier)
F1 - If the feature is enabled (default), this injects the
Marked One with an antirad dose if one is available in your
inventory.
Fov Switcher 1.7 (Field Of View Changer)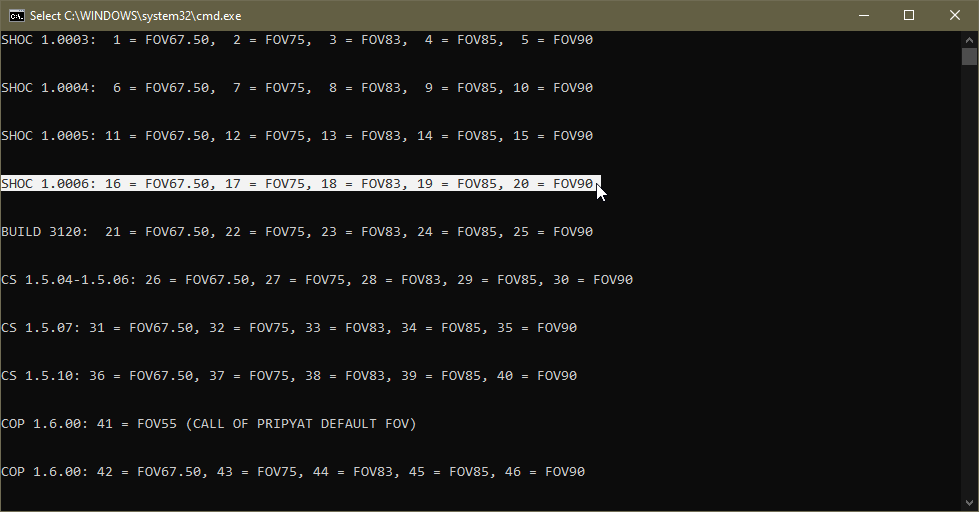 So this application allows you to change your field of view from first person.
In first person video games, the field of view or field of vision (abbreviated FOV) is the extent of the observable game world that is seen on the display at any given moment. It is typically measured as an angle, although whether this angle is the horizontal, vertical, or diagonal component of the field of view varies from game to game.
The FOV in a video game may change depending on the aspect ratio of the rendering resolution. In computer games and modern game consoles the FOV normally increases with a wider aspect ratio of the rendering resolution.
Link for fov switcher is here: https://drive.google.com/file/d/1WCUttO5cs0FlvdgP301j9mHspNuYv7mN/view?usp=sharing
In a few words it would change from this field of view (67.5 original FOV):
To this (75 changed by FOV switcher)
So it allows you to see more and simply unzooming your view. So you have now true widescreen view like in modern fps games (it's actually like widescreen fix)
So to do this you need to unpack all files from your downloaded archive (fovswitcher1.7.7zip) to root folder and replace everything (your shadow of chernobyl folder) Not in gamedata folder.
Then launch fov_switch.cmd.
You will see this window:
As we can see it can be also used for Clear Sky (CS) and Call of Pripyat (COP). But for right now scroll up and find version of your Shadow of chernobyl (SHOC) (on which you installed zone reclamation project). If it's 1.0004 so take values from this row. I have taken from 1.0006 becase it's mine version.
Than choose your fov (yeah it can be even more than 75 but for full hd with 1920x1080 resolution i recommend 75. If you have 2k or 4k you can try 83, 85 or 90. It would increase your sight even more)
So this column has equalization like 17 = 75FOV.
That means that you need to input 17 in console downhere to apply fov 75 to your version 1.0006
Write 17 and press enter. Congrats, now you have fov of 75 like in my screenshot.
Same move for every versions and fovs. Enter your value and press enter.
TROUBLESHOOTING WITH MOVING SHADOWS BUG ON BORDER OF YOUR SCREEN
It could also happen after changing fov because this game wasn't prepared to have higher fov values and shadow rendering will be broken and stretching from those new rendered borders that you expanded by increasing fov.
Find the user.ltx file that is located in _appdata_ folder (this path is steam version) in root of your stalker shadow of chernobyl and open it with a text editor. Press CTRL+F for searching and input r2_sun_near_border to find this setting faster. In here, you'll change the following setting from:
r2_sun_near_border 0.66 (or any value that you have)
To:
r2_sun_near_border 1
Setting it to 1 fixed it for me, but you may need to adjust a little. If 1 doesn't do it for you, slowly increase up to 1.1, 1.2, 1.3. Especially if you have higher resolution or FOV setting than 75.
So as you see it fixed a problem:
Again,if you are confused,here's link for my user.ltx
https://drive.google.com/file/d/1dLSmHkG7hW6Z1EnaiXzp1pYgXfT-ixX7/view?usp=sharing
Just extract and put in _appdata_ folder and replace (it's for fov 75 and 1920x1080)
Finish
That's all you need for good enhanced experience without losing original idea of the game.
If this guide helped you - please like this guide and add it to favourites. If i will find out that this guide helped most of the people i will create same guide for S.T.A.L.K.E.R. Clear Sky.
Source: https://steamcommunity.com/sharedfiles/filedetails/?id=2850300228					
More S.T.A.L.K.E.R.: Shadow of Chernobyl guilds
---