Mod For Great Stalker Experience - Setup Tutorial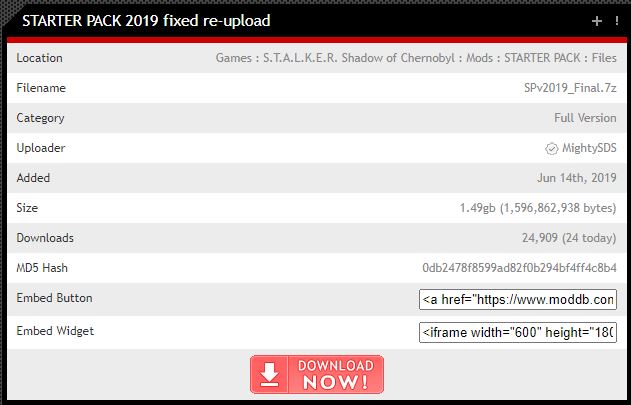 1-) Download STARTER PACK 2019 fixed re-upload from moddb.com
https://www.moddb.com/mods/starter-pack/downloads/starter-pack-2019-fixed-re-upload
2-) Unpack the "SPv2019_Final.rar" file.
3-) Copy the contents of this folder to game install folder
4-) (OPTIONAL) Run fov_switch.cmd to configure Field of View in game. I prefer 75 for which you have to type in 17 but there are other available, just scroll up and see commands for SHOC 1.0006 in the opened command line window
5-) Run the game and configure controls and sound settings to your liking. It is not recommended to change the gamma/contrast/brightness values since those are set up for the new graphical mods but if you will you probably won't break anything. Mod comes configured to be on Master difficulty and no crosshair which is the true sdalger way but if you so wish you can change that(NOTE: Game must run at Full Dynamic Lighting for shaders to work)
6-) Start new game(Saves from previous STARTER PACK should work but you have to move them to app_data folder since this version keeps the saved games and user settings in the game install folder)
7-) Enjoy the mod.
NOTE: Game version has to be S.T.A.L.K.E.R. Shadow of Chernobyl v1.0006 !!!
DESCRIPTION
STARTER PACK 2019
About:
STARTER PACK is beginner friendly Vanilla+ modpack that aims to improve graphics, squash bugs and add some QOL improvements.
The core of the gameplay stays the same. There are no changes to players health, stamina, carry weight or speed, all is vanilla.
No changes to the loot drop rates or weapon damage or accuracy values.
No changes to spawn rate.
The only added things are sleeping bag, some slight UI improvements and ability for some NPCs to fix your weapons.
v2019 Release notes:
Added and reconfigured AA2.1 shaders to the pack
Added HD Models
Fixed bad nightvision double vision effect
Fixed random bugs
Added sleeping bag by default as an option to use for those who don't want to stalk at night
Configured fsgame.ltx so that saves and user settings are stored in the game install folder
Added preconfigured user.ltx with graphical settings
Mods used:
Dynamic Shaders from AA2.1
FoV switcher
OWR3 weapon pack for Shadow of Chernobyl
Photo Realistic Zone 2.1 textures
HD Models addon for Shadow of Chernobyl
Stalker Weather Overhaul v3.1.1
Zone Reclamation Project 1.07 R5 RC
COMPLETE mod nightvision animation for suits with bad NV
*I DO NOT TAKE CREDIT FOR ANY OF THE MODS USED IN THIS MODPACK.
Source: https://steamcommunity.com/sharedfiles/filedetails/?id=2834823785					
More S.T.A.L.K.E.R.: Shadow of Chernobyl guilds
---