Nude-Patch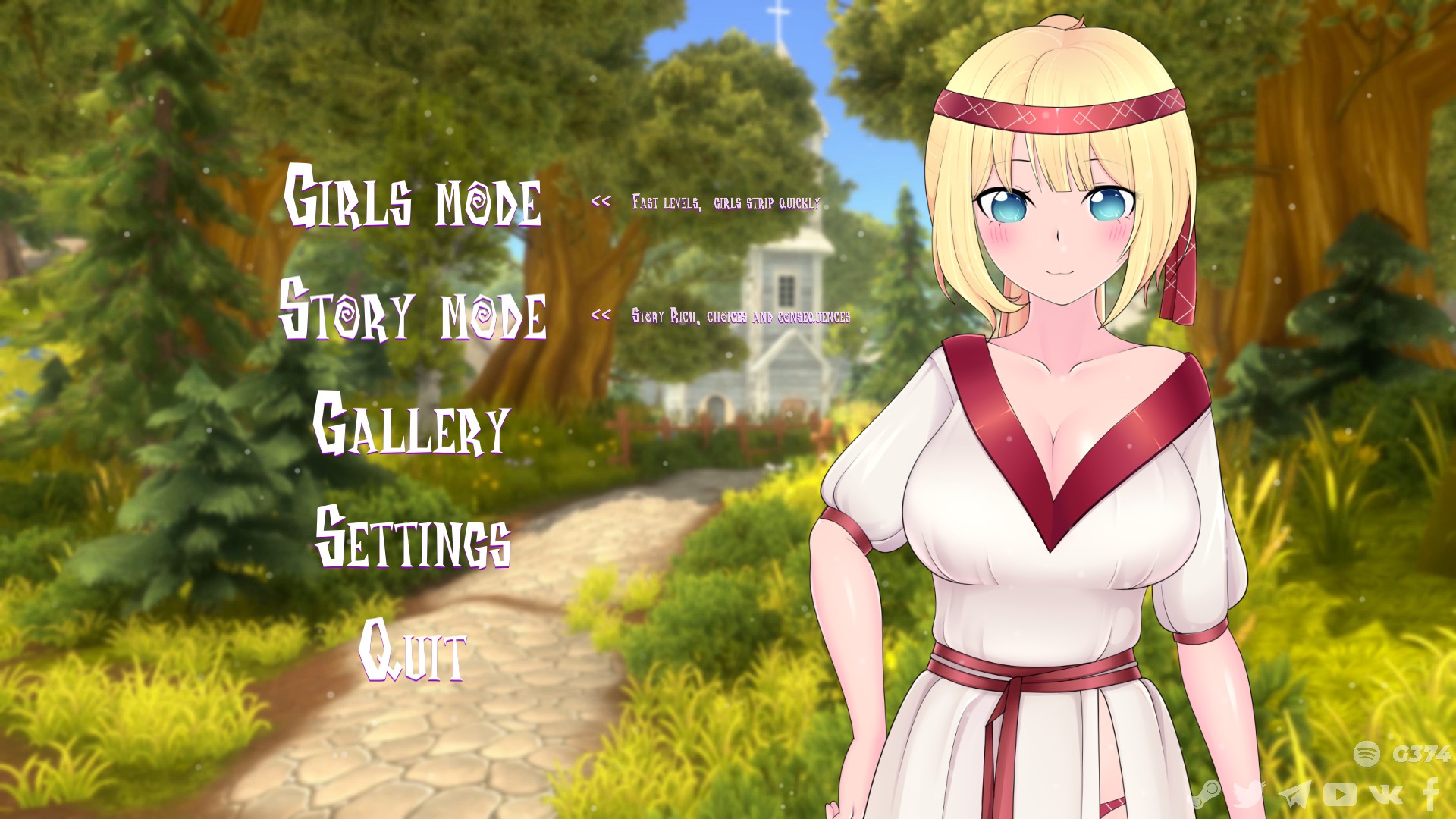 Hello everyone, I want to tell you about the adult content in the game, how it is easier to pass this game and how to open all the achievements. Let's start with the fact that the original game is not complete, since there is no adult content in it by default. Such content is free, but due to the rules of the steam, it can not be included immediately in the main game, so that there is no rating for the game +18
Ps, I do not know English and use a translator, if you do not understand something, then write in the comments
У руководства есть русская версия
Nude-Patch, adult content
Everything is on the surface, all you have to do is three steps:
Open the game page in your library and then open the game page in the store
Scroll through the page just below and find the category of additional content, click on the extension
Download, wait for the download and play (Here the game can start, even before the download of the add-on starts, wait until it loads, looking at the bottom panel of the steam)
You can also open this link and you will find yourself on the DLC pagehttps://store.steampowered.com/app/1688000/My_Cute_Pagangirl__FREE_Girls_pack/
Now your menu in the game should look like this
unlike the standard game, the "Girls Mode" button has been added"
Achievements also revolve on some points of the game, namely, to complete the achievements, you need to play Girls Mode, which you will not see in a normal game. It is possible that some selections for you will not be available without this free add-on
Game Base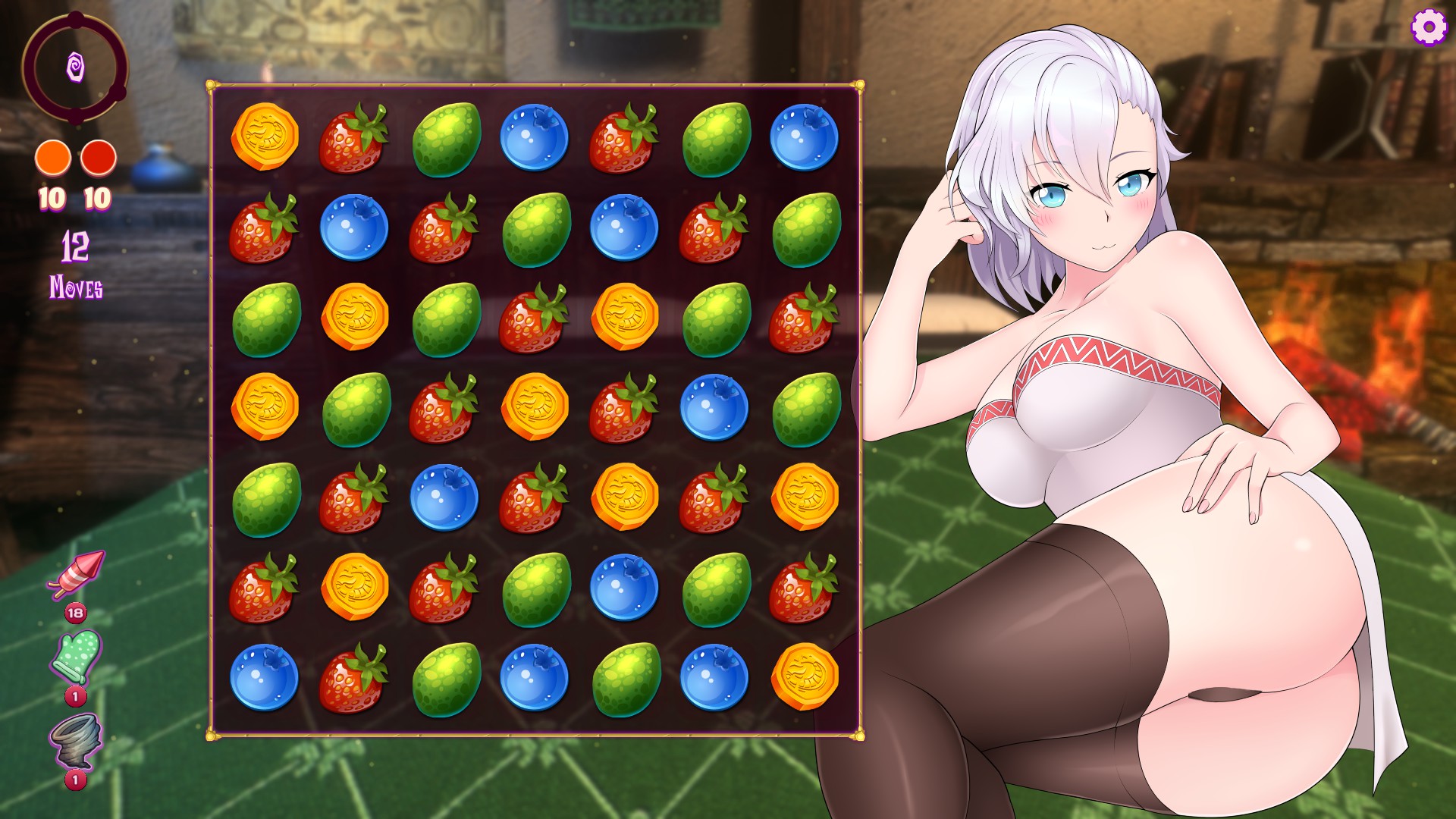 The very essence of the games of the genre "three-in-a-row" is very simple and does not require explanations and any theory, everything can be understood by playing, but if so, you drag the fruits so that three identical objects turn out in a row in one line. I'll just tell you about the bonuses of the game and combinations of fruits
Game bonuses are located at the bottom-left and they are divided into three types:
Fireworks - destroys all the fruits of the same type that you have chosen
Glove - destroys one fruit that you have chosen
Tornado - shuffles the fieldThe most-the most bonus is the first, because it gives an incredible advantage that you can even win when you completely lose to the tasks of the level. By default, you are given three of each bonus and are given to choose an additional one when you pass a three-star level. I advise you to always choose fireworks, as it is always logical
In combinations of fruits, we are given other bonuses:
Four fruits together is a bomb that can take the entire fruit line if it is activated by another combination. The horizontal or vertical line depends, respectively, on which combination was in which axis
Four fruits together (in the form of a square) - a jar of jam of the same type as the fruit from which the combination was made. When activated in another combination, it breaks a random cell on the field, has priority on blocked cells, as if frozen
Five fruits together (in the shape of the letter t) - a bomb that takes eight fruits around with it, if activated in another combination
Five fruits together (in the form of a straight line) - a super fruit of the same type that destroys all the same fruits as it, when activated in a different combination
Seven fruits together is a cake, which if you change it with the neighboring cell, it will destroy all the fruits of the same type as the fruit with which you changed itThe resulting bombs can also be connected if they are located in adjacent cells (not lying crosswise). So they mutually improve each other, you just need to sort of swap them and in this case they will connect and explode
There is also a Girls Mode mode, there is the same system, only there you do not need to move the fruits, but you should choose the fruits that lie next to each other. There combinations can be from two fruits
Achievements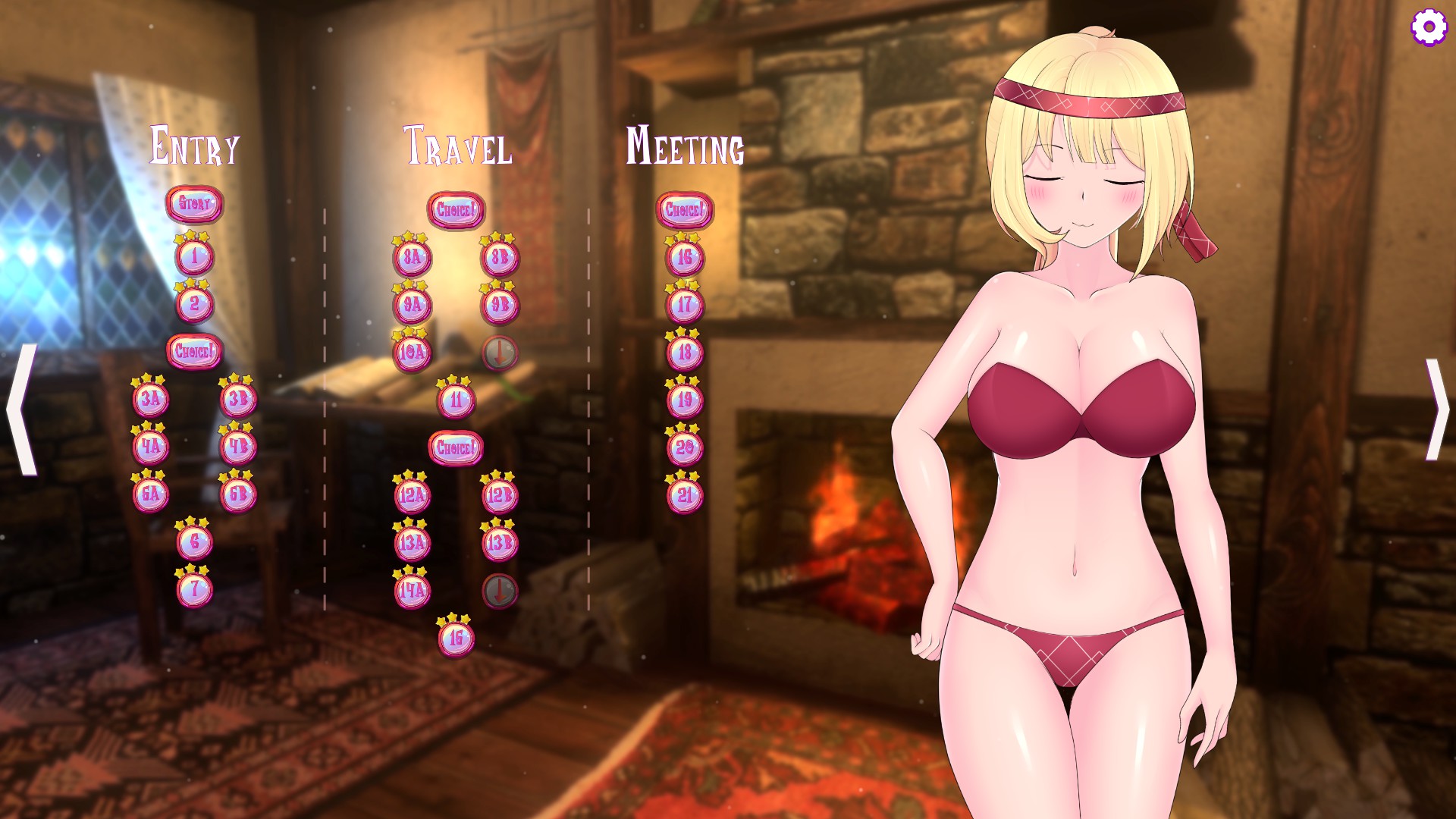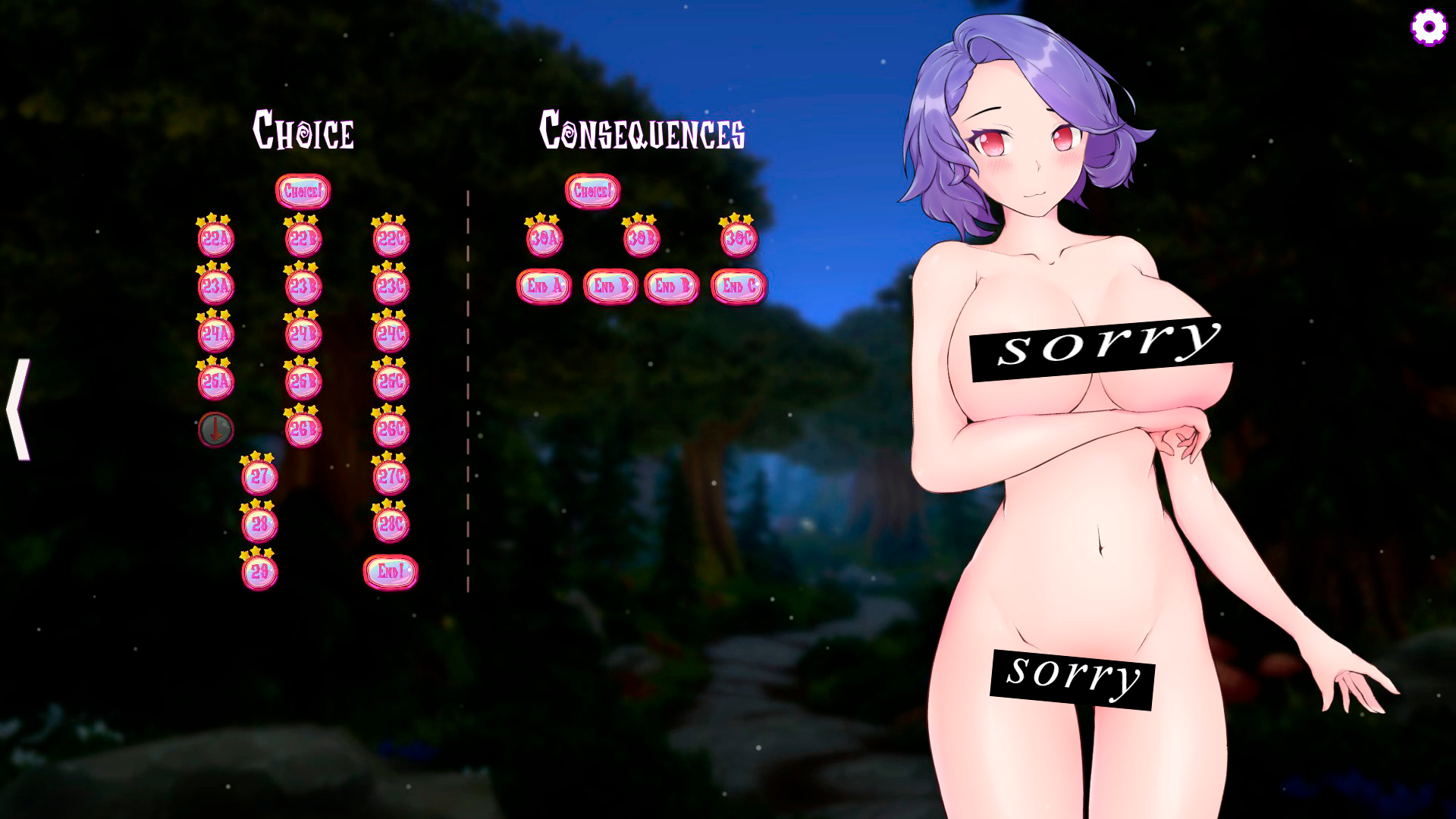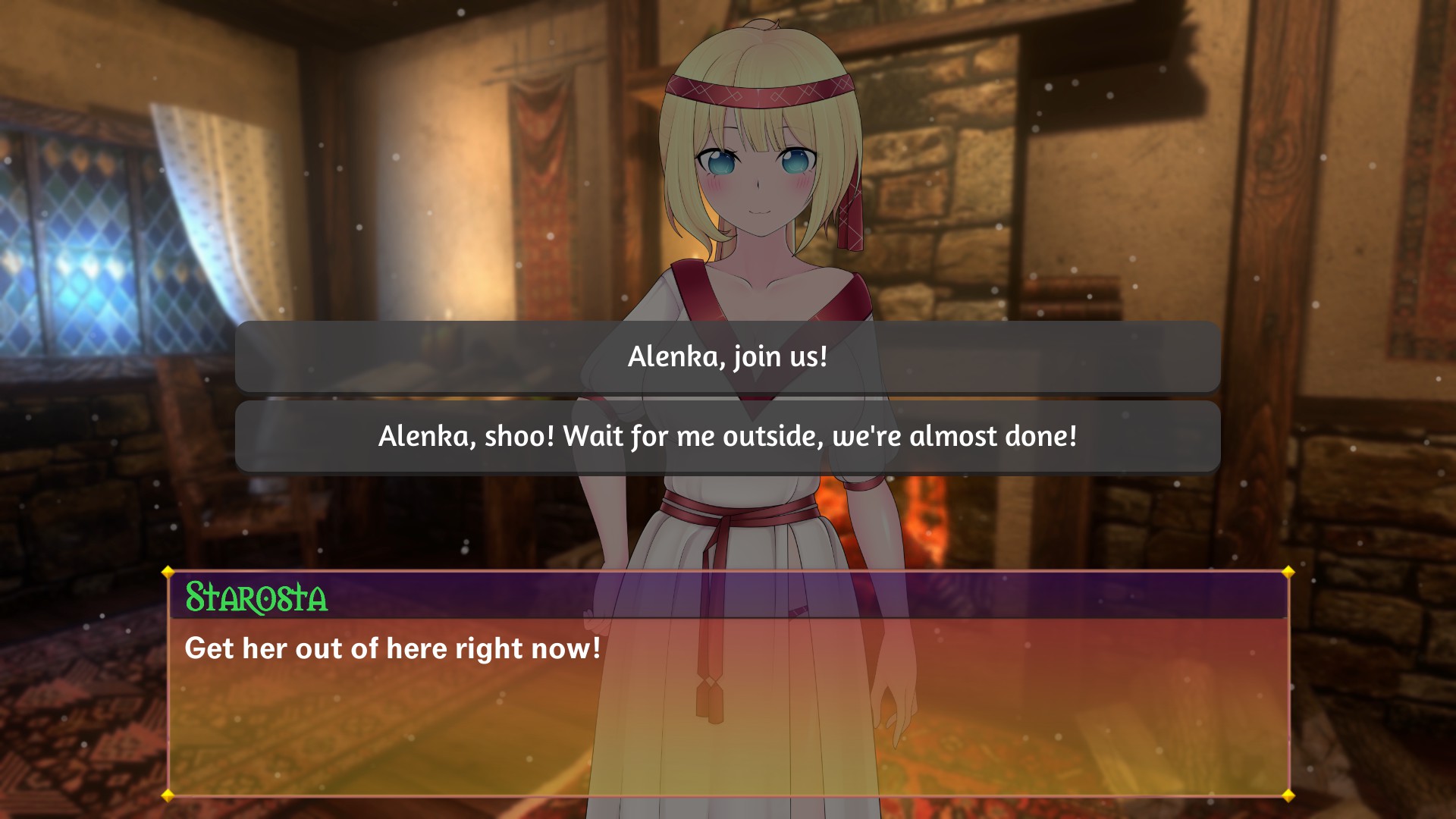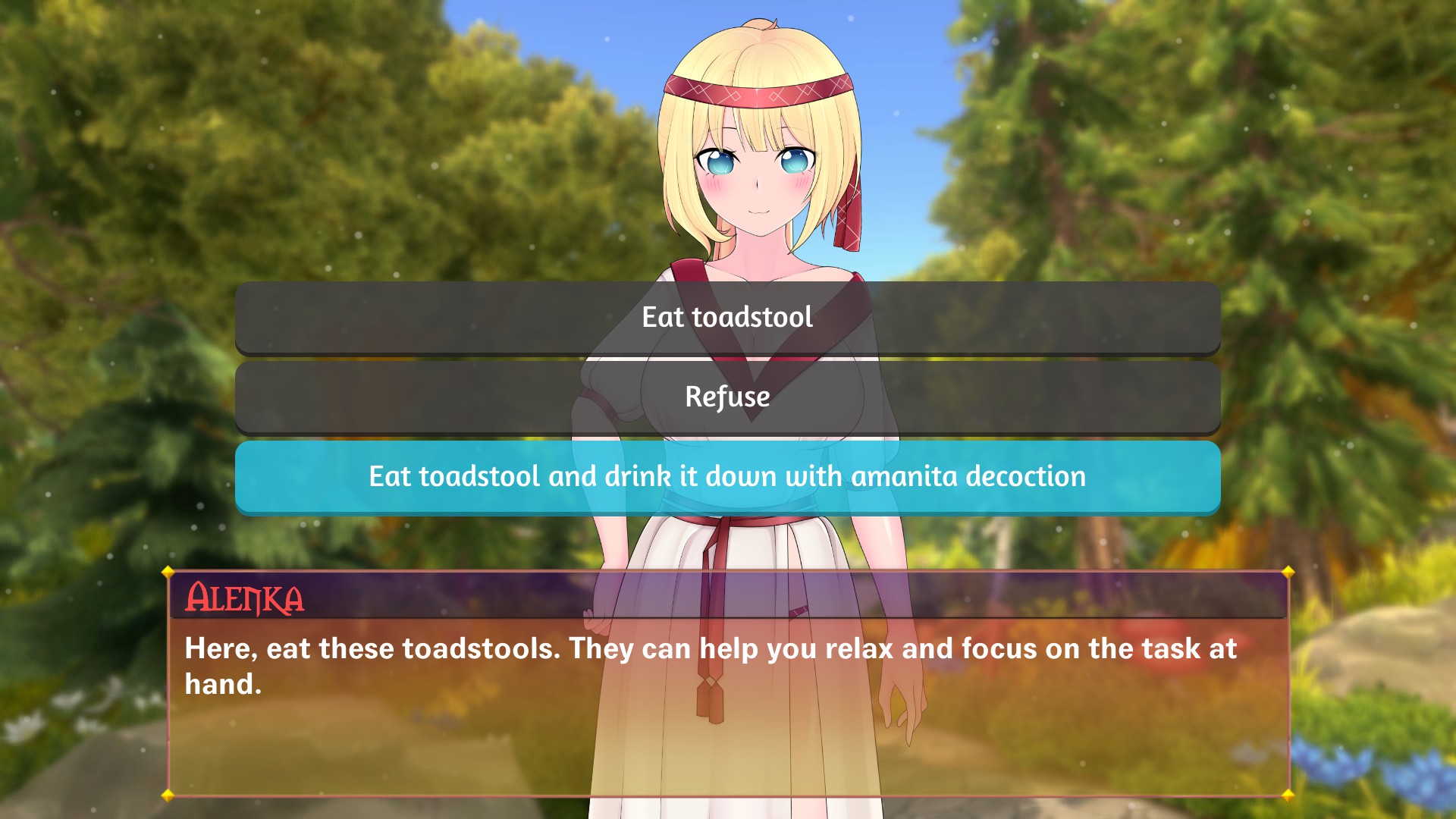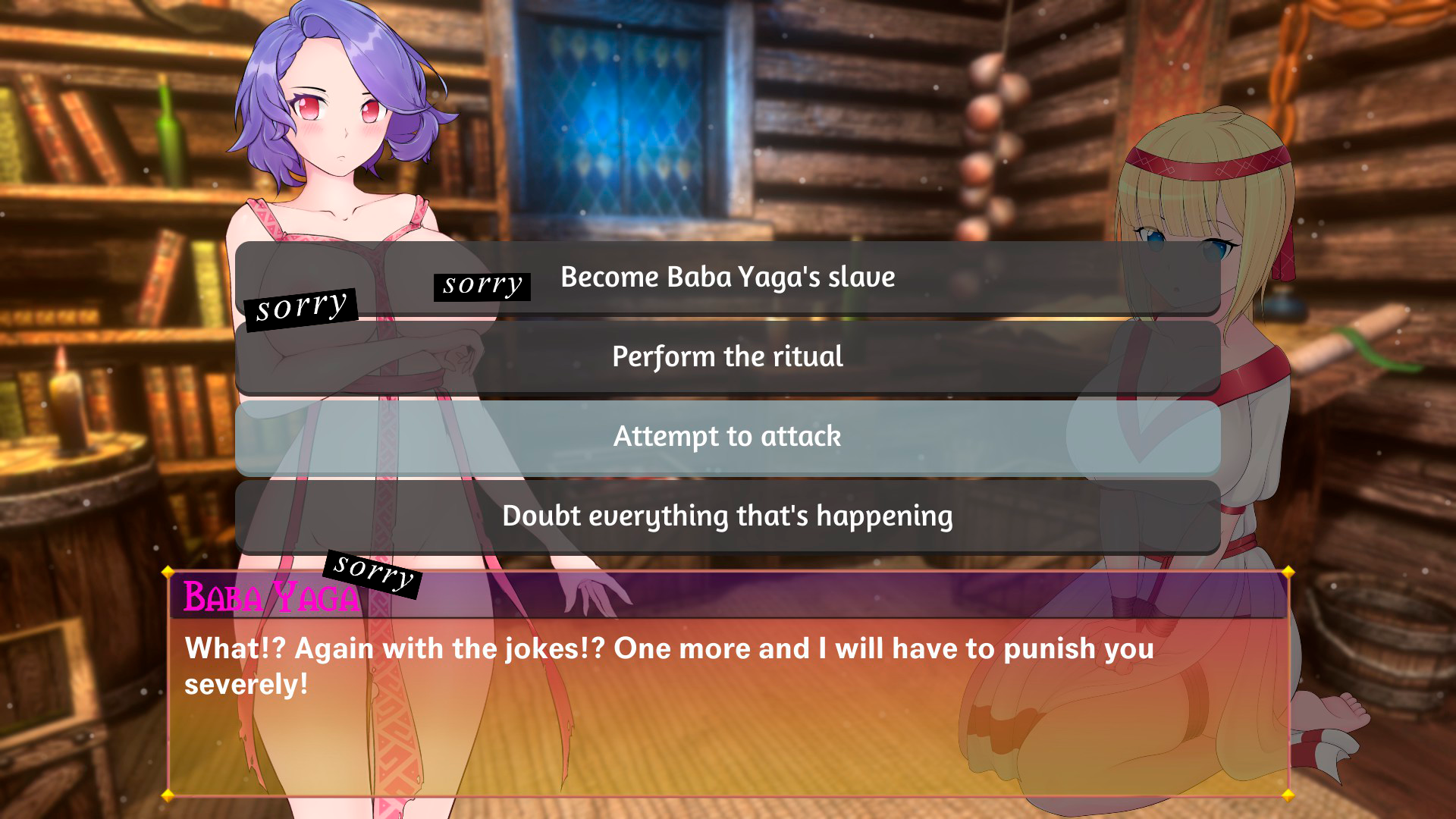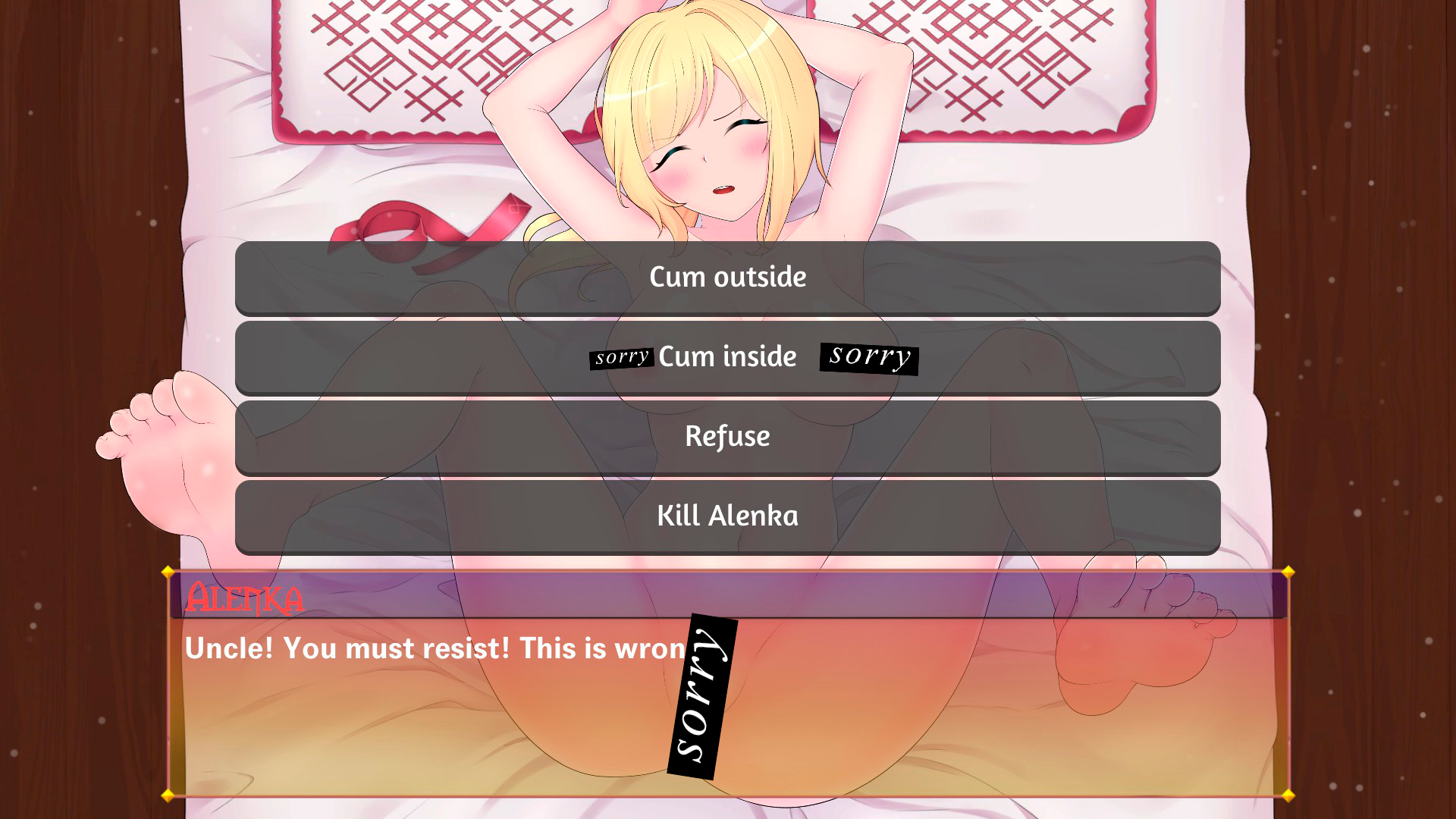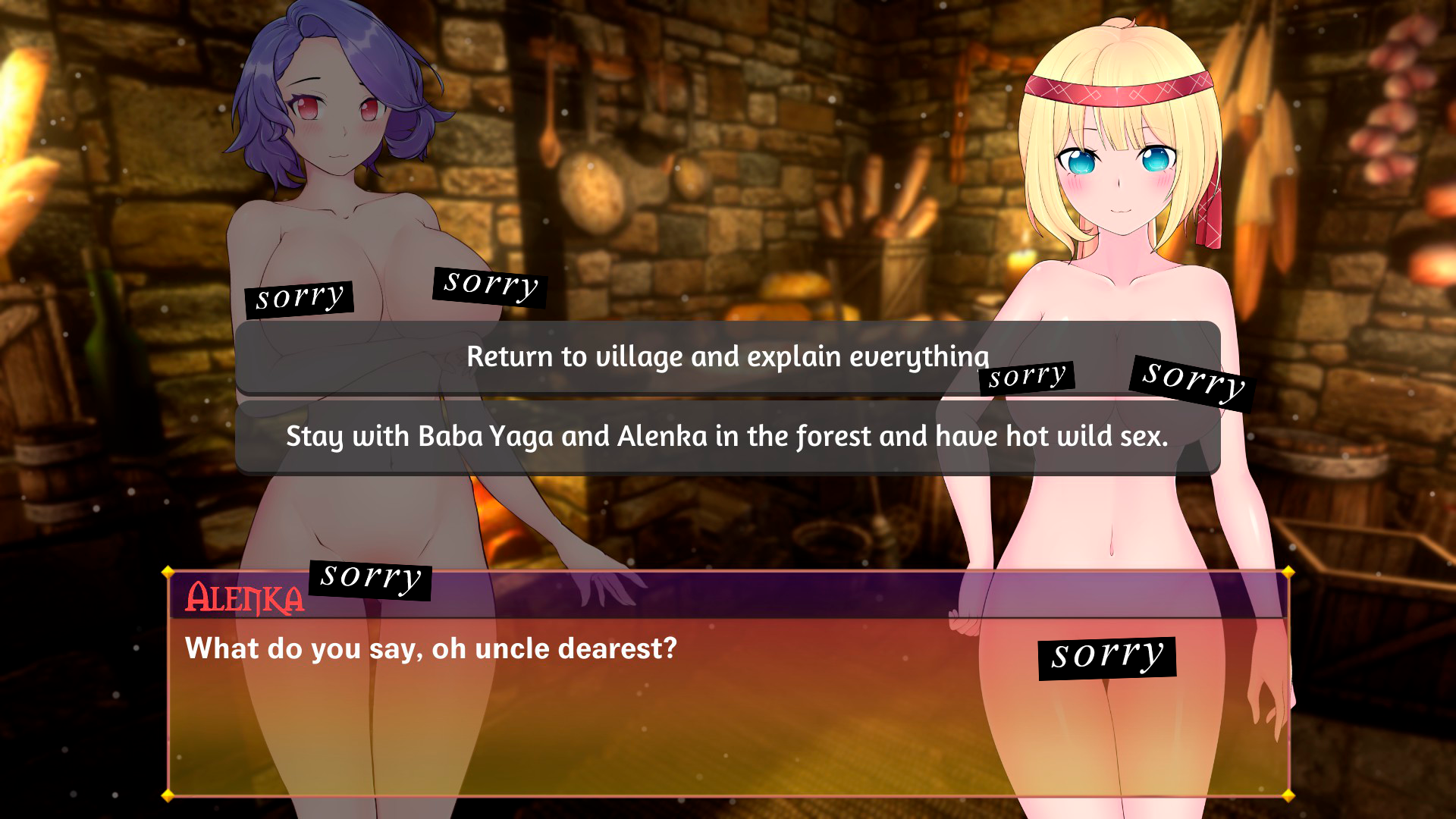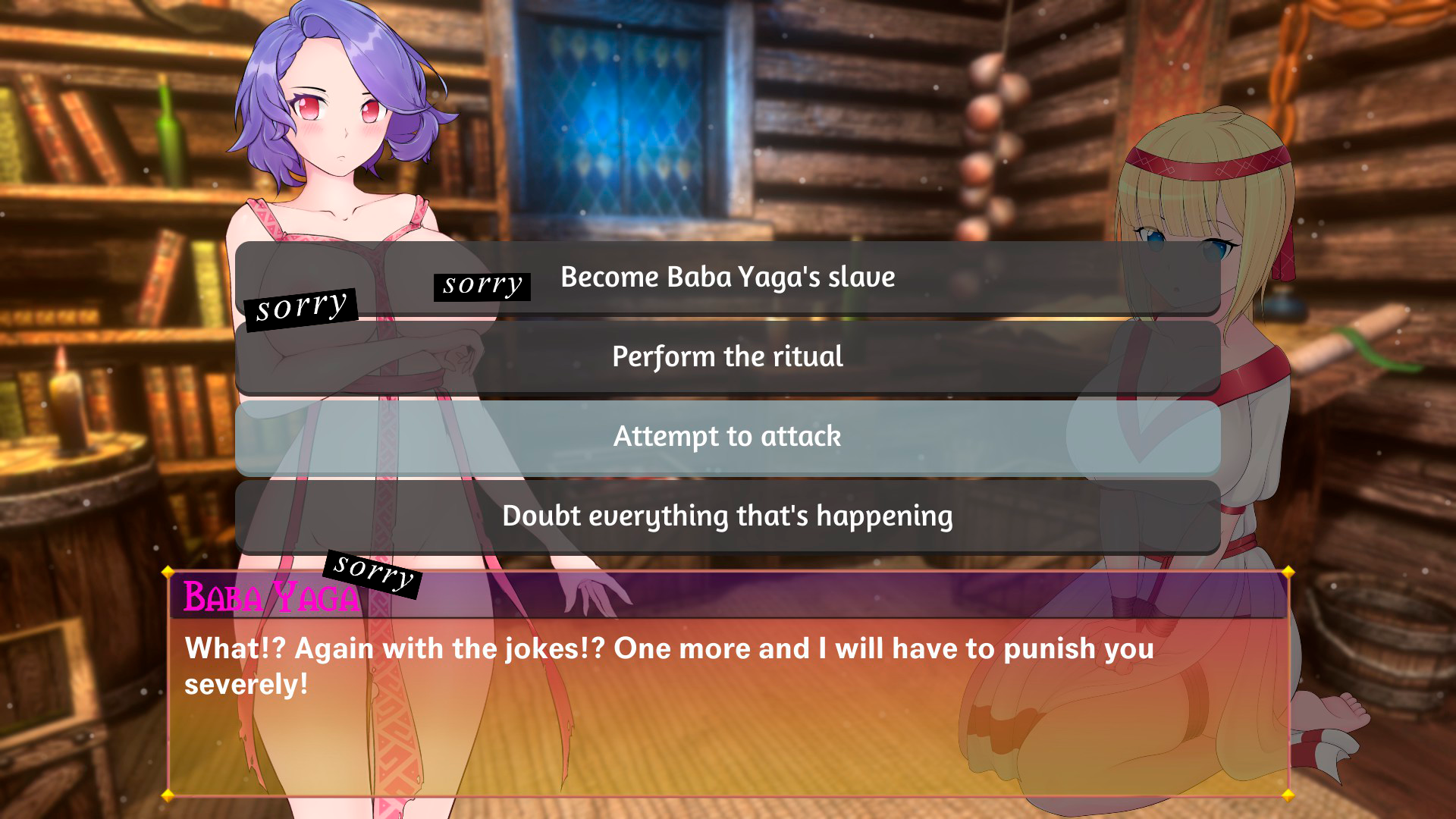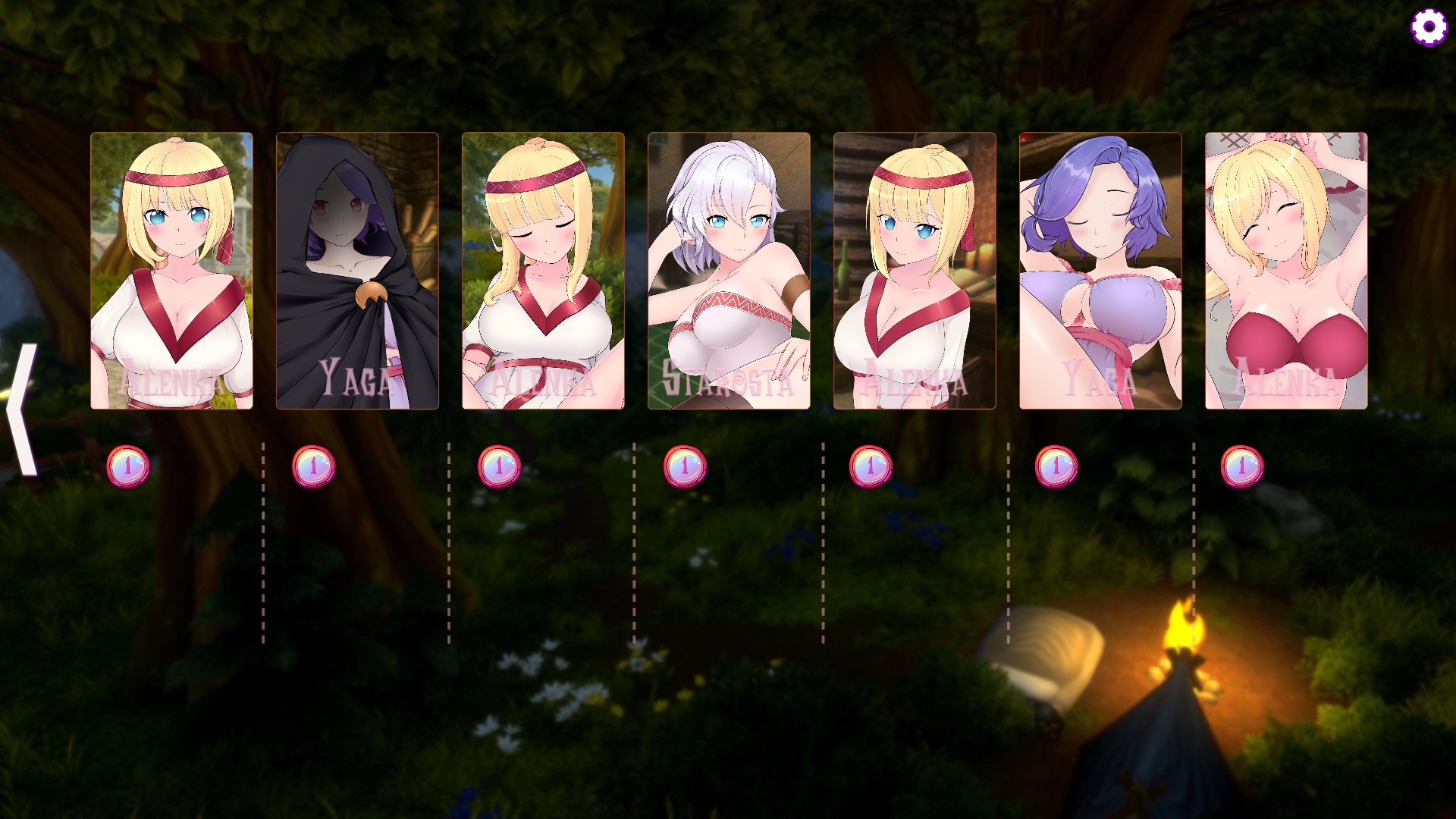 Attention, there may be spoilers! The achievements are simple, you just need to visit all the endings and play Girls Mode. By the way, this is how the level map looks, when opening all the endings and passing all the levels
As you can see, some choices lead to one path, remember this later, and now the achievements are in words. I also remind you that it is impossible to get all the achievements without installing a free add-on that adds adult content, and now achievements
Just start playing Story Mode
After completing 2 levels, you will have a choice, which are marked on the map as " Choice!". Choose each one once and get these achievements
At levels 8A and 8B, there will be options where you need to choose "Eat toadstool and drink it down with amanita decoction". No matter which path option you choose after level 7, you still have a chance to get an achievement. The only difference is that at level 8A, there will be a choice first, which does not matter, and only then you can still eat toadstool and drink amanita
When you reach level 11, according to the plot, you get to a halt and automatically get an achievement
At the beginning of level 20, the unknown is introduced as "Baba Yaga" and you get an achievement
a strip that acts as a space
Attention, the following three achievements can be obtained if you choose the top 1-3 options after level 21
The third option becomes invalid after the choice, and 1-2 give a passage further
After level 29, you will have a choice that will take you to three endings
Select "♥♥♥ outside"
a strip that acts as a space
And the next two achievements can be obtained by choosing after level 29 "♥♥♥ inside" and then on the next choice
Choose "Return to village and explain everything"
Stay live with Baba Yaga and Alenka so that you always have sex with two girls
Go back to the selection after level 29 and select "Kill Alyonka". Do not be afraid, there will be no massacre, there will only be side effects from fly agarics and flashbacks from other games of the developer
Complete the levels and the ending after you have chosen "Kill Alyonka"
Go back to the selection after level 21 and select "Doubt everything that's happening"
Perhaps this choice will be closed if you did not try to calm Alyonka at a halt with the help of an in a juniper tea on the choice after level 11
*If you can't get an achievement, then try to complete the game from the very beginning, making the appropriate choices
Are you sure you have installed the free add-on? If yes, then open the Girls Mode main menu and here is your achievement
Oh, still so dressed and unfinished(
Start playing Girls Mode, may CJ come with you
Result
That's all. Thank you for reading this guide, special thanks to those who will award or have awarded this guide. If this guide helped you and liked it, then rate it and add it to your favorites if possible, I will be very grateful, good luck!
Source: https://steamcommunity.com/sharedfiles/filedetails/?id=2564840013					
More My Cute Pagangirl guilds
Rate this article
---