Overview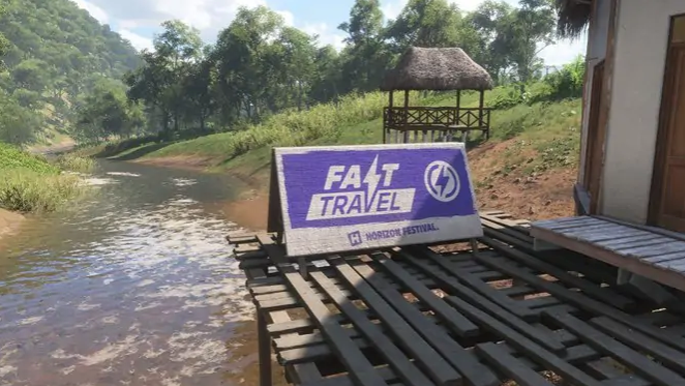 Welcome to my guide for Forza Horizon 5 by lnfinitus
If you used this guide, I would appreciate if you gave it a thumbs up, rating, award or favorite.
Forza Horizons 5 brought us a new challenge with over 100 square kilometres of Mexico for us to travel around, and even though it sounds gigantic I will tell you how you can move around more easily using the Fast Travel option.
What Is Fast Travel
While racing across the map and exploring the world of Forza Horizon 5 is a blast, sometimes you just want to get to the next event as fast as possible. The Fast Travel option enables you to jump to any road/event at a given price which depends upon how many Fast Travel Boards you've smashed in the map.
Forza Horizon 5 fast travel boards are your ticket to getting around Mexico quickly, but it takes some work and plenty of money to unlock.
Now, the option to Fast Travel is not free, as it costs 10,000 credits each time you want to use this feature but there is a way you can start saving creds if you look around your surroundings.
There are a total of 50 Fast Travel Boards Scattered around the map. You must crash into them to redeem a 200 credit discount on your fast travel expenses. If your find and break them all you will be able to use that feature completely for free for the rest of the game.
How To Unlock Fast Travel
When you first start out, fast travel is limited. You can fast travel to houses you own as well as specific festivals.
At the beginning of the game there will be some locked areas to Fast Travel and the easiest way to unlock them all at once is by purchasing the Buenas Vistas property in the Baja Region valued at 2,000,000 credits. It is a lot, but this will let you fast travel to any road on the map.
NOTE: To access the house, you need to unlock the Horizon Festival in the Baja region before the option will show up. It can be done via playing the story itself. The Guanajuato Expedition needs to be obtained from the Street Scene Adventure Chapter, and then completed to unlock the Horizon Street Scene Outpost.
How To Use Fast Travel
You probably know this, But in order to Fast Travel you just have to navigate to your map and press "X" [Assigned default on Keyboard and XBox Controller] in order to Fast Travel to that location once you've unlocked the option.
The cost will depend on No. of Boards Smashed.
All Boards Location
As mentioned previously, you need to destroy all 50 Fast Travel Boards which are located throughout the map in order to unlock FREE (0Cr) Fast Travel.
Here's a photo showcasing the location of all the Fast Travel Boards.
Here's a video showcasing locations of all the boards for your ease of access.
This video will showcase the exact location of each board on the map. Some boards may require jumps/trickshots. I will recommend you to use a High-Speed care for such boards.
Thank You
I just want to thank you for using this guide for your Fast Travel and hope that your game-play experience is amazing! Again, i'm just going to ask if you used this guide, I would appreciate if you gave it a thumbs up, rating,award or favourite.
Using the map embedded above, you will be able to locate all of the Fast Travel Boards scattered throughout the sprawling virtual Mexico map in Forza Horizon 5.Happy hunting!
Source: https://steamcommunity.com/sharedfiles/filedetails/?id=2696607942					
More Forza Horizon 5 guilds
---