Introduction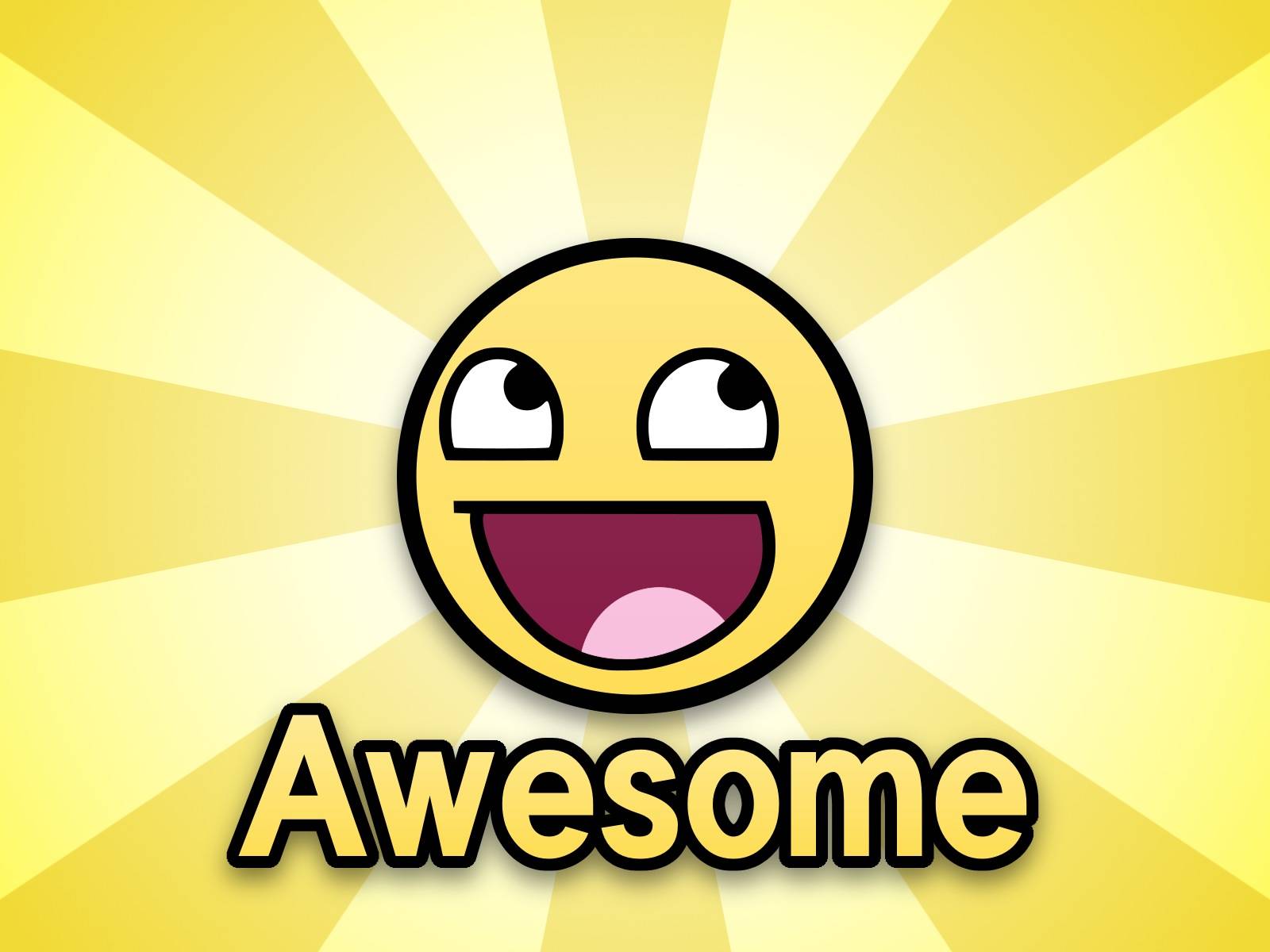 If you are new to gathering there are a few things that you need to know.
Gathering PointsGathering Points (GP) are used to perform skills (except for sprint which uses TP). The largest contributor to these points come from jewellery. You can also apply GP materia to slightly increase your points. Don't confuse GP with CP gear which is only for crafting.
EquipmentBotany, mining and fishing all utilise the same gear from levels 1-49. At level 50 you get the option of crafting gathering specific gear. Since this guide only focuses on leveling equipment has been given it's own section. The equipment section will outline the gear you should be wearing every 5 levels (i.e. 1-5, 6-10 etc).
Resource AvailabilityEvery five levels you will unlock a new set of resources that you can harvest (i.e. Lv.1, Lv.6, Lv.11). If you run out of leve allowances you should look for the highest level resources that give close to 100% gather rate, these will provide the quickest leveling outside of leve quests.
You've now grasped the basics!
This is the last smiley face you will have until you reach level 50.
Are you sure you want to continue?
Experience Boosters
There are a few consumables you can use to increase the amount of experience you earn. All the boosters listed below stack with each other. This means you can achieve a total of 103% more experience!
Food
Boosts experience by 3% for 30 minutes and can be bought from town NPCs. They also provide bonuses to gathering points if you acquire the correct food.
Rest
If you log out in a town you will accumulate rest. This will increase your experience by 50% until all the rest you accumulated runs out.
Survival Manuals
These increase experience by 50% for three hours or 20/40k experience, which ever comes first. They are acquired from grand companies and cost company seals. You will find them under the material tab for 1440 and 2300 seals respectively. You need to be a Private First Class for the first survival manual and a Sergeant First Class for the second.
Guild Boosters
LeveQuests
LeveQuests for disciples of the land are called Fieldcraft Quests. They are obtained from the same NPC's that provide you with LeveQuests for the other disciplines. They are the best way to level disciples of the land. I'll explain the types you can obtain and how to always get the quest types you want.
Fieldcraft Quest Types
All fieldcraft quests provide the speed bonus and difficulty bonus if you complete the challenge. For the speed bonus you need to complete the levequest within five minutes. For the difficulty challenge you must select a level equal to or greater than your current level. It's important to note that the difficulty scale when you start the quest isn't based on your level but the level of the quest. The quest level is the initial level required to obtain the quest (so if you start a Levequest from a level 5 agent then the quest is 5+difficulty scale modifier).
Every five levels (i.e. 1-5, 5-10 etc) you will have the option of acquiring four different quests. I think of these as follows:
Score-Based 8 Node
Score-Based 4 Node
Min-requirement 8 Node
Freeform
The first two grant bonus EXP if you exceed the scores set by the game. The highest bonus you can obtain is 25%. In addition to this bonus you usually obtain the difficulty bonus and speed bonus which almost doubles the initial reward. Even if you fail at obtaining any resources you will still be rewarding if you finish the quest within 20 minutes.
The third option has a minimum required amount of resources that you must obtain to receive the quest reward. There is a limited number of resource nodes (8 in total) There are no special bonuses. Failing to meet the minimum requirements means you receive no reward but the quest still consumes one leve allowance. Avoid these quests if you can.
Freeform requires the player to obtain a number of resources within 20 minutes. There are no other requirements. There are no special benefits.
For the best leveling speed you want to only perform the score-based fieldcraft quests.
Rotating Fieldcraft QuestsWhen you speak with a levequest agent you will notice that they will only offer two at a time. To ensure that you only ever get the ones that you want you will need to rotate the queue. I'll explain how:
Step 1: Accept any quest from the levequest agent (score-based if available, if both score-based are available take both)
Step 2: Complete one quest and return to the agent.
Step 3: After collecting the quest reward speak to the agent about taking another quest. Accept any score-based quests if they are available. If there aren't repeat step 1.
Each time you complete a levequest with that agent it resets the available quests he has. After accepting the score-based quests just keep repeating this process until you reach the next level set.
Score-Based Fieldcraft QuestsNow that you have the process to getting score-based quests you can start leveling that chosen class to 50. You will want to know how to easily get 25% EXP bonuses about 95% of the time though.
When you start a score-based quest you will be given two options at each resource node. A resource equal to the level of the quest and a resource three levels higher than the quest. If you selected the quest so it's equal to your level you will always receive 7 points per successful harvest on the equal level node and 9 points for the high level node. It is usually better to just harvest the normal level node to reach just above the requirement for 25% EXP bonus. Using this approach you can miss one swing for the 4-node quest and two swings for the 8-node quest.
If you are close to leveling up before finishing the quest you may find yourself short on points. This occurs if you selected any equal level difficulty. Between when you started and when you finished your level changed and so too does the point amount you get for normal level nodes. After leveling you will get 6 points per node instead of the 7. If you believe you will level up during the quest push the difficulty slider up one more than usual.
Botanist Leve Quests

Miner Leve Quests

Fisherman Leve Quests
Fishing leves are exactly like crafting leves. You will be required to hand in three fish of the same type and quality. Handing in high quality fish will double your experience reward.
There are two quest types that you can complete for fishing. The first type provides a higher base experience while the second provides the option for receiving the experience reward three times. Obviously you will have to do three times more work (theoretically) to obtain the full reward, that means nine fish in total.
Grinding seems to be the quickest way to hit level 50 for fishing while handing in a few leves. I'll post the fishing spots I had the most luck and the type of bait. It's also important to note there is a difference in catch speed between bait and lures. When at all possible use bait as they will help you catch fish faster.
30-35
35-40
40-45
45-50
Pictures incoming :)
Equipment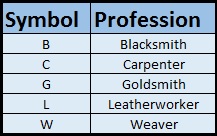 The ability to harvest resources successfully and to harvest high quality (HQ) resources you will need to increase your perception, gathering and GP statistics. The best way to do this is to equip the best gear for your level. Also note that your level is based on the level of the class you intend to play and not your highest class.
For speed-gathering you can usually skip a level set and still successfully finish the leve quests with a 25% bonus to EXP. If you choose to do this it will always be more likely that you will fail one or two quests and not receive that bonus.
For the first two level sets the gear is the same. These sets have been based on the leve quest entry level. That means that as you level there are items that you can equip that are better however the difference to success is negligible.
There are no secondary weapons for fisherman.
For crafting purposes I've placed a letter at the end of each piece of equipment. The letter indicates the crafting profession that makes the item. Below is a list of the symbols and their crafting professions:
Equipment (1+)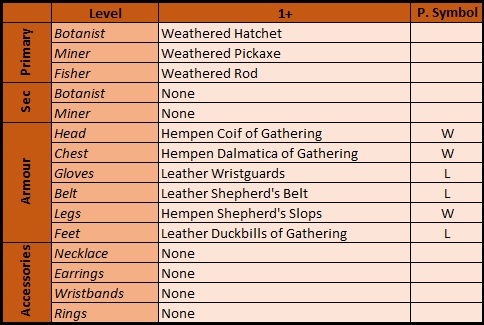 Equipment (5+)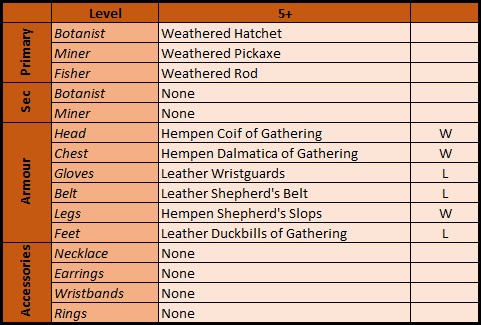 Equipment (10-14)
Equipment
Botanist Weapons
Primary: Bronze Hatchet (B)
Secondary: None
Miner Weapons
Primary: Bronze Pickaxe (B)
Secondary: None
Fisherman Weapons
Primary: Maple Fishing Rod (C)
Armour
Head: Straw Hat (W)
Chest: Amateur's Doublet Vest (W)
Gloves: Hempen Work Gloves (W)
Belt: Leather Shepherd's Belt (L)
Legs: Amateur's Slops (W)
Feet: Leather Duckbills of Gathering (L)
Jewellery
Necklace: Leather Choker (L)
Earrings: Copper Earrings (G)
Wristbands: None
Rings: None
Equipment (15-19)
Equipment
Botanist Weapons
Primary: Iron Hatchet (B)
Secondary: Bronze Scythe (B)
Miner Weapons
Primary: Plumed Bronze Pickaxe (B)
Secondary: Bronze Sledgehammer (B)
Fisherman Weapons
Primary: Elm Fishing Rod (C)
Armour
Head: Stablehand's Hat (W)
Chest: Cotton Shepherd's Tunic (W)
Gloves: Hempen Work Gloves (W)
Belt: Leather Survival Belt (L)
Legs: Cotton Shepherd's Slops (W)
Feet: Hard Leather Espadrilles (L)
Jewellery
Necklace: Hard Leather Choker (L)
Earrings: Copper Earrings (G)
Wristbands: None
Rings: None
Equipment (20-24)
Equipment
Botanist Weapons
Primary: Initiate's Hatchet (B)
Secondary: Iron Scythe (B)
Miner Weapons
Primary: Iron Pickaxe (B)
Secondary: Initiate's Sledgehammer (B)
Fisherman Weapons
Primary: Initiate's Fishing Rod (C)
Armour
Head: Cotten Coif of Gathering (W)
Chest: Cotton Dalmatica of Gathering (W)
Gloves: Cotton Work Gloves (W)
Belt: Hard Leather Shepherd's Belt (L)
Legs: Initiate's Slops (W)
Feet: Padded Leather Duckbills of Gathering (L)
Jewellery
Necklace: Hard Leather Choker (L)
Earrings: Brass Earrings (G)
Wristbands: Hard Leather Wristbands of Gathering (L)
Rings: Goatskin Ring (L)
Equipment (25-29)
Equipment
Botanist Weapons
Primary: Brass Hatchet (B)
Secondary: Initiate's Scythe (B)
Miner Weapons
Primary: Iron Dolabra (B)
Secondary: Iron Sledgehammer (B)
Fisherman Weapons
Primary: Yew Fishing Rod (C)
Armour
Head: Velveteen Bandana (W)
Chest: Cotton Doublet Vest of Gathering (W)
Gloves: Fingerless Goatskin Gloves of Gathering (L)
Belt:
Legs: Velveteen Sarouel of Gathering (W)
Feet: Goatskin Crakows of Gathering (L)
Jewellery
Necklace: Goatskin Choker (L)
Earrings: Brass Earrings (G)
Wristbands: Hard Leather Wristbands of Gathering (L)
Rings: Goatskin Ring (L)
Equipment (30-34)
Equipment
Botanist Weapons
Primary: Plumed Iron Hatchet (B)
Secondary: Initiate's Scythe (B)
Miner Weapons
Primary: Steel Pickaxe (B)
Secondary: Steel Sledgehammer (B)
Fisherman Weapons
Primary: Staghorn Fishing Rod (C)
Armour
Head: Velveteen Wedge Cap of Gathering (W)
Chest: Toadskin Jerskin (L)
Gloves: Velveteen Work Gloves (W)
Belt: Toadskin Survival Belt (L)
Legs: Toadskin Culottes (L)
Feet: Goatskin Crakows of Gathering (L)
Jewellery
Necklace: Goatskin Choker (L)
Earrings: Silver Earrings (G)
Wristbands: Goatskin Wristbands of Gathering (L)
Rings: Toadskin Ring (L)
Equipment (35-39)
Equipment
Botanist Weapons
Primary: Plumed Steel Hatchet (B)
Secondary: Wrapped Steel Scythe (B)
Miner Weapons
Primary: Steel Dolabra (B)
Secondary: Wrapped Steel Sledgehammer (B)
Fisherman Weapons
Primary: Walnut Fishing Rod (C)
Armour
Head: Angler's Hat (W)
Chest: Velveteen Doublet Vest of Gathering (W)
Gloves: Fingerless Boarskin Gloves of Gathering (L)
Belt: Vintage Shepherd's Belt (L)
Legs: Linen Sarouel of Gathering (W)
Feet: Boarskin Crakows of Gathering (L)
Jewellery
Necklace: Boarskin Choker (L)
Earrings: Silver Earrings (G)
Wristbands: Goatskin Wristbands of Gathering (L)
Rings: Toadskin Ring (L)
Equipment (40-44)
Equipment
Botanist Weapons
Primary: Mythril Hatchet (B)
Secondary: Wrapped Steel Scythe (B)
Miner Weapons
Primary: Plumed Mythril Pickaxe (B)
Secondary: Wrapped Steel Sledgehammer (B)
Fisherman Weapons
Primary: Mahogany Fishing Rod (C)
Armour
Head: Woolen Coif of Gathering (W)
Chest: Linen Coatee of Gathering (W)
Gloves: Fingerless Peisteskin Gloves of Gathering (L)
Belt: Boarskin Shepherd's Belt (L)
Legs: Woolen Sarouel of Gathering (W)
Feet: Peisteskin Crakows of Gathering (L)
Jewellery
Necklace: Boarskin Choker (L)
Earrings: Mythril Earrings (G)
Wristbands: Boarskin Wristbands of Gathering (L)
Rings: Boarskin Ring (L)
Equipment (45-50)
Equipment
Botanist Weapons
Primary: Cobalt Hatchet (B)
Secondary: Mythril Scythe (B)
Miner Weapons
Primary: Cobalt Dolabra (B)
Secondary: Mythril Sledgehammer (B)
Fisherman Weapons
Primary: Rosewood Fishing Rod (C)
Armour
Head: Felt Coif of Gathering (W)
Chest: Boarskin Jerkin (L)
Gloves: Fingerless Raptorskin Gloves of Gathering (L)
Belt: Boarskin Survival Belt (L)
Legs: Boarskin Culottes (L)
Feet: Boarskin Workboots (L)
Jewellery
Necklace: Raptorskin Choker (L)
Earrings: Mythril Earrings (G)
Wristbands: Boarskin Wristbands of Gathering (L)
Rings: Boarskin Ring (L)
Source: https://steamcommunity.com/sharedfiles/filedetails/?id=338557409					
More FINAL FANTASY XIV Online guilds
---