⠀⠀⠀⠀⠀
⠀⠀⠀⠀⠀⠀⠀⠀⠀⠀⠀⠀⠀⠀⠀⠀⠀⠀⠀⠀⠀⠀⠀⠀⠀⠀⠀⠀⠀⠀⠀⠀⠀⠀⠀⠀⠀⠀⠀⠀⠀⠀⠀⠀⠀⠀⠀⠀⠀⠀⠀⠀
Achievement (1/9)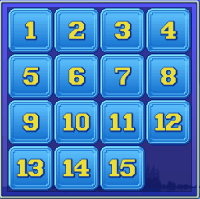 A Hero's JourneyArguably the first achievement you'll unlock (unless you really farmed enemies front the start), you actually don't unlock this achievement right after defeating Garland. You'll need to cross the bridge once it is rebuilt; some players also state they had to fight one mob in order for it to unlock, so keep that in mind.
Apprentice Warrior"Defeated 100 monsters."
You'll earn his achievement in the first 1-2 hours of playing the game and will probably be the first or second achievement you unlock while playing.
Experienced Warrior"Defeated 300 monsters."
Much like the achievement to defeat 100 monsters, defeating 300 will come naturally, so there is no need to grind at all for it. You'll unlock it within the few several hours of playing the game.
Legendary Warrior"Defeated 500 monsters"
The final monster-based achievement is to defeat 500 enemies, which is fairly easy to do without any extra grinding needed. You'll earn this as you play the game normally.
Thrifty Spender"Obtained 10,000 gil."
Accumulate a total of 10,000 gil over the course of your playthrough. This counts for the total gil obtained through the playthrough you're currently on.
Smart Saver"Obtained 50,000 gil."
Accumulate a total of 50,000 gil over the course of your playthrough. This counts for the total gil obtained through the playthrough you're currently on.
Moneybags"Obtained 100,000 gil."
Accumulate a total of 100,000 gil over the course of your playthrough. This counts for the total gil obtained through the playthrough you're currently on.
Earth's BlessingThis is a story driven achievement and will unlock as you progress the main story of the game.
Rekindled FlameThis is a story driven achievement and will unlock as you progress the main story of the game.
Token of CourageThis is a story driven achievement and will unlock as you progress the main story of the game.
Revitalizing WatersThis is a story driven achievement and will unlock as you progress the main story of the game.
Wind's CaressThis is a story driven achievement and will unlock as you progress the main story of the game.
Prophecy ForetoldThis is a story driven achievement and will unlock as you progress the main story of the game.
Hidden Game"Played the 15 Puzzle game."
You'll be able to play this hidden mini-game early on in the game. Once you defeat Garland and cross the bridge, head west until you reach the town of Pravoka. In speaking with the citizens they'll tell you that a band of pirates (found in the NE corner of town) have been causing havoc.
Defeat the band of pirates to obtain the captains ship. Head outside the town and hop aboard. Now, hold your command (action) button/key and continually press your cancel button. Eventually you'll be prompted to play the puzzle game.
As long as you play it (you do not necessarily have to complete it, but you can if you want), exit and engage in one fight with any random mob to unlock the achievement. If you want to play the game again, simply jump on your boat to do so.
Achievement (2/9)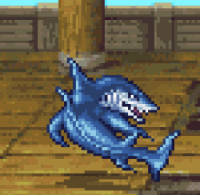 "Field Research- Basic", "Field Research- Advanced", & "Field Research- Professional""Completed 10% (50% & 100%) of the Bestiary entries."
To complete the beast mastery achievement, you will need to catalog all 128 enemies (boss enemies included). You can view the enemies that you've encountered on the main menu under [EXTRAS]. Doing so will show you what number(s) you're missing and you can cross reference it with the list below to find out what and where you can find those missing enemies.
Luckily, there are no missable enemies (or areas) so you can check this as you go, or at the end if you want to avoid spoilers. The game allows you to backtrack to any previously visited location to pick up any stranglers you missed along the way.
Be patient, as some of the enemies are very rare, such as #118, so expect to grind to complete the list. The list is as follows:
No. 1 - Goblin No. 2 - Goblin Guard No. 3 - Wolf No. 4 - Crazy Horse No. 5 - Skeleton No. 6 - Black Widow No. 7 - Gigas Worm No. 8 Warg Wolf No. 9 - Werewolf No. 10 - Zombie No. 11 - Ghoul No. 12 - Garland [Boss] No. 13 - Cobra No. 14 - Ogre No. 15 - Ogre Chief No. 16 - Lizard No. 17 - Pirate No. 18 - Sahagin No. 19 - Sahagin Chief No. 20 - Buccaneer No. 21 - Shark No. 22 - Bigeyes No. 23 - Tarantula No. 24 - Ghast No. 25 - Scorpion No. 26 - Shadow No. 27 - Green Slime No. 28 - Crawler No. 29 - Gray Ooze No. 30 - Gargoyle No. 31 - Bloodbones No. 32 - Piscodemon No. 33 - Astos [Boss] No. 34 - Mummy No. 35 - Wraith No. 36 - Anaconda No. 37 - Hyenadon No. 38 - Lesser Tiger No. 39 - Minotaur No. 40 - Hill Gigas No. 41 - Earth Elemental No. 42 - Troll No. 43 - Wight No. 44 - Ochre Jelly No. 45 - Cockatrice No. 46 - Vampire[Boss] No. 47 - Ogre Mage No. 48 - Sphinx No. 49 - Lich [Boss] No. 50 - Ankheg No. 51 - Piranha No. 52 - Red Piranha No. 53 - Crocodile No. 54 - White Croc No. 55 - Ochu No. 56 - Neochu
Achievement (3/9)
No. 57 - Hydra No. 58 - Horned Devil No. 59 - Pyrolisk No. 60 - Fire Elemental No. 61 - Fire Hydra No. 62 - Lava Worm No. 63 - Hellhound No. 64 - Fire Lizard No. 65 - Fire Gigas No. 66 - Red Dragon No. 67 - Marilith [Boss] No. 68 - White Dragon No. 69 - Winter Wolf No. 70 - Mindflayer No. 71 - Ice Gigas No. 72 - Specter No. 73 - Remorazz No. 74 - Dark Wizard No. 75 - Evil Eye No. 76 - Desert Baretta No. 77 - Sabertooth No. 78 - Wyvern No. 79 - Wyrm No. 80 - Manticore No. 81 - Baretta No. 82 - Basilisk No. 83 - Allosaurus No. 84 - Weretiger No. 85 - Sand Worm No. 86 - Minotaur Zombie No. 87 - King Mummy No. 88 - Medusa No. 89 - Rakshasa No. 90 - Clay Golem No. 91 - Nightmare No. 92 - Dragon Zombie No. 93 - Sahagin Prince No. 94 - White Shark No. 95 - Deepeyes No. 96 - Sea Snake No. 97 - Sea Scorpion No. 98 - Sea Troll No. 99 - Ghost No. 100 - Water Elemental
Achievement (4/9)
No. 101 - Water Naga No. 102 - Kraken [Boss] No. 103 - Tyrannosaur No. 104 - Black Knight No. 105 - Chimera No. 106 - Guardian No. 107 - Blue Dragon No. 108 - Green Dragon No. 109 - Stone Golem No. 110 - Air Elemental No. 111 - Spirit Naga No. 112 - Death Knight No. 113 - Earth Medusa No. 114 - Black Flan No. 115 - Soldier No. 116 - Vampire Lord No. 117 - Dark Fighter No. 118 - Warmech No. 119 - Tiamat [Boss] No. 120 - Rhyos No. 121 - Death Eye No. 122 - Purple Worm No. 123 - Iron Golem No. 124 - Lich [Boss] No. 125 - Marilith [Boss] No. 126 - Kraken [Boss] No. 127 - Tiamat [Boss] No. 128 - Chaos [Boss]
Achievement (5/9)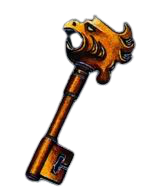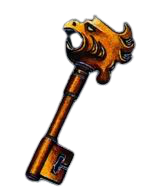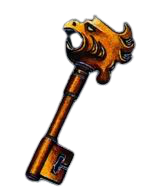 Rookie Treasure Hunter, Veteran Treasure Hunter, Legendary Treasure Hunter"Collected treasure from 10% (50%, & 100%) of the chests."
Aside from the bestiary, no other achievement is as time consuming to complete. In Final Fantasy there is a total of 249 treasure chests to unlock and loot. Here the location of every single one. Do note that some of the earlier ones you will have to come back to, as they require a "Mystic Key" to unlock.
The key will eventually be obtained in Elfheim when you defeat Astos and awaken their prince. Since it is a story driven item, you do not need to worry about missing it, but you will need to backtrack to open the chests you had to skip. For a quick reference, all keys requiring the mystic key are as follows:
Cornelia Castle Treasure Location Chaos Shrine (Present) Treasure Location Cottage Treasure Room Rune Blade Southeast Corner Saber Treasure Room Werebuster Northeast Corner Mythril Knife Treasure Room Gold Needle Northeast Corner Tent Treasure Room Iron Armor Treasure Room Nitro Powder Treasure Room
Western Keep Treasure Location Marsh Cave Treasure Location Falchion Southwest Corner 1,020 Gil Basement Level 3 Power Staff Southwest Corner Antidote Basement Level 3 Steel Gloves Southwest Corner Silver Armlet Basement Level 3
Elfheim Castle Treasure Location Mount Duergar Treasure Location 800 Gil Treasure Room Wyrmkiller Southern Room Mythril Hammer Treasure Room Tent Southern Room 700 Gil Treasure Room Great Helm Southern Room Bronze Gloves Treasure Room Ether Southern Room Cottage Southern Room Mythril Mail Southern Room Potion Southern Room 575 Gil Southern Room
Achievement (6/9)

Remember that when you're tracking your treasure chest count, you can go to the map screen at any time when you're in the overworld and see what treasure chests you're missing. This makes it quite easy to track any missed loot and know exactly where you need to backtrack.
The following portion will outline all treasure chests and their respective locations. Remember that you can backtrack to anywhere in the game, even at the very end, so don't worry about collecting everything if you want to avoid any spoilers going through this portion of the guide. You can always do it at the very end. For those that don't care, you may find the following treasure chests in these locations:
Castle Cornelia 1F (Need Mystic Key)All six treasure chests are locked and will need the mystic key to open them, so simply ignore these for the time being and come back after you have obtained it.
Chaos Shrine(Need Mystic Key)Here is where you'll fight your first boss, Garland (located in the middle of the map). Point 8 & 9 are guarded by gargoyles. You'll need the mystic key for treasure chests 4,5 and 6.
Matoya's CaveNothing special about these chests. Just loot the old witch blind. Mwahaha!
Marsh Cave 2BThere are no chests on the first floor, just on floor B2 & B3, so don't worry about missing anything when you first enter the cave. B2 has a few scattered about.
Marsh Cave 3B (Need Mystic Key)Now, for B3 of the Marsh Cave, the red markers are going to indicate instant enemies fights, as those chests are protected, so be ready for them beforehand.
Western Keep (Need Mystic Key)Western Keep has three protected chests, but you'll need to double back once you obtained the mystic key.
Elven Castle (Need Mystic Key)By now, you'll have obtained the mystic key, which will let you unlock all four chests in the treasure room in the NE room of the Elven Castle, as well as all the missed chests from the previously listen location.
Mount Duergar (Need Mystic Key)Mount Duergar has a great deal of chests to loot, though Mount Duergar's chests 3-10 will need the mystic key to unlock, while 1 & 2 are just standard chests.
Cavern of Earth B1The Cavern of Earth has five floors, littered with chest after chest of delicious loot, so make sure to scour the area(s) and collect them all before leaving. All chests with a red indicator have a guardian that must be fought before opening the respective chest. There are no chests on level B5.
Cavern of Earth B2
Cavern of Earth B3
Cavern of Earth B4
Giant's CaveThere are no random encounters here, nor any chest guardians so pick these four chests up at your leisure. You will need the Star Ruby before the Giant will let you pass.
Achievement (7/9)
Cavern of Ice B1The next cavern is also strewn with treasure chests, much like the Cavern of Earth. However, there are only three levels, as opposed to five. Some of the chests are guarded, so loot with caution, as this is one of the more difficult dungeons to deal with.
Cavern of Ice B2
Cavern of Ice B3
Citadel of Trials 2F
Citadel of Trials 3F
Dragon Caves B1 (Under the Cardia Islands)You'll need the use of the airship and the world map to enter all the rooms of the Dragon Caves. There's a lot of loot, but no enemy spawns so feel free to take your time and gather everything up. There are only chests on the B1 floor, not B2.
Mount GulgMount Gulg is host to a ton[/i] of treasure chests, though they are only located on floors B2, B4 and B5. There are no chests on B1 or B3.
Mount Gulg B2
Mount Gulg B4
Mount Gulg B5
Waterfall CavernWaterfall Carvern is just a single floor and all treasure chests are located in the far, SW corner of the map. The northern areas don't contain anything of interest.
Achievement (8/9)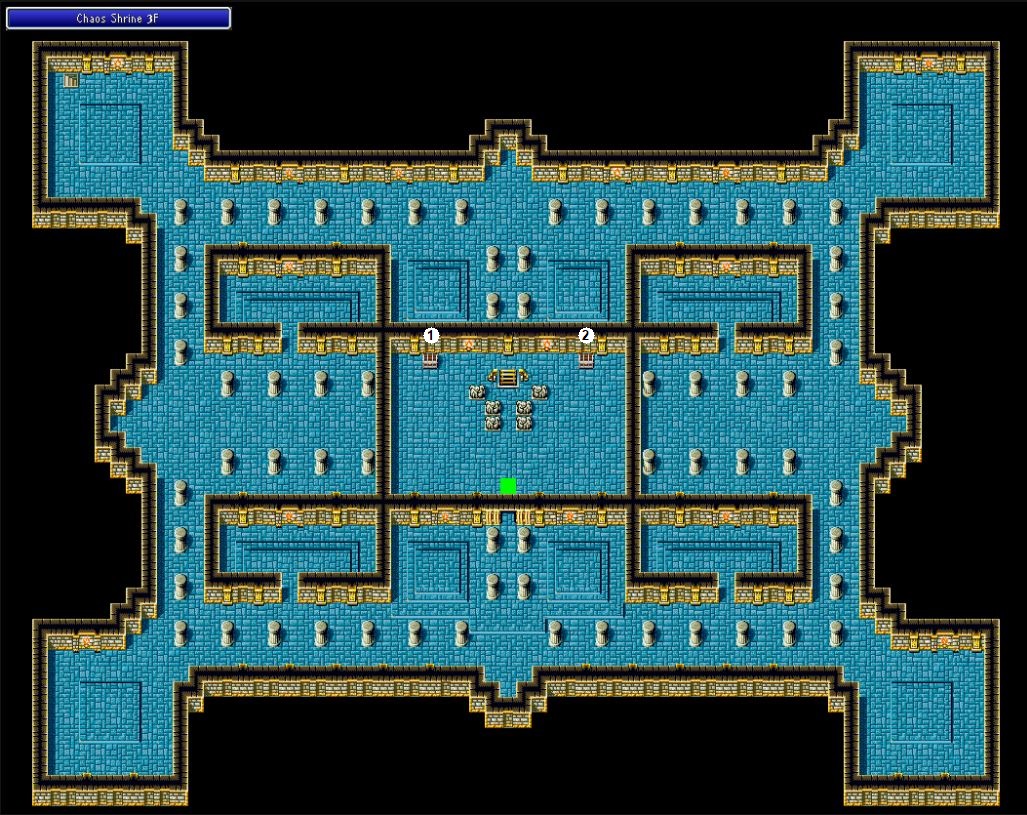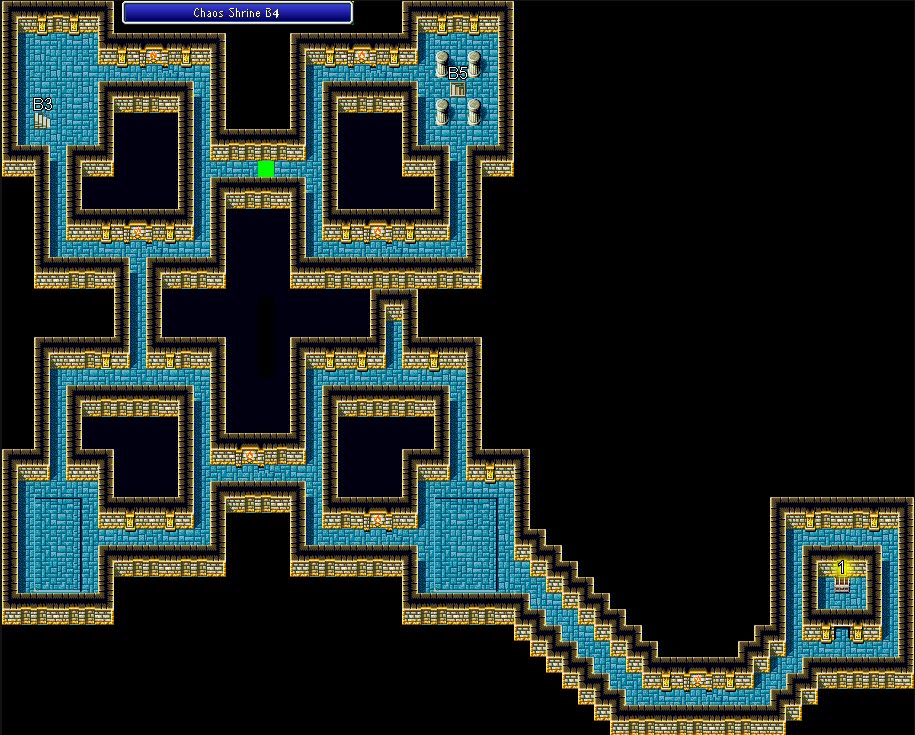 Sunken Shrine 2FThe Sunken Shrine consists of five levels, but only 2F-5F contain treasure chests.
Sunken Shrine 3F
Sunken Shrine 4F
Sunken Shrine 5F
Mirage Tower 1F
Mirage Tower 2F
Flying Fortress 1FThis dungeon has treasure chests on 1F, 2F and 3F, as well as the material to make Excalibur on 2F, so don't forget to pick that up to forge the sword and earn that achievement as well!
Flying Fortress 2F
Flying Fortress 3F
Chaos Shrine (Past) 3F
Chaos Shrine (Past) 2B
Chaos Shrine (Past) 4B
Achievement (9/9)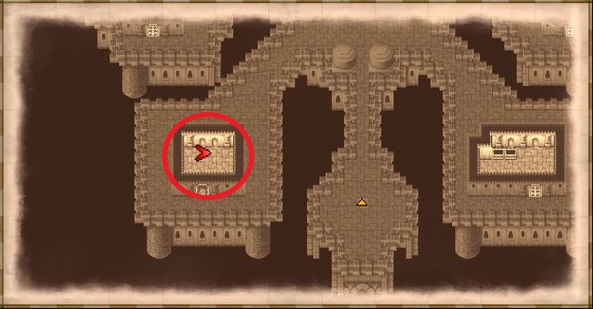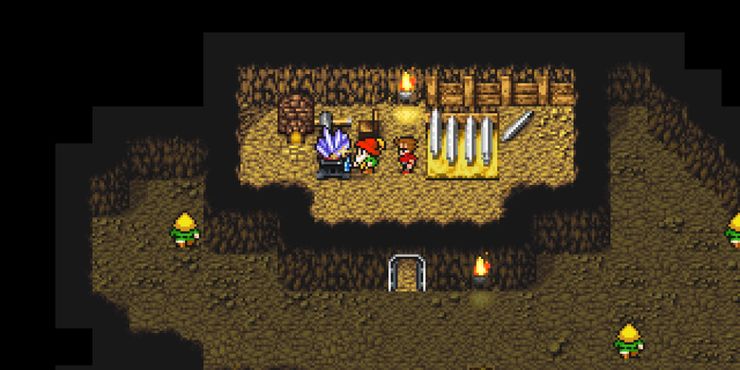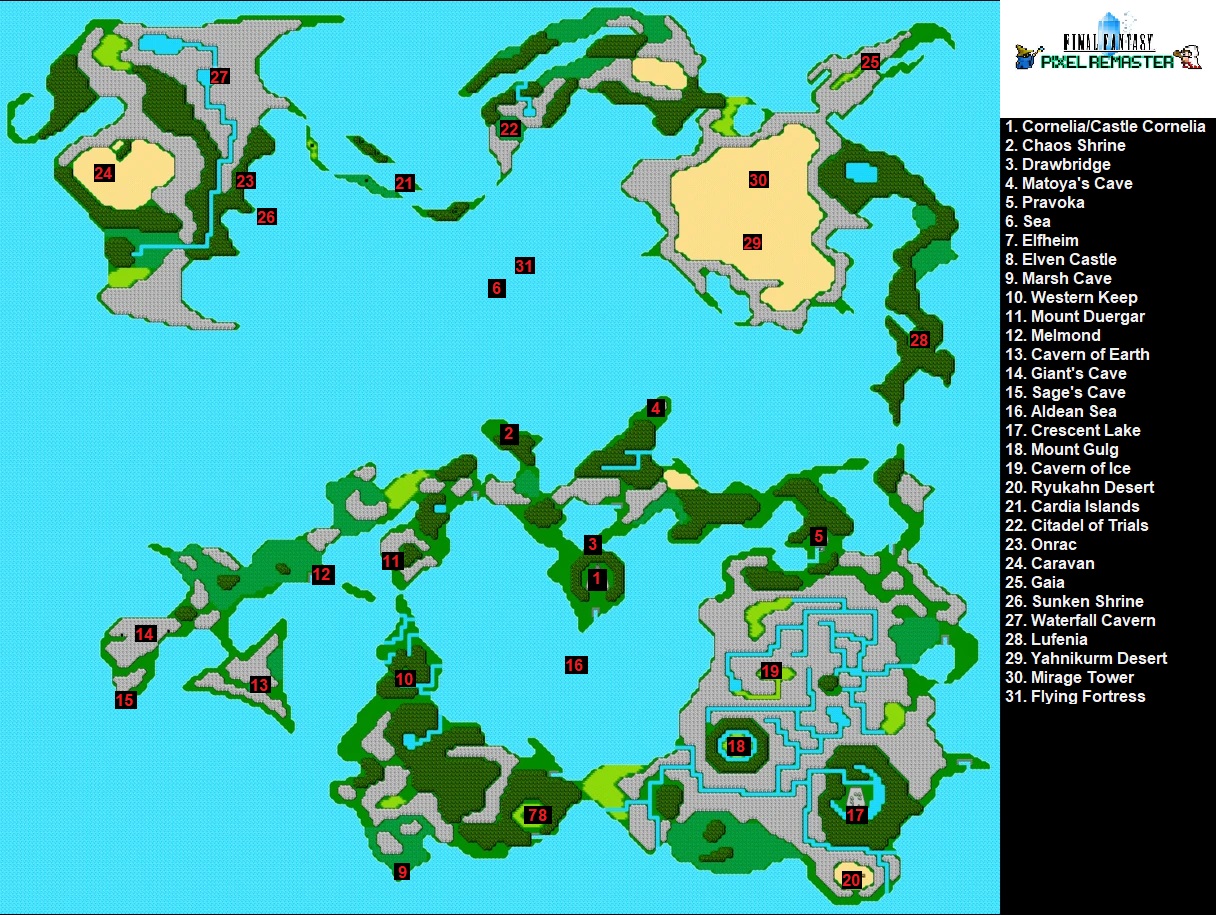 Sword of Myth"Obtained Excalibur."
There are two things you'll need to do to obtain this end-game sword. You need to find the right material, then take it to a smith that can forge the item. For the sword, you'll need a chunk of "Adamantite", which can be found in the SW corner of the Flying Fortress(2F).
Once you've acquired the item, head to Mount Duergar, where you originally were when you had to hand over the nitro to the Dwarves. Head there and you'll find the smith in the north room. Give him the Adamantite and he'll craft you the sword.
Adventurous WayfarerTraveled to all the map locations.
Not really an achievement you have to work on, but if you wanted to remember where something was, or where you could technically go, here is a map with all the listed locations. Do note that number six is "Sea", as in the literal sea itself. The location of the marker is just a general point of reference, not the location of something specific. For an easier time reading, click the map to expand it.
Seasoned HeroReached level 50 for all party members.
A straight-forward, albeit grindy achievement, you'll need to reach level 50 with each party member for this achievement to unlock.
A common strategy is to head over to the bridge area of the Flying Fortress and fight Warmechs. You do not need to kill Tiamat to spawn them, but keep in mind you have a 3/64 chance of spawning them on average, so you'll level heavily just trying to find them.
Regardless if you find them or not, this is still one of the better areas to farm due to the end-game enemies, so just keep at it and you'll be level 50 before you know it.
Master of IEarned all achievements.
Once you complete all the above listed achievements, you'll earn this last one and have completed the game. Congratulations!
⠀⠀⠀⠀⠀
https://steamcommunity.com/sharedfiles/filedetails/?id=1304735272
Source: https://steamcommunity.com/sharedfiles/filedetails/?id=2576296631					
More FINAL FANTASY guilds
---