The Ladders/step Ladders

the ladders/step ladders are all found in and around the barn closest to the house.
the largest is around the back.
the rest are in and around the barn.
Placement Of Ladders On The Silo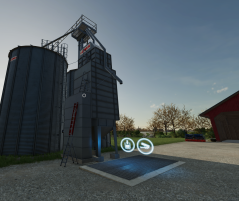 The actually placing the ladders is difficult but possible, using the rotate function by pressing the scroll wheel is advised.
They will fall, but not much is lost since there is no fall damage and there aren't many levels to get up.
This is the best and easiest configuration that i could get out of my 10 minutes of trying.
Source: https://steamcommunity.com/sharedfiles/filedetails/?id=2710505819					
More Farming Simulator 22 guilds
---