Intro
Elden Ring runs at a locked 60fps tied to its game engine. Our focus is on the refresh rate which is also locked at 60Hz when we play the game in fullscreen. HDR can only be enabled in fullscreen hence my research on a workaround to unlock the potential of my monitor.
By default if I want to play in HDR I'm stuck at a pitiful 60fps 60Hz with Vsync forced at on. My goal is to be at 60fps, 120Hz, Vsync off, Freesync on for the smoothest experience my monitor can offer. I'll give you all details on how I achieved it with the amazing tool CRU.
Requirements
- A 120/144Hz monitor or TV (obviously)
- Windows (it works on 10)
- Custom Resolution Utility by ToastyX: link to download page[www.monitortests.com]
- A second monitor (optional but highly recommended)
Check Your Refresh Rates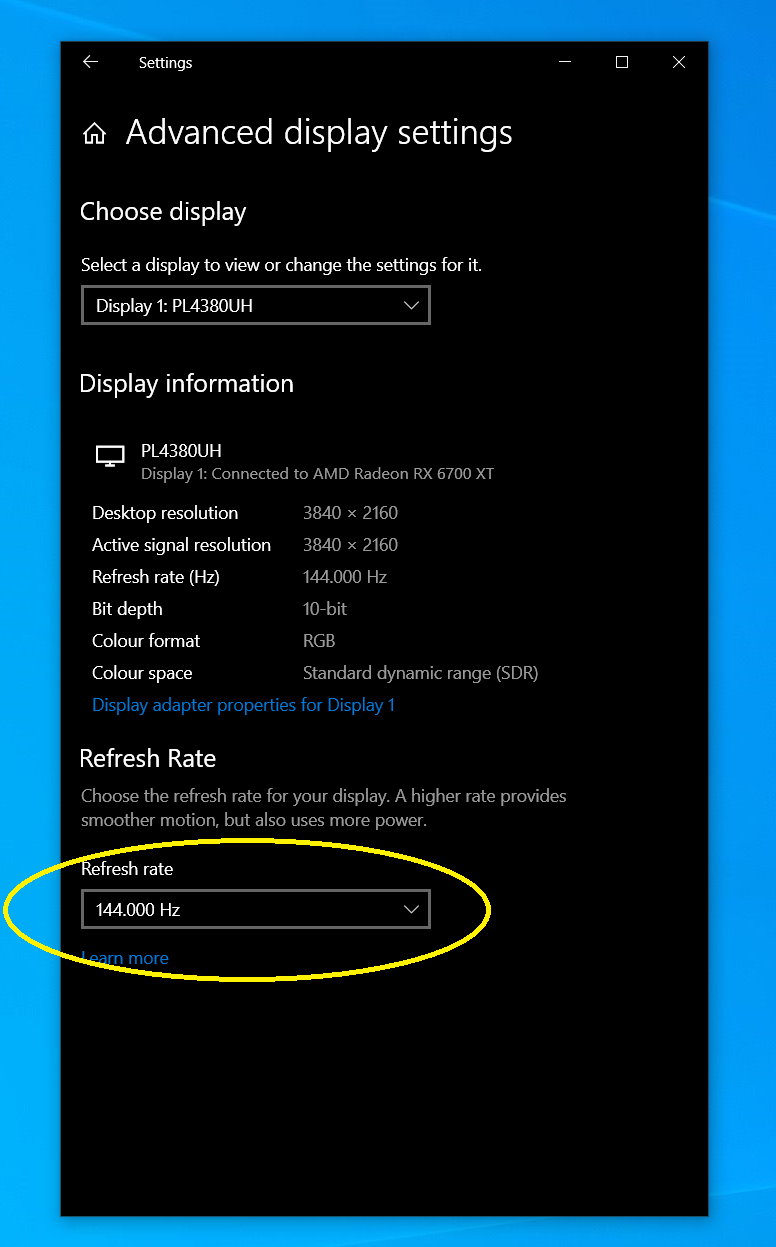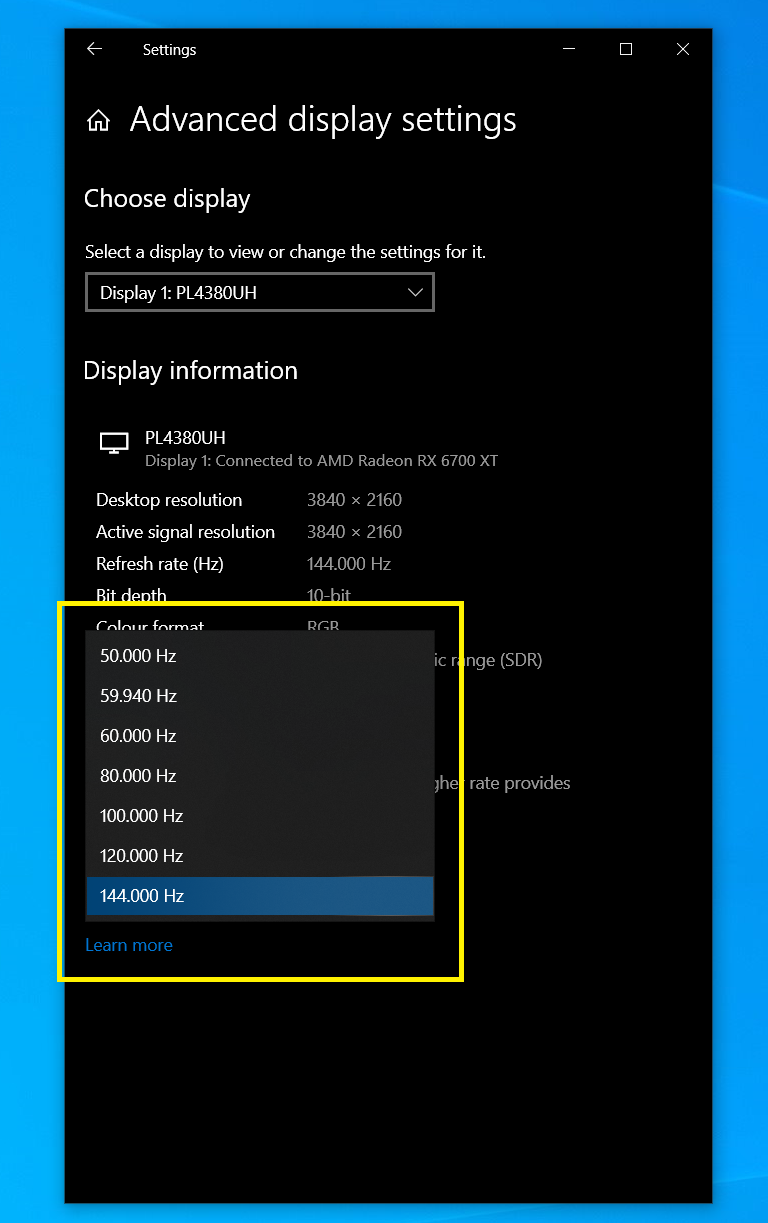 First we want to check what refresh rates are available to the OS.
1. Right click on desktop > Display settings > Select your main monitor (1 usually) > Advanced display settings
2. Click on Refresh rate list
As we can see, I have many undesired refresh rates, 50/59.95/60/80/100/120 and we'll delete them with CRU.
Edit Your Monitor Profile With CRU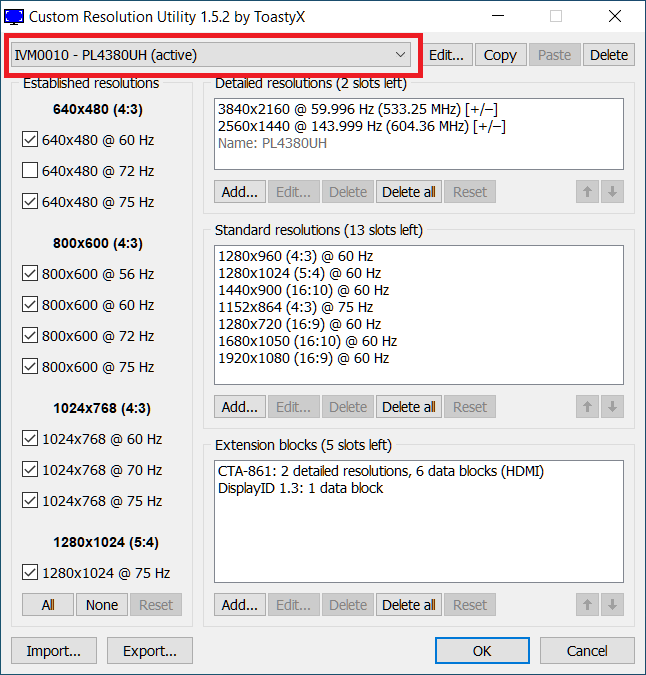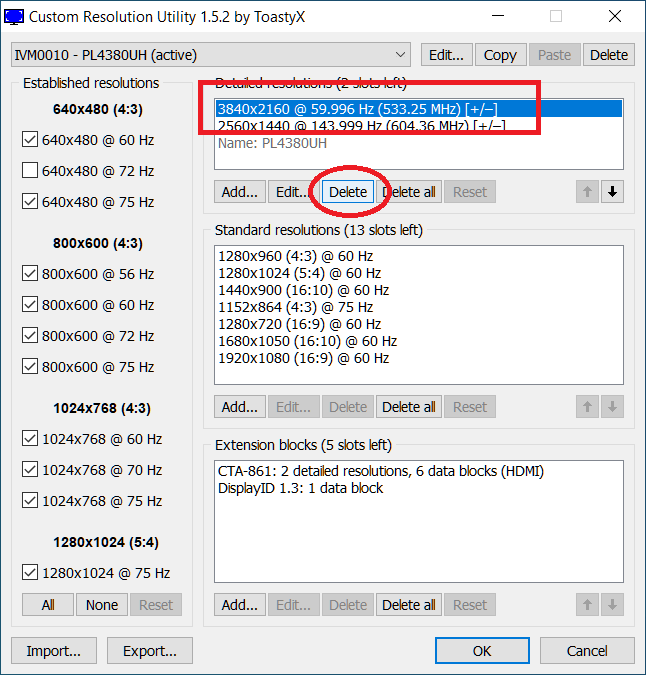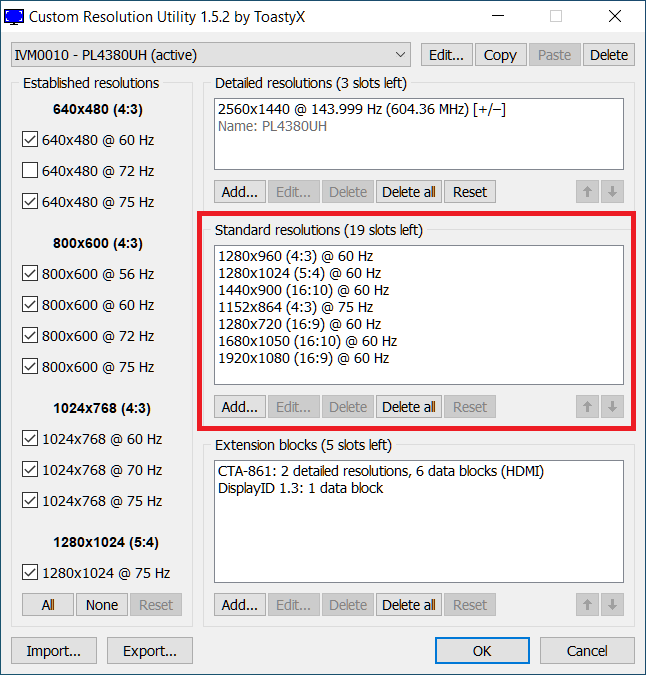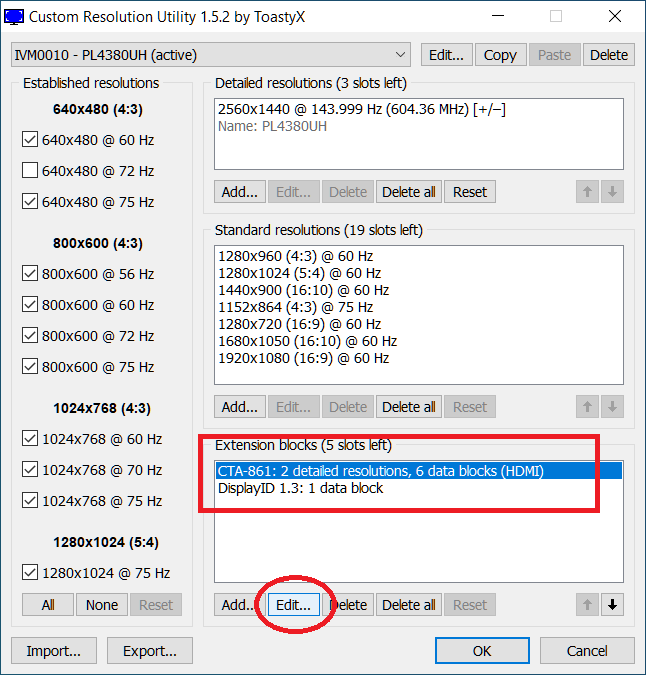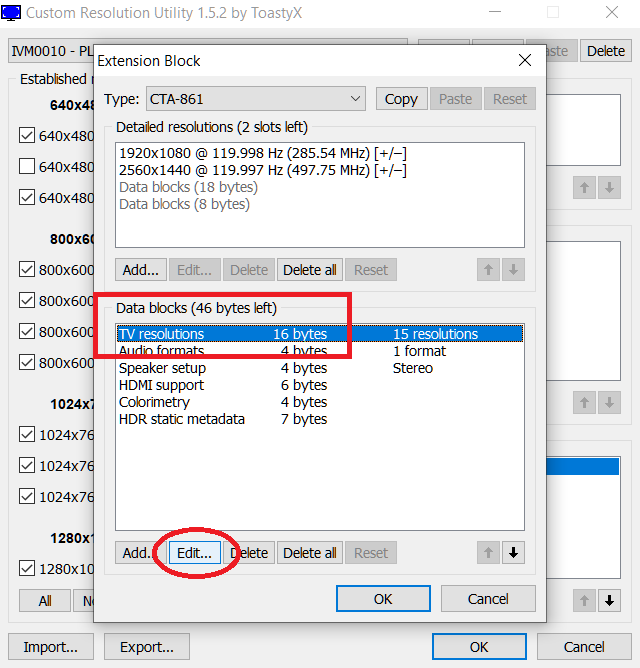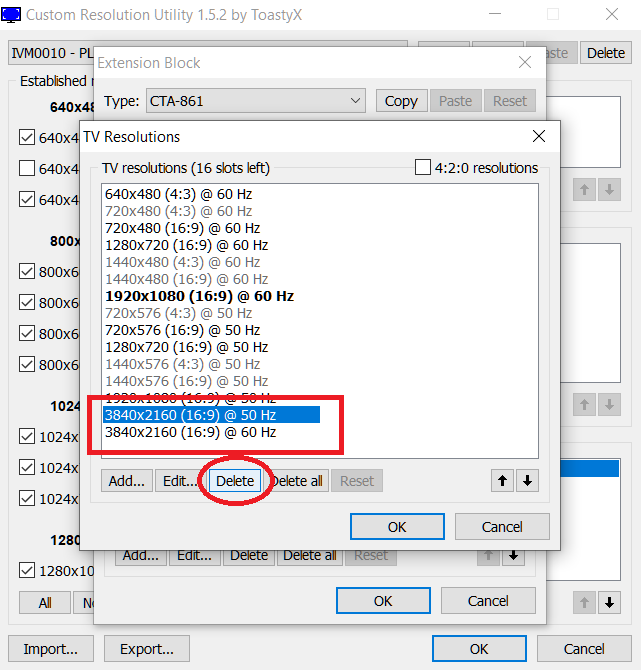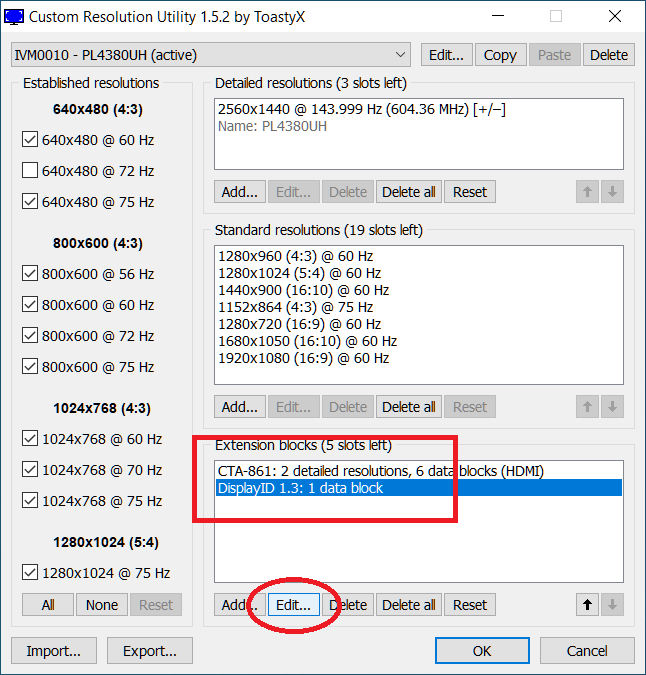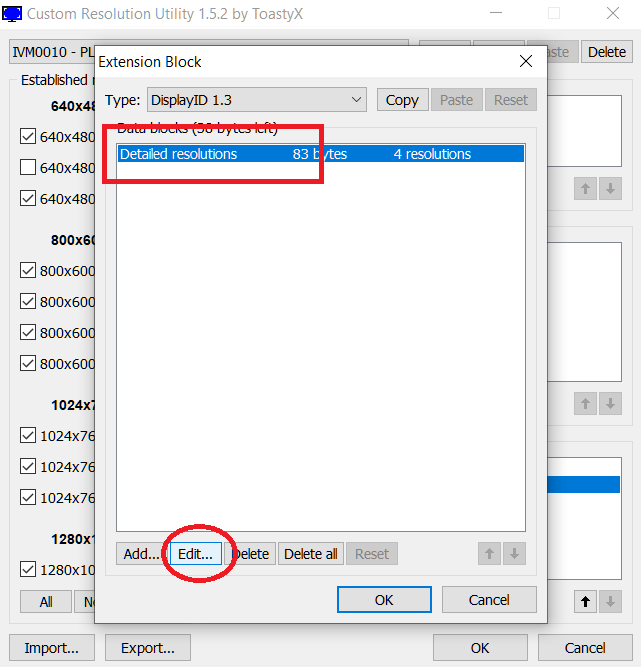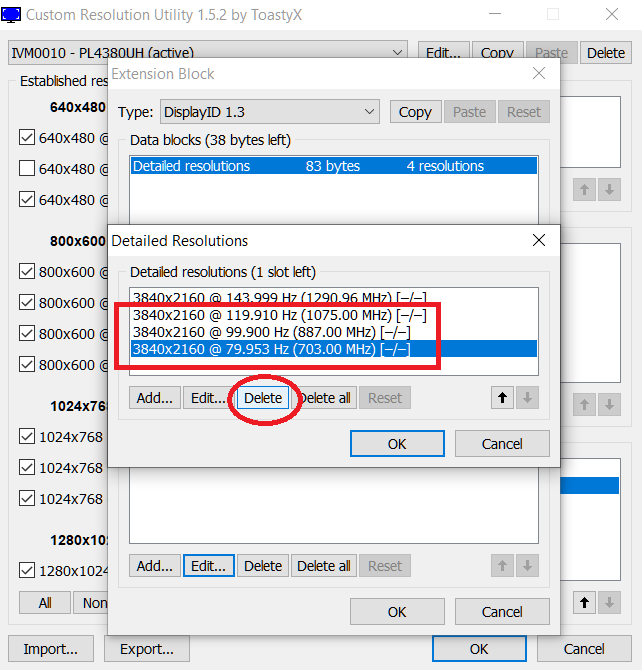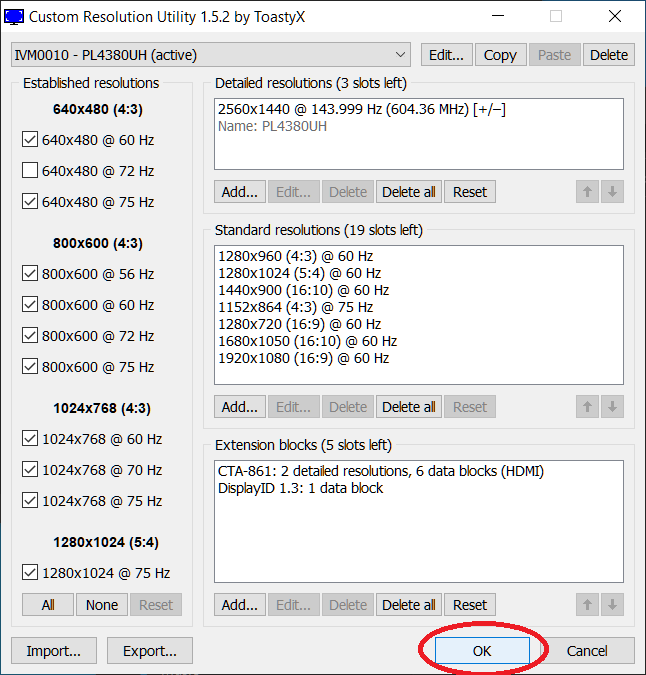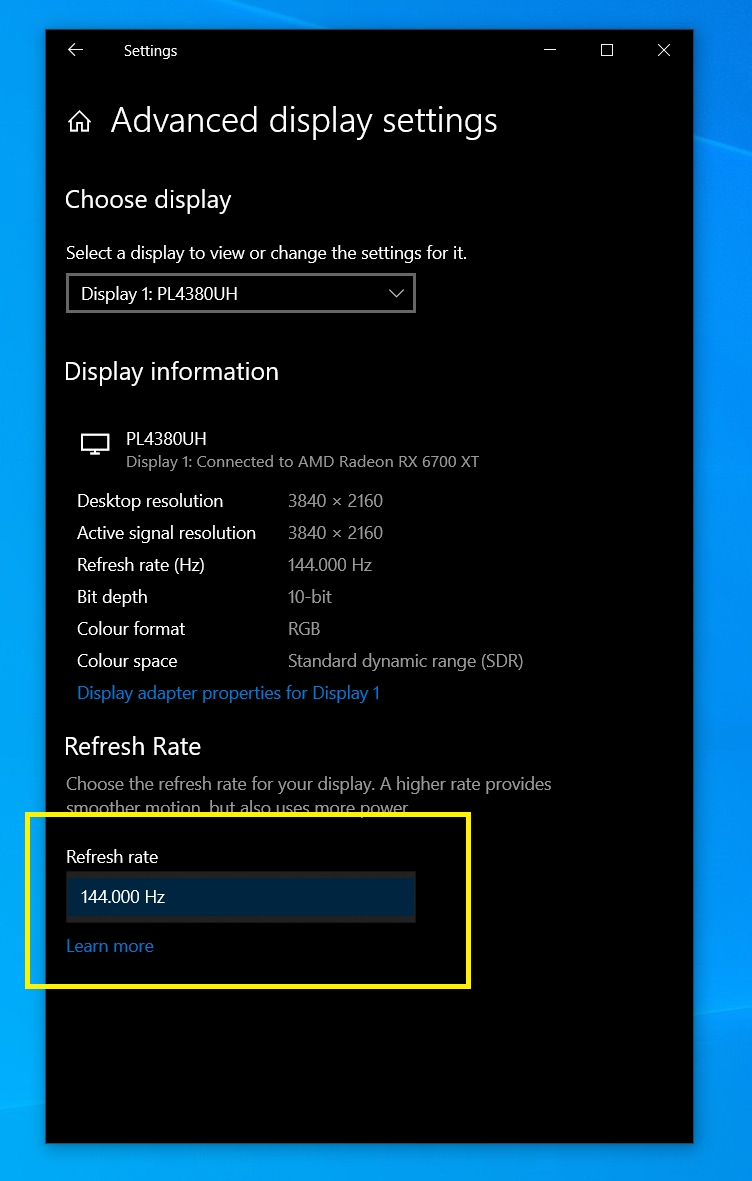 Warning
It is easy to mess up and break your monitor profile. In case you did something wrong (delete instead of edit) quit CRU by always pressing Cancel. If you managed to validate a mistake by pressing OK, reset everything with the provided reset.exe with admin rights.
In the example below, I will modify my 144Hz monitor profile. I will delete all undesired 4K entries only since my monitor is a native 4K. If your monitor is a 1080p, you would delete accordingly to your native resolution. Do not touch other resolutions.
1. Launch cru.exe with admin rights and select the target monitor
2. Delete the 60Hz entry in "Detailed resolutions"
3. Delete 60Hz entry in "Standard resolutions" if your monitor is a native 1080p. In my case, i have nothing to delete since 4K isn't listed.
4. Edit CTA-861 in "Extension blocks"
5. Edit TV resolutions in "Data blocks"
6. Delete undesired refresh rates (50 and 60Hz in my case)
7. Click OK twice and Edit DisplayID in "Extension blocks" (1.3 in my case)
8. Edit Detailed resolutions
9. Delete all undesired refresh rates
10. Validate changes with OK
11. Commit changes to the OS with the provided restart64.exe (or restart.exe if you're somehow in a 32bit OS). It can takes up to a minute so be patient if you see a black screen.
12. Verify committed changes are as expected in windows display settings. At this point you should only see one refresh rate. If not launch CRU and recheck all steps.
As you can see, only 144Hz is listed so it would be impossible for Elden Ring to force 60Hz.
Run The Game In Fullscreen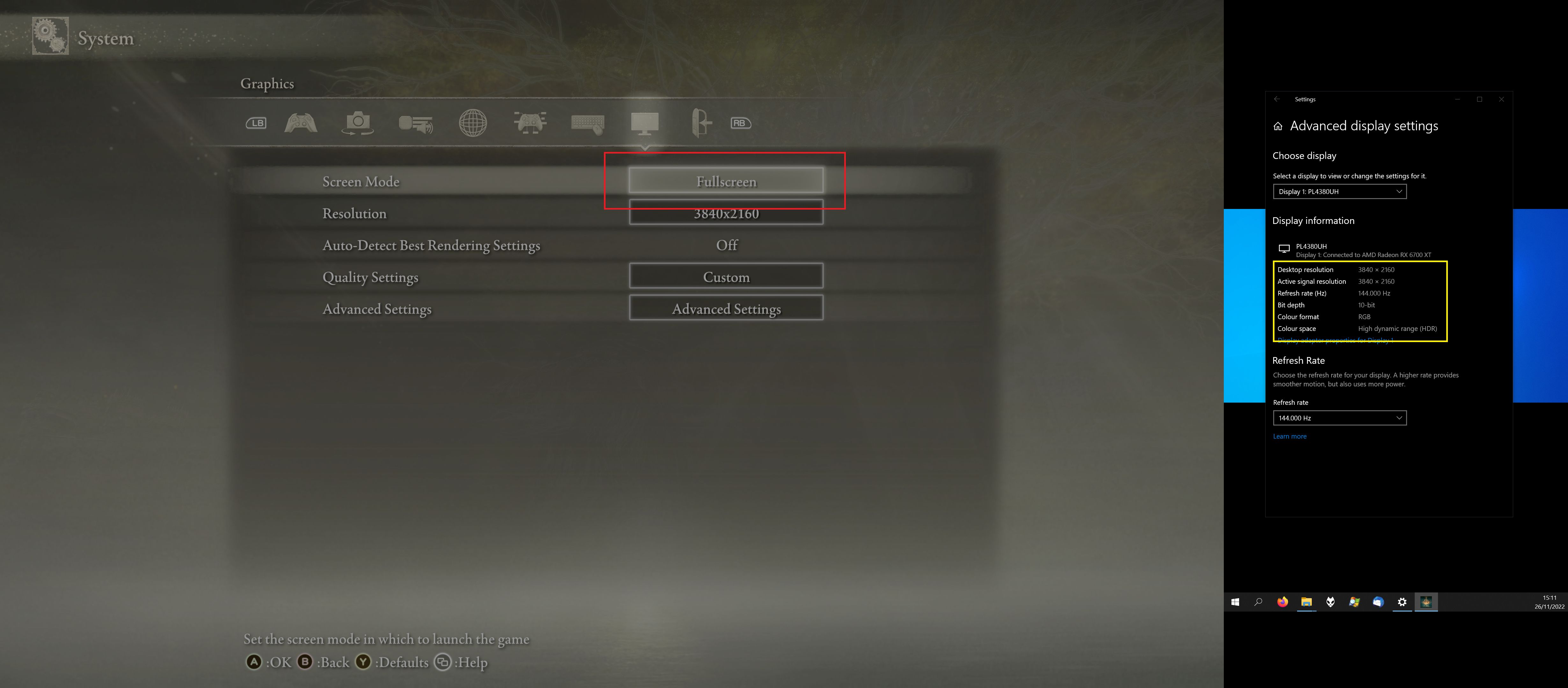 Before launching the game, open Advanced display settings and keep it open in your secondary monitor. If you don't have one, your monitor or TV must have a display info in its menu to check the current [email protected] rate.
Set Elden Ring Screen Mode at Fullscreen and check in your secondary screen that sweet refresh rate.
About Vsync & Freesync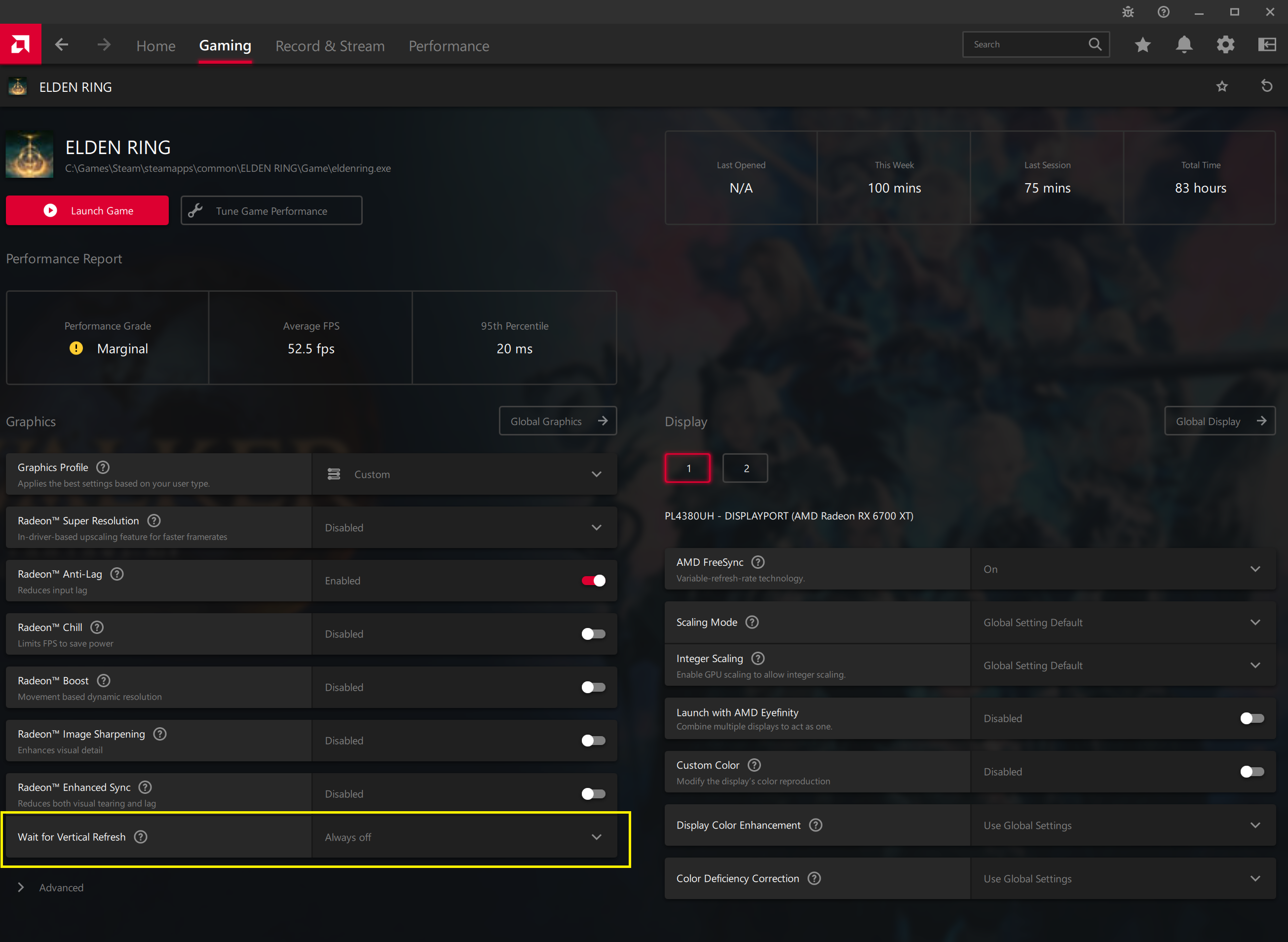 Now the refresh rate is unlocked, there's no reason to keep vsync on. Go to your gpu control panel and make a game profile (google it if you don't know how to do).
Here's my game profile on AMD Adrenalin
First thing I noticed when I forced vsync off was tearing at 60Hz. At 120Hz or 144Hz it's much harder to notice tearing. Another solid reason to keep vsync off is for better input lag.
If you're monitor is compatible with Freesync or its equivalent, you can also turning it on. My iiyama G4380UHSU has a Freesync range of 48-120Hz. It works wonderfully in Elden Ring unlocked especially when LFC kicks in.
Online Gaming
You can still play online. All this guide does is changing display settings on a system level and doesn't alter the game.
Source: https://steamcommunity.com/sharedfiles/filedetails/?id=2893621565					
More ELDEN RING guilds
---