How To Make A Boss Killing Checklist!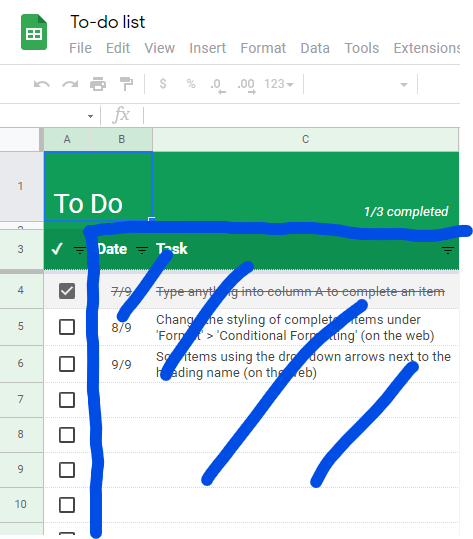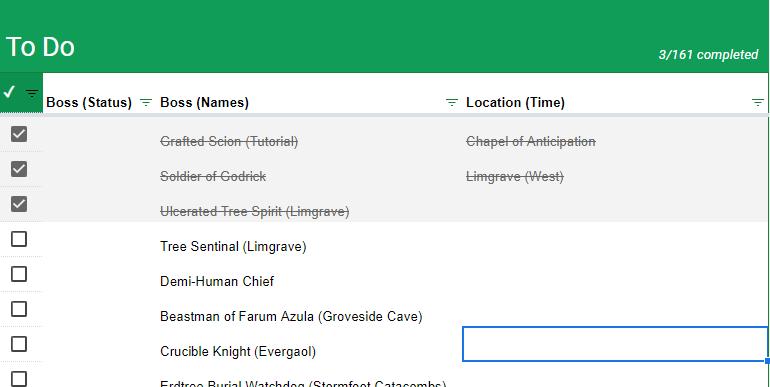 This guide is for those who have already beaten Elden Ring, if you haven't played it once there will be heavy SPOILERS AHEAD.
The purpose of this guide is to make a simple google sheets checklist using a list of your own desired bosses and a to-do list template.
1. So what you want to do is list all the bosses you think are worth your time and killing, typically it'll either be all remembrance bosses (legends) or all achievement bosses which are not too different routes.
Here is an example spreadsheet I made via Google Sheets based on all the bosses I could list from the interactive map here: https://eldenring.wiki.fextralife.com/Interactive+Map, This can be done in Excel as well!
https://docs.google.com/spreadsheets/d/1Lx6nCeR4jXqqULLR5j0TRe_hw3t6PO38BtikfJfWRGk/edit?usp=sharing
2. Now select the template in Google Sheets called "To-do List":
3. In the Sheets file, copy your boss list from the other sheets (Highlight --> Ctrl+C) and replace it (Click cell B3 in "To-Do List" and Ctrl+V) here:
4.The only real edit we need to do is here in Cell D1, Change the ranges to $A$4:$A$[The number of Bosses you have] and $C$4:$C$[The number of Bosses you have].
5. And there you have it! You can tick off which ever boss you want
This link has my example that you can simply download a copy of and edit as you wish!
Link here: https://docs.google.com/spreadsheets/d/1ziob7atDsRzEMFUt_0h6yL9thTd4ddCw9ReVeFL1nrc/edit?usp=sharing
Feel fee to edit the look and values as you see fit, if it isn't working perfectly then either start again, give up, or give us a message!
Source: https://steamcommunity.com/sharedfiles/filedetails/?id=2786753263					
More ELDEN RING guilds
---