[HOW TO] Make Vehicles Spawn In Barns/Junkyard/Auction/Salon!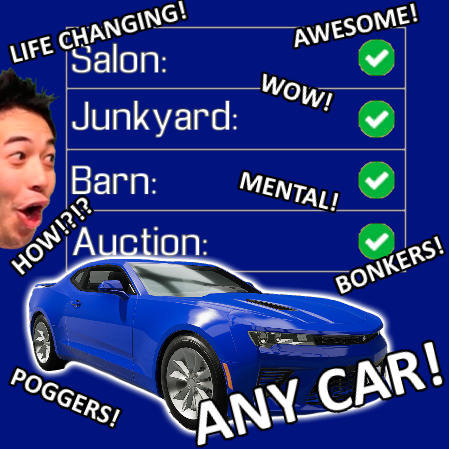 Tired of looking endlessly for a specific type of car that only spawns in a Barn? Frustrated that the car of your dreams can only be bought in the Salon and doesn't need restoration which is the fun part? Well, today is YOUR LUCKY DAY!
Here's a Step by Step Guide on how to get ANY car to spawn in other locations!
STEP 1: LAUNCHING THE CAR EDITOR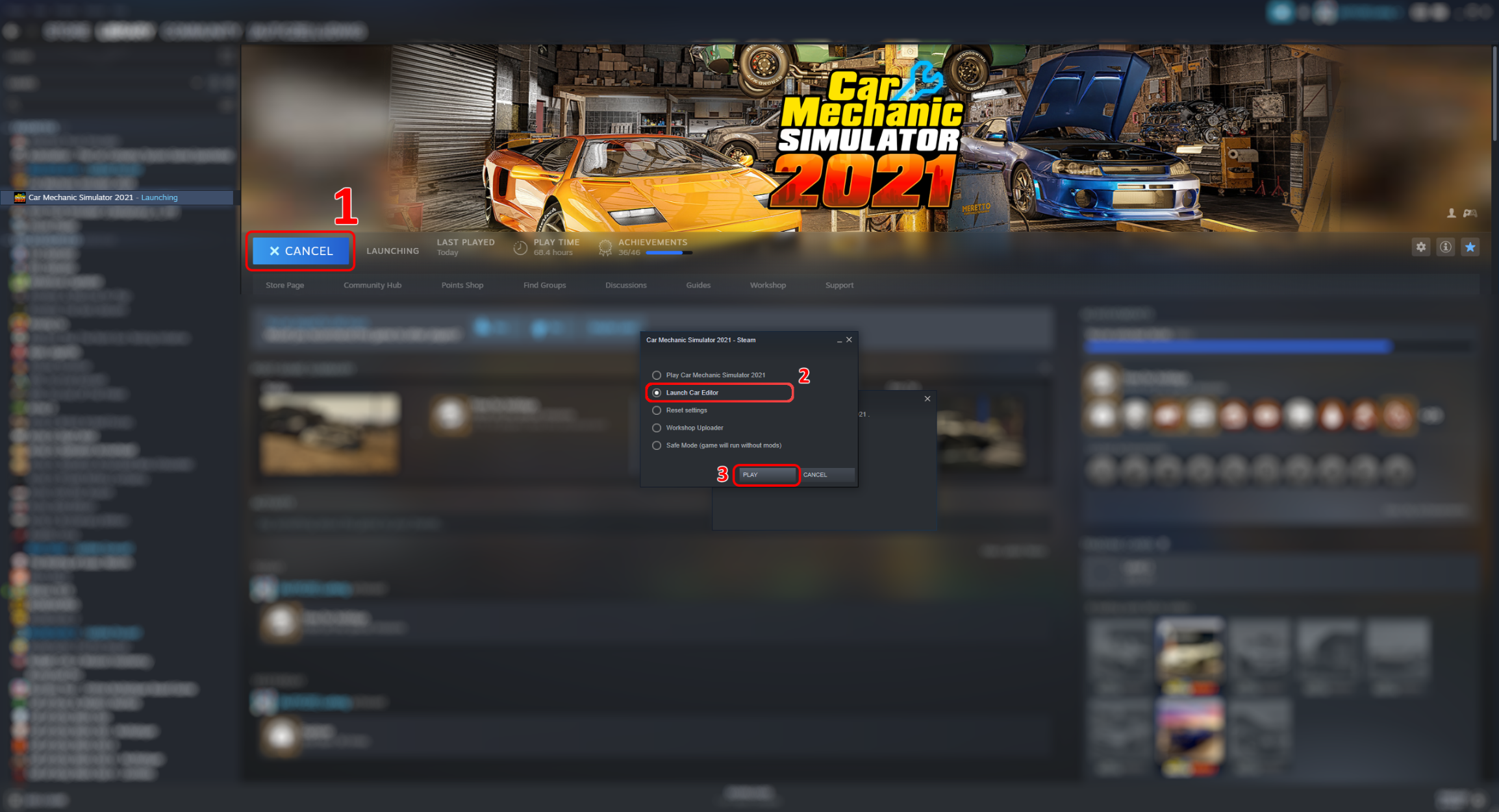 Open your Steam Library and find "Car Mechanic Simulator 2021". Launch the Game and make sure to select "Launch Car Editor".
STEP 2: SELECTING THE CAR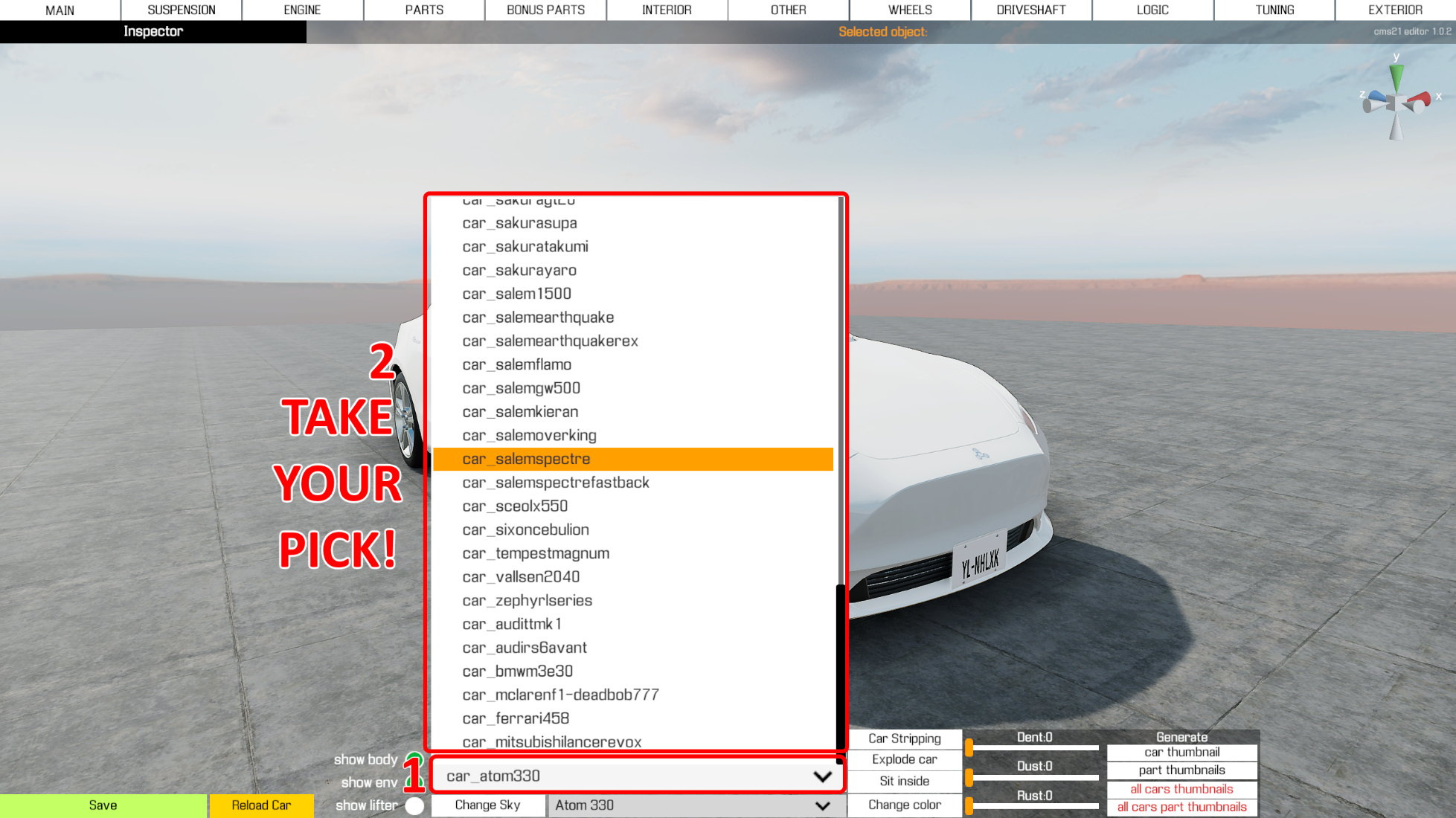 Once the Editor launches, it should automatically spawn the Atom 330. If thats the car you want, you can skip to Step 3!
If that's the car you DON'T want, click the car selector in the bottom-mid part of your Screen! After that, take your pic and choose the car you want to Edit.
In my case I'm going to use the "car_salemspectre" which - obviously - is the Salem Spectre! It's only availbe at Auctions and the Salon but I want to be able to find it in Barns and the Junkyard aswell!
!!!IMPORTANT NOTE!!!THE SETTINGS FOR THE EDITS ONLY SAVES FOR THE SUFFIX OR SPEC THAT IS SELECTED! IF THE CAR HAS MULTIPLE SUFFIXES AND YOU WANT IT TO APPLY TO ALL, YOU'LL HAVE TO CHANGE THE SETTINGS WITH EACH SUFFIX SEPERATELY!!!!
STEP 3: CHANGING THE PREFERED SETTINGS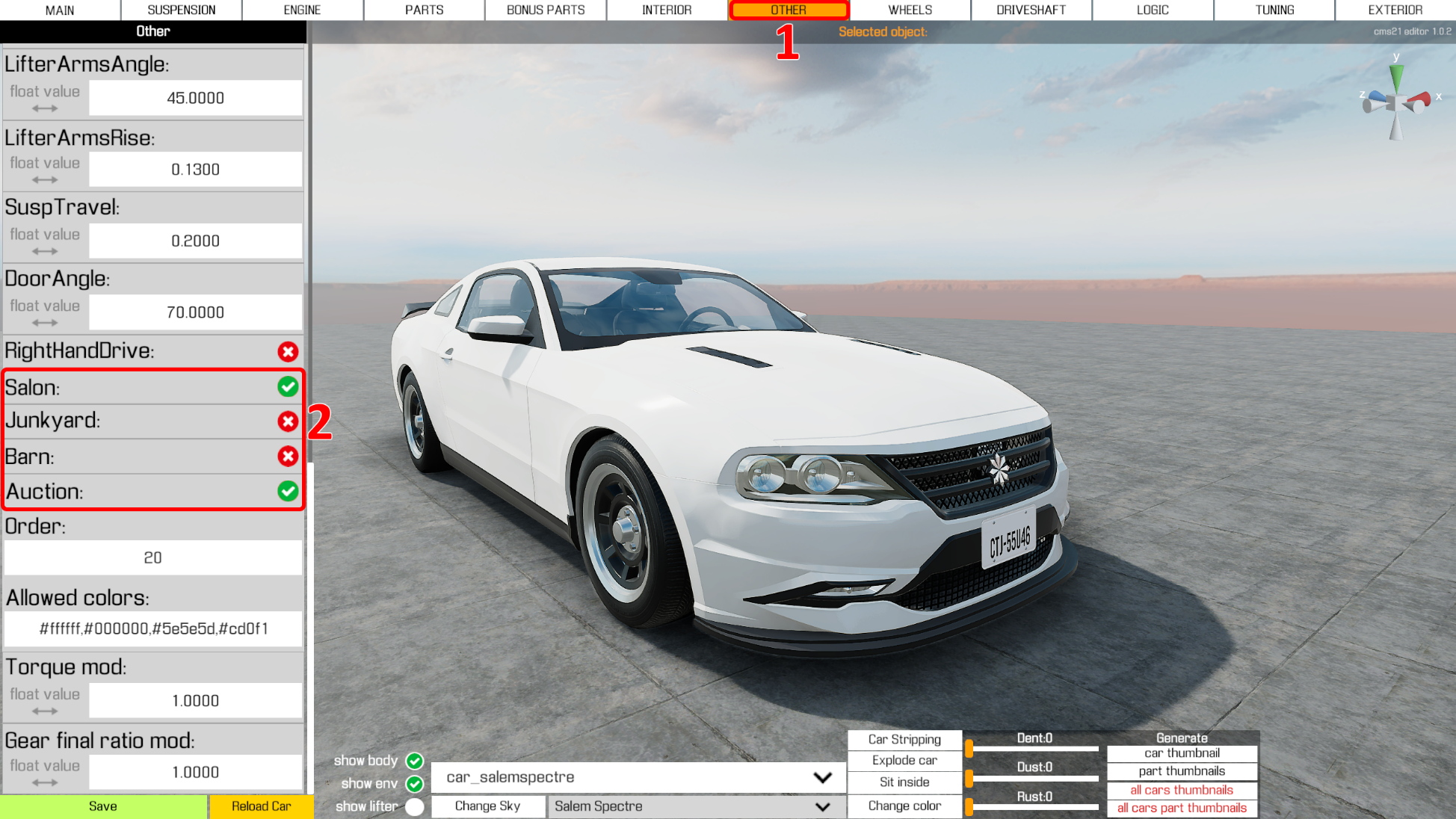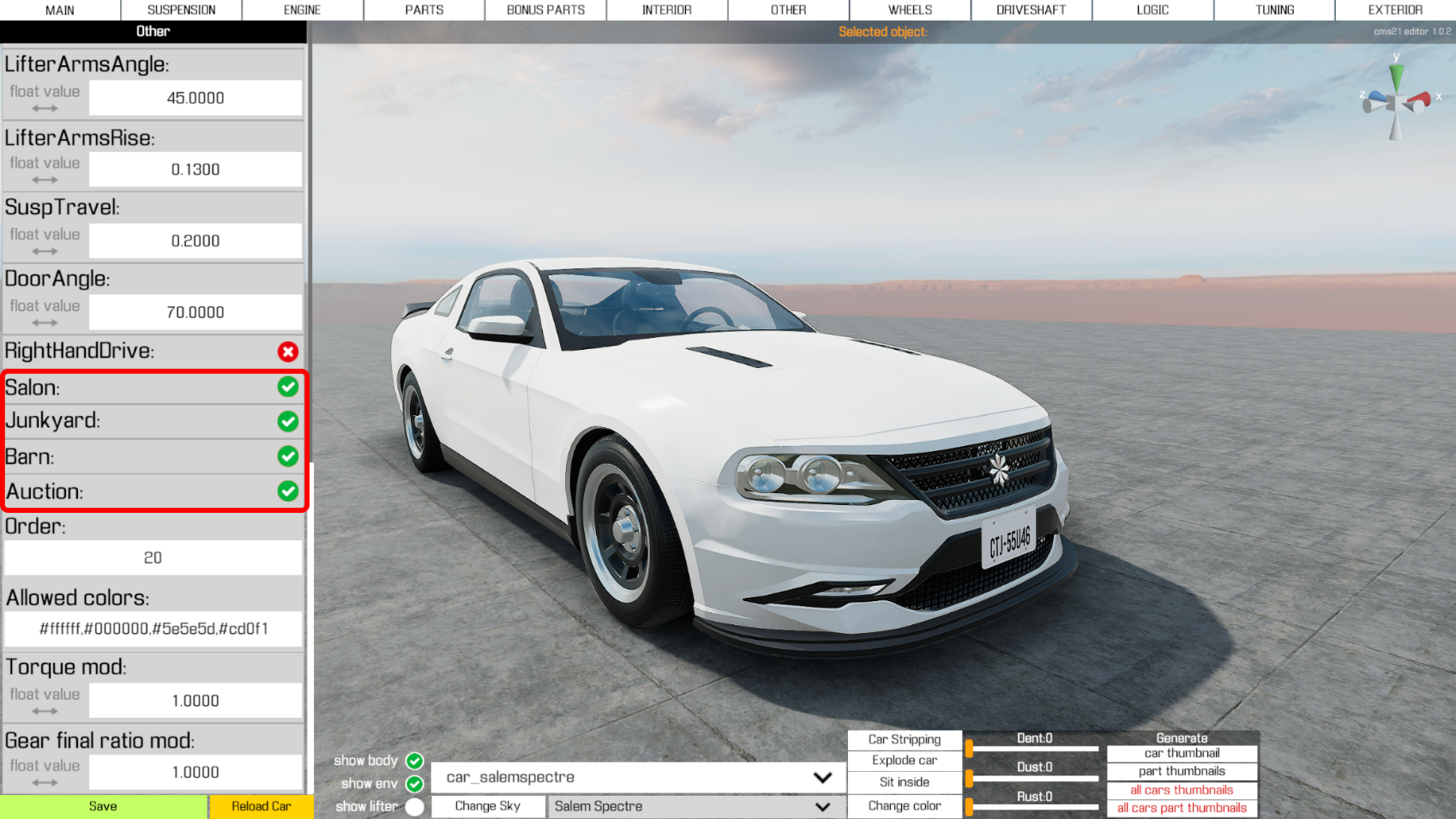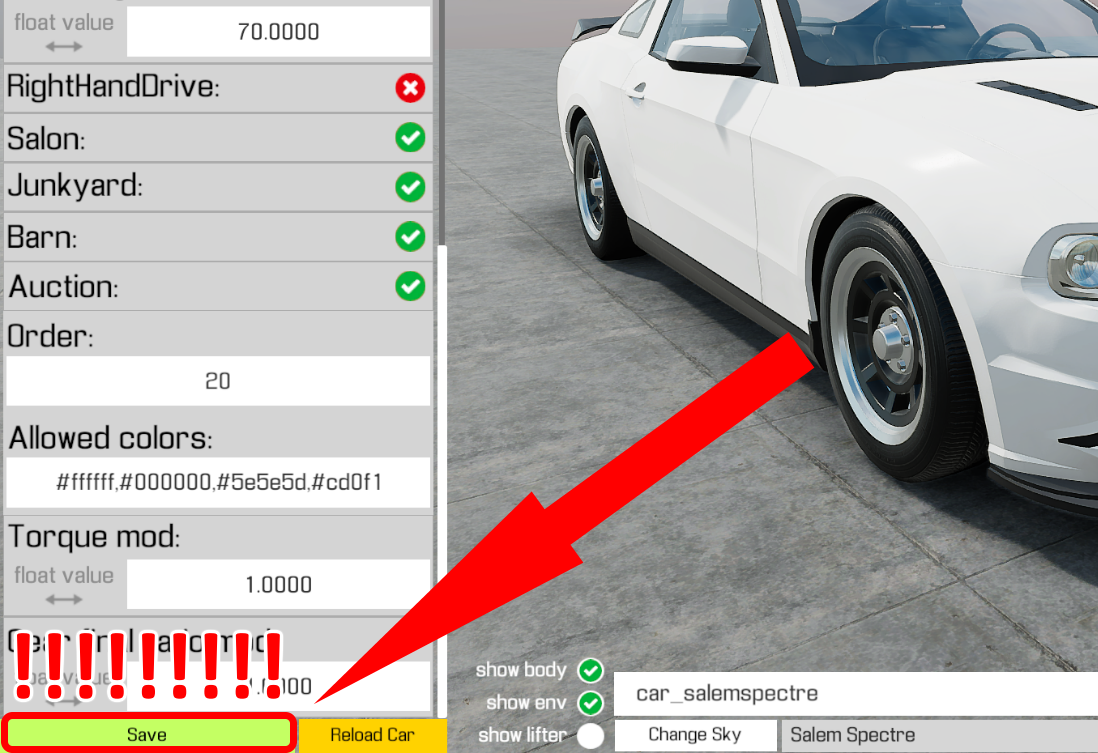 On the mid-top of your screen, there should be a box labled "OTHERS". Click on it.
It should open a List to your left. Scroll down until you see the lines that say Auction, Salon, Barn, etc...
Click the "X" or the "✓" to edit the selection to your liking.
X - will make the car not spawn in that spot in the game
✓ - will make the car spawn in that spot in the game
In my case, I want my Spectre to spawn in all Locations that exist. So I select every Location listed in the settings!
!!!IMPORTANT NOTE!!!MAKE SURE TO PRESS SAVE IN THE BOTTOM LEFT OF YOUR SCREEN OR YOUR SETTINGS WON'T SAVE OBVIOUSLY!!!!
DONE!
Aaaaaand DONE! Now get in the game and find the car you wanted! It may take a few tries for it to spawn since it's random but don't worry! Eventually it will spawn!
I want to make another! How do I do that?It's easy! Just repeat Steps two and three!
Source: https://steamcommunity.com/sharedfiles/filedetails/?id=2611972973					
More Car Mechanic Simulator 2021 guilds
---