Building Better Gameplay
This "Guide" contains a lot of my ideas, some are more realistic than others. I know game design/development is hard and the developers have committed themselves to another 6 months of development. With the game's player base significantly reduced what changes to the gameplay do you think will make the game better?
Gunner Class
The Gunner is probably one of the more stronger classes with its high DPS and offensive abilities. So not much to add or remove here gameplay-wise, just aesthetics really.
Rename Gunner to Rifleman. This is consistent with modern USMC fireteam structure which the Colonial Marines are derived from.
Demolisher Class

The Demolisher perks are good but the class needs a re-think in its primary abilities and weapon loadouts. The name "Demolisher" does not really make sense for a class that is basically a "Heavy Weapons Guy" so I'm going put in a request for rename to simply "Heavy Weapons".
Micro Rockets Ability
Rework the ability and its gamechangers:
Micro Rockets: Fires three fast unguided rockets that spread out in a non-ballistic trajectory. Rockets detonate on proxy to a target. This is a fast action ability, 0.5 seconds to prime and rocket velocity of 100m/s.
Concussion: Fires a slow laser-guided missile with large area of effect that on impact knocks the targets down etc. Laser-guided missiles will home-in whatever the player's laser pointer has marked.
Daisy Cutter: Fires a slow user-guided missile with a large area of effect. Explodes in an incendiary firestorm. Very powerful, so much so it has a ability recharge penalty. Once primed the player can guide the missile first-person and manually detonate mid-flight if required, think Redeemer from Unreal Tournament.
Heavy Weapons Slot
The heavy weapons will need a re-work and or rebalanced since you play this class to get access to the heavy weapons but the DPS for some choices are underwhelming but more on that later. I was also thinking that some of the weapons can be shoulder-fired like the RPG. This will free up the armature attachment for something else and add some variation to the heavy weapon pool.
Phalanx Class
Well, first of all this class needs to be renamed to "Breacher", since its a clearly a marine with a Breacher Shield.
I think this class could benefit from having one game changer for each of its two abilities. Something changes up the shield and another for the shock pulse. I also would like to replace the shock pulse for something like a Flash-Bang Grenade.
Breacher Shield Properties and Game Changers
Metal Fatigue: Each attack increases the chance of you loosing your invulnerability to melee and ranged damage. Metal Fatigue decreases when not taking damage.
Anti-Grapple: While shield is deployed the Breacher cannot be grabbed, pinned or pouched. The marine can be knocked over instead, for example the Warrior alien has a chance to knock down the marine instead of grabbing. Perks that reduce grapple time reduce chance to be knocked-over.
Bulldozer: While shield is deployed and while sprinting, the marine can knock down an enemy, damaging it. Note sprinting with shield deployed drains stamina and knocking targets adds to Metal Fatigue. Hitting large targets like the Crusher causing them to stagger instead of knock-down.
Aggro Shield: Ability Game Changer: When shield is deployed it emits a short but powerful noise and attracts the attention of enemies within a short range. This will be a one-grid size perk.
Flash-Bang Properties and Game Changers
A grenade ability that detonates very shortly after being thrown. Does no damage but instead blinds, knocks and or stuns all targets in blast area.
Sonic-Electronic Ball Bomb: Ability Game Changer: The marine rolls across the floor a spheroid explosive device that causes an electrical DOT, slows and stuns as it moves for X amount of time.
Recon Class
I like the Recon, it's not a really a sniper class and its PUPS work really well when combined with team tactics and certain perks. I do want to replaced the support drone thing though for the following reason: We already have two other classes that deploy things, the Technician and the Doc.
Claymore to Replace Support Drone:
Deployable like a mine, effectively a free mine.
Long ability recharge time.
Benefits from radius, recharge and damage perks.
Target Feedback: Ability Specific Perk: On triggering of the Claymore, the target or targets are revealed to fireteam (red highlight). This will be a one-grid size perk.
Cripple: Ability Specific Perk: On triggering of the Claymore, the target or targets are slowed and take more damage.
But I like the support drone you say, I would instead make it a consumable that deploys like a turret and expires once its "energy" is depleted.
Doc And Technician Class
Doc and Technician are fine but may require balancing or aesthetic changes.
Rename Doc to Medic.
Rename Technician to Specialist.
Add visual changes to Specialist's turret to match the kind of weapon it is equipped with, minigun, cannon, flamer etc.
Remove foot spikes on turret and make the turret a bit bigger in overall size.
Give the turret a limited ammo capacity that is restocked on ammo drop or ammo crate. Increase the turret rate of fire for all weapon options. e.g. minigun variant fires almost like a pulse rifle with minimum breaks. Generally more in-line with movie version.
Heavy Weapons Re-imagined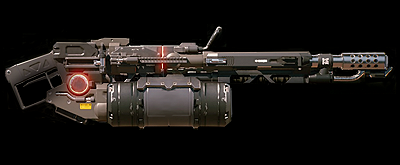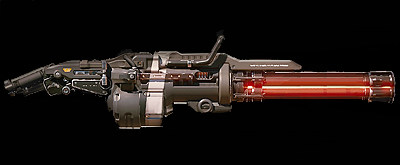 I felt that some of the heavy weapons needed a redesign both visually and in gameplay.
Flamer: Have one magazine only where mag-size is equal to max ammo capacity, i therefore added a large tank to the flamer. Also removed the twin barrel for single barrel.
Minigun: Removed a lot of the supports that was covering up the most important part of the gun visually. Also removed the end cap and muzzle since it seemed silly for Gatling guns. For practicality maybe replace the large muzzle with small muzzle on each of the barrels. Internal magazine is also an option.
Non-armature heavy weapons: I was also thinking that some of the weapons can be shoulder-fired like the RPG. This will free up the armature attachment for something else and add some variation to the heavy weapon pool.
New Gameplay Elements
Ability to Seal Doorways
Players can seal doors that spawn aliens or other enemies or any doorway through the level.
This only prevents the arrival of enemies for example aliens will eventually headbutt their way through.
Sealing doors requires time and can only be done by a player.
Sealing doors will cause the enemies to buildup behind the door but can provide opportunities for mines, abilities or heavy weapons.
Doors will not randomly lock behind you, this always seem weird on chapter 1 and 4 unless I missed something.
Synthetic enemies will breach seals using torches.
Motion Tracker
Make the motion tracker detection range cone shaped. I think this will add some more tension to the game. Also remove the colour identification for higher difficulties since the motion tracker should not be able to identify the target just that there is a target.
Firing Range
Many people have called for this.
New Consumables And Attachments
Consumables
Armour Piecing (AP): Replaces the large magazine attachment as a consumable for any compatible weapon. High damage to armoured targets.
High Velocity (HV): Flat damage increase and stagger change on weapon.
High Explosive (HE): Causes thermal explosion on target.
Smart (G): Replaces smart rounds medium magazine. Adds aim assist to weapon.
Support Drone: Provides all perks of the Recon's Support Drone but as a deployable consumable. The Recon does not have this ability anymore. Deploys like a turret and expires once its "energy" is depleted.
Attachments
Jungle Style Mag: Reuses the Smart Rounds mag asset, it provides the same buffs with the aim asset replaced with super quick reload for every 2nd mag.
Loud and Fast Mag: Reuses the AP Rounds mag asset, it provides the same buffs with the extra damage replaced with weapon point damage.
New Weapons

Light General Purpose Machine Gun
Manufacturer: Hyperdyne or Seegson
Role: Auto Rifle
Damage: Between Pulse Rifle and Krammer
ROF: Between Pulse Rifle and Krammer
Attachments: Small Scope, Medium Magazine or Internal Magazine, Large Muzzle.
Pump Action Grenade Launcher
A CQW designed around the real world China Lake Grenade Launcher or the launcher from the original pulse rifle design.
Grenade Launcher
A CQW designed around the real world but somewhat outdated M79. I feel the CWQ pool is lacking in small explosive weapons.
Electronically Initiated Superposed Load Weapons
Back in the early 2000's this was supposed to be the future thing, a bit like caseless ammo. These weapons would horizontally stack ammo one in front of the other in multiple barrels creating something that looked like a box with holes that fired bullets at a insane rate. It is the only gun that theoretically could reach million rounds per minute.
It would be cool to have a heavy weapon based on superposed load
Grenades, Rockets And Reality
There is a big difference between the behaviour of grenade launchers in games and their real world counterparts, It's a hard thing to balance and the idea of a bouncy grenade fired from a launcher as been around since the original Quake games.
James Cameron wanted the Colonial Marines to be grounded in reality as much as possible, which is why his faction can be though of as Vietnam era marines mixed with Starship Troopers. That's Starship Troopers by the original book author Robert Heinlein not the movie version by Paul Verhoeven.
I would try the following:
Model ballistics using realistic muzzle velocity and detention methods.
Grenade Launchers are proxy or impact detonated as this is consistent with real world applications.
Rocket Launchers are hard hitting weapons with guidance like laser guidance. They would have high damage and high weak-point damage.
RPGs are very hard hitting wepaon It would have no guidance, high damage and have very high weak-point damage.
Source: https://steamcommunity.com/sharedfiles/filedetails/?id=2735209500					
More Aliens: Fireteam Elite guilds
---